XACT Norden utsedd till Bästa nordiska aktiefond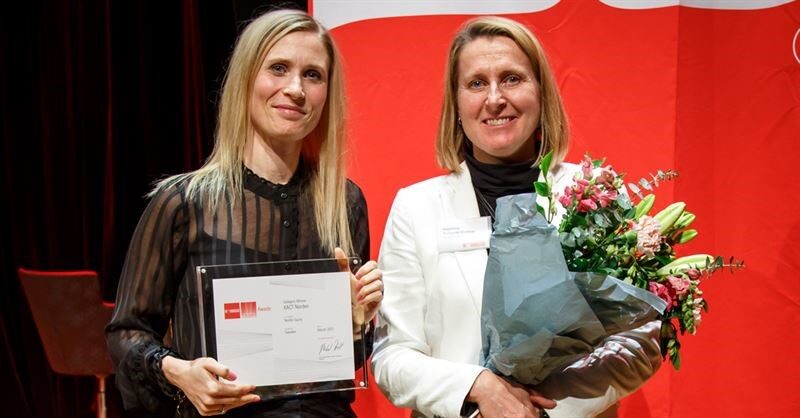 Morningstar Fund Awards 2023 har utsett XACT Norden (UCITS ETF), förvaltad av Handelsbanken Fonder, till Bästa nordiska aktiefond 2023. "Med anmärkningsvärd avkastning står fonden sig högt jämfört med andra fonder i samma kategori", lyder motiveringen.
"Jag är väldigt stolt över vår fina indexförvaltning som presterar stabilt och kostnadseffektivt i ett brett utbud av traditionella indexfonder och börshandlade fonder," säger Magdalena Wahlqvist Alveskog, vd Handelsbanken Fonder.
Motiveringen i sin helhet:"Priset för Best Nordic Equity Fund tilldelas XACT Norden. Fonden har under de senaste två åren placerat sig i det absoluta toppskiktet i sin kategori och har visat sig vara robust på lång sikt, med anmärkningsvärd avkastning jämfört med andra fonder i kategorin, även efter justering för risk."
"Vi är oerhört glada och stolta för utmärkelsen. Med vår största ETF levererar vi avkastning på topp i kategorin, i kombination med passiv förvaltning samt ett hållbart och aktivt ägande. Det är en bekräftelse på att vårt systematiska arbetssätt fungerar väl och ger goda förvaltningsresultat. Utmärkelsen tar hänsyn till de senaste fem årens utveckling, vilket även understryker vikten av långsiktighet", säger Caroline Mebius, förvaltare av XACT Norden.
Morningstar utser varje år de bästa fonderna som säljs i Sverige. Totalt slåss 18 fonder om den vinnande platsen i sex olika kategorier som är särskilt intressanta för svenska fondsparare och där det dessutom finns gott om skickliga förvaltare. I dessa har Morningstar granskat de historiska prestationerna under de senaste 1, 3 och 5 kalenderåren med tonvikt på år 2022, samt justerat för skillnader i risktagande så att jämn värdeutveckling premieras, för att hitta de fonder som har presterat bäst.
Handla XACT Norden
XACT Norden är en svensk och europeisk börshandlad fond. Denna fond handlas på Nasdaq Stockholm.
Det betyder att det går att handla andelar i denna ETF genom de flesta svenska banker och Internetmäklare, till exempel DEGIRO, Nordnet och Avanza.
Crypto Markets Persevere, Investor Appetite for Web 3 Grows, and More!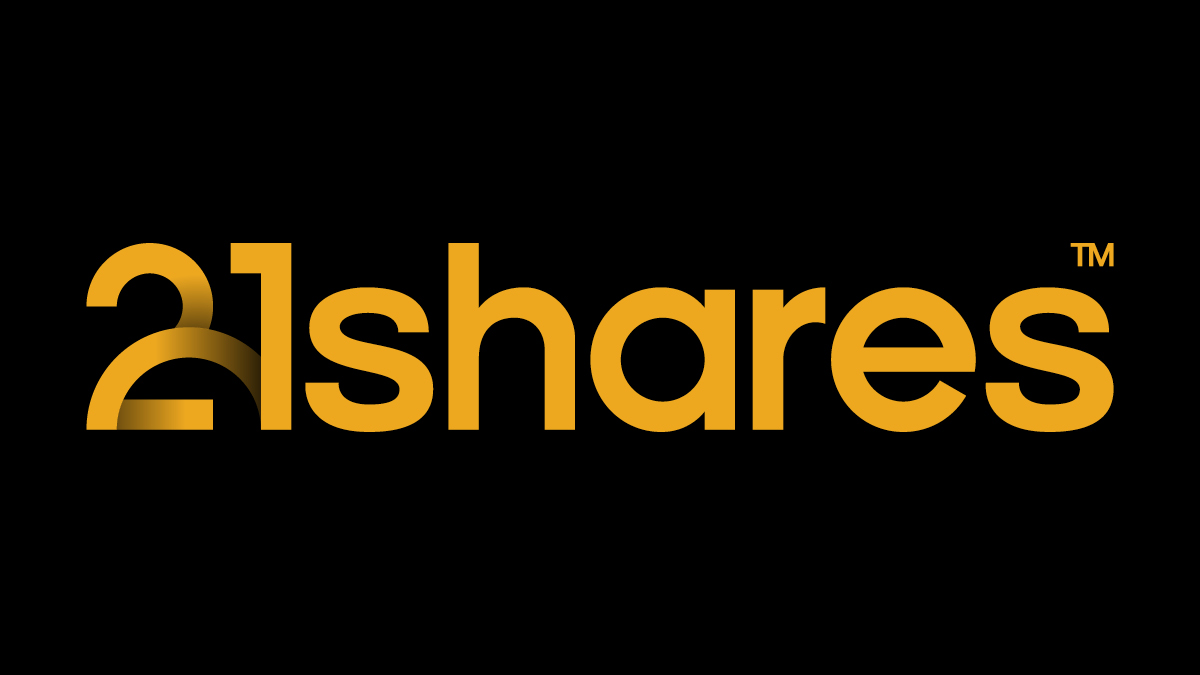 The banking default risk in the United States started spreading to European banks, taking down Credit Suisse with a takeover by UBS. However, for the second consecutive week, the crypto markets performed in the opposite direction of the macro headwinds. Bitcoin was the biggest winner of last week's rally, increasing by 15.5%, while Ethereum increased by 3.9%. The biggest losers were Polygon (-6.72%), Maker (-26%), and Lido (-13.86%), which announced it would launch withdrawals of staked ETH by mid-May, two weeks after Ethereum's Shanghai upgrade.
Figure 1: Weekly TVL and Price Performance of Major Crypto Categories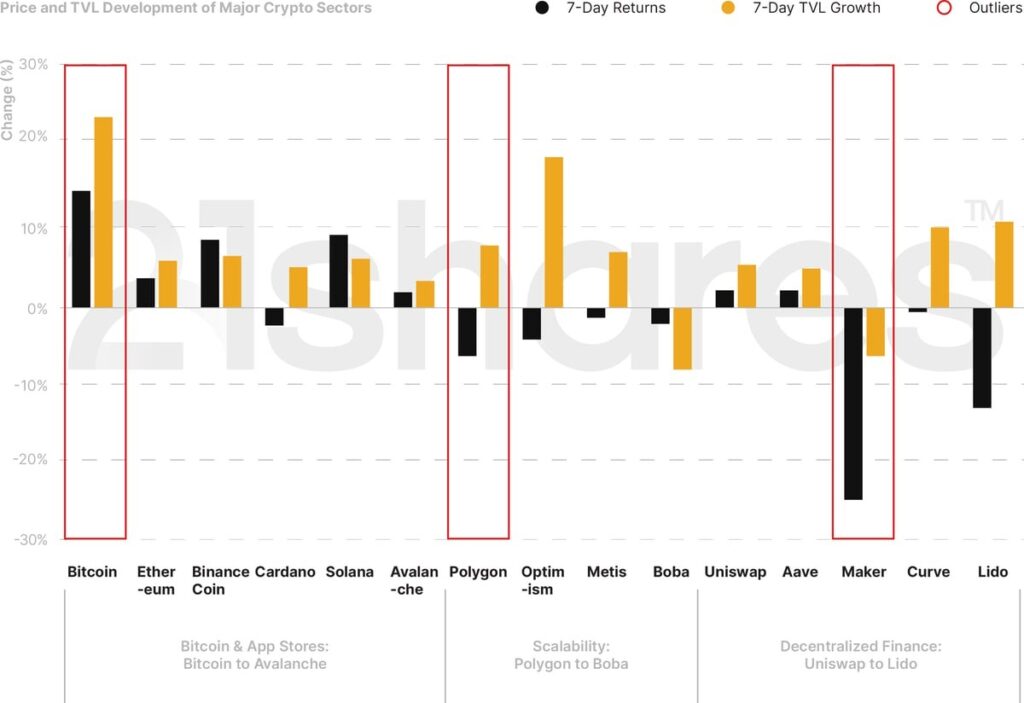 Source: 21Shares, CoinGecko, DeFi Llama. Close data as of March 20.
Key takeaways
• Crypto's market cap increases by 8.5%, despite the looming default crisis in traditional finance.
• Arbitrum unveils token, Cosmos launches Replicated Security
• Lido Finance anticipates mainnet withdrawals by mid-May; National Australian Bank conducts its first Cross Border transaction using its own stablecoin on Ethereum
• Saudi Arabian NFT marketplace "Nuqtah" raises seed funding from Animoca Brands and Polygon.
Figure 2: Bitcoin Options Open Interest By Expiry

Source: Coinglass.com
Spot and Derivatives Markets
Demand for Bitcoin options contracts has increased to levels we haven't seen since 2021, inching close to $12B on March 19 alone, with Deribit enjoying the lion's share of ~$10B. This could mean a trend of allocating investments in cryptoassets as a hedge against inflation and the default contagion risk going around in the banking sector.
On-chain Indicators
Figure 3: Ethereum's Network Value to Transactions Ratio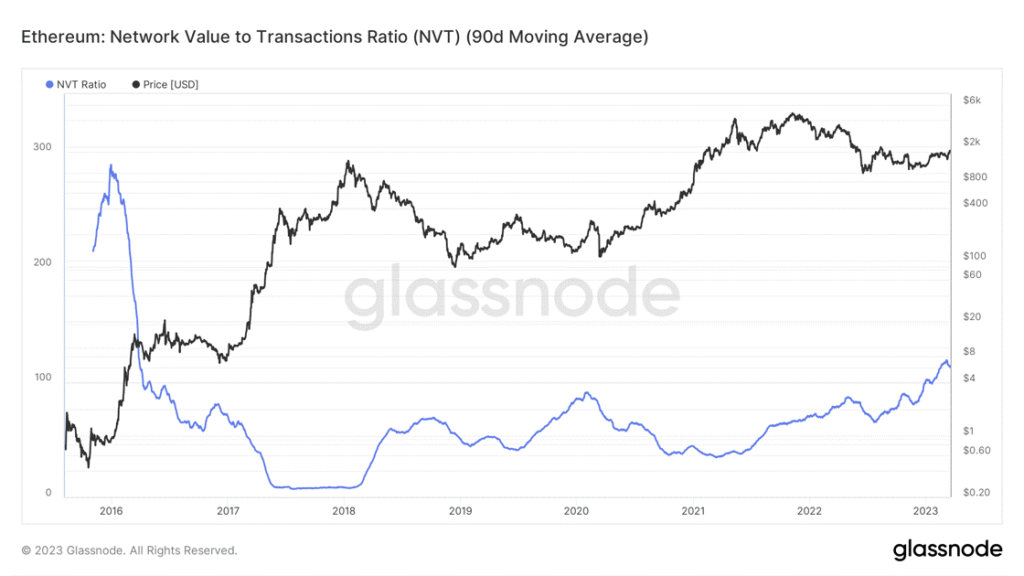 Source: Glassnode
Analogous to the price to earnings for stocks, the Network Value to Transactions (NVT) Ratio can help track the realized valuation levels of an asset. As shown in Figure 3, an NVT ratio as high as 300 indicates that Ethereum may be overvalued since the network value, or market cap, is higher than the transaction volume. Whereas downtrends like the one seen in 2017 indicate that transactions are outgrowing the network value and investors may be buying Ethereum at a discount. Although the chart above indicates that the market cap outweighs the volume of transactions on the network, historically speaking the second-largest cryptoasset by market cap is still in a healthy valuation range.
Next Week's Calendar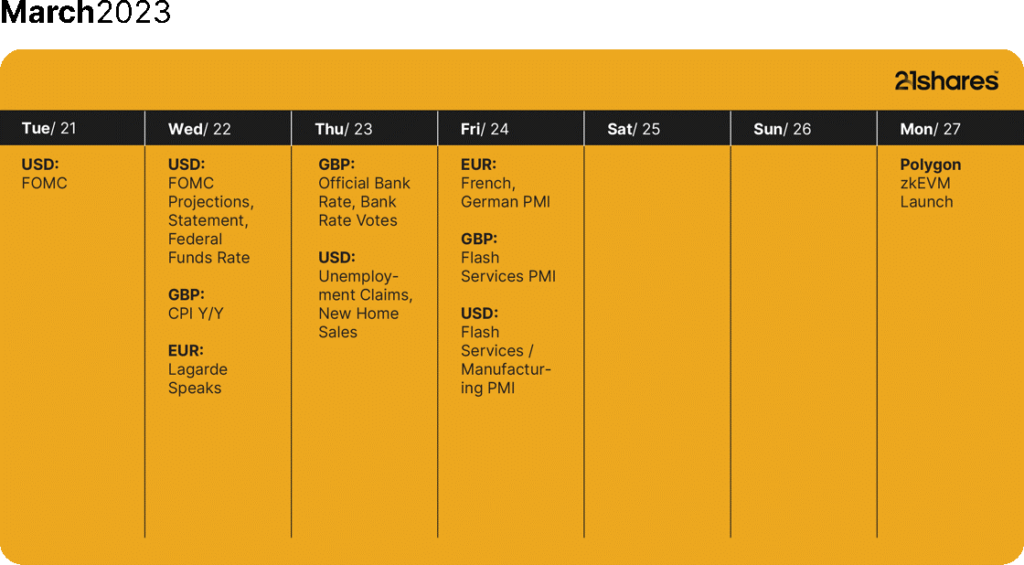 Source: Forex Factory, CoinMarketCal
Research Newsletter
Each week the 21Shares Research team will publish our data-driven insights into the crypto asset world through this newsletter. Please direct any comments, questions, and words of feedback to research@21shares.com
Disclaimer
The information provided does not constitute a prospectus or other offering material and does not contain or constitute an offer to sell or a solicitation of any offer to buy securities in any jurisdiction. Some of the information published herein may contain forward-looking statements. Readers are cautioned that any such forward-looking statements are not guarantees of future performance and involve risks and uncertainties and that actual results may differ materially from those in the forward-looking statements as a result of various factors. The information contained herein may not be considered as economic, legal, tax or other advice and users are cautioned to base investment decisions or other decisions solely on the content hereof.
AuAg Funds säger guld kommer att bli ännu starkare i framtiden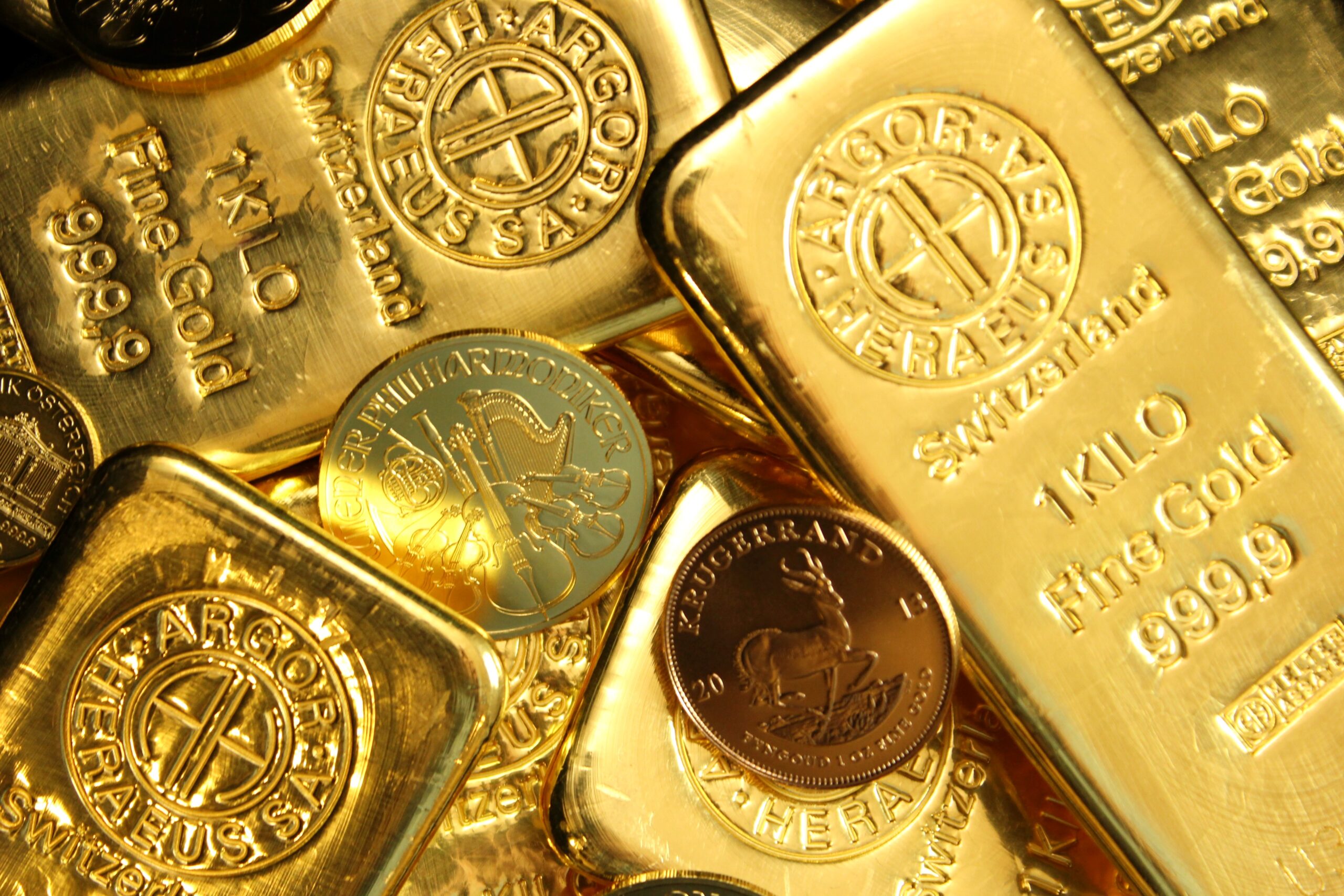 Eric Strand från AuAg Funds säger att återkomsten av kvantitativa lättnader innebär att guldet kommer att bli ännu starkare i framtiden.
Eric Strand från AuAg Funds ansluter sig till Proactives Thomas Warner för att prata om de senaste nyheterna från guldmarknaden, som har sett guldpriserna nå rekord i vissa valutor efter en veckas tumult i den europeiska banksektorn.
Handla ZSG0 ETF
AuAg ESG Gold Mining UCITS ETF – Acc (ZSG0 ETF) är en europeisk börshandlad fond som handlas på bland annat London Stock Exchange och tyska Xetra.
Det betyder att det går att handla andelar i denna ETF genom de flesta svenska banker och Internetmäklare, till exempel DEGIRO, Nordnet och Avanza.
Sprott Asset Management lanserar fond för kritiska metaller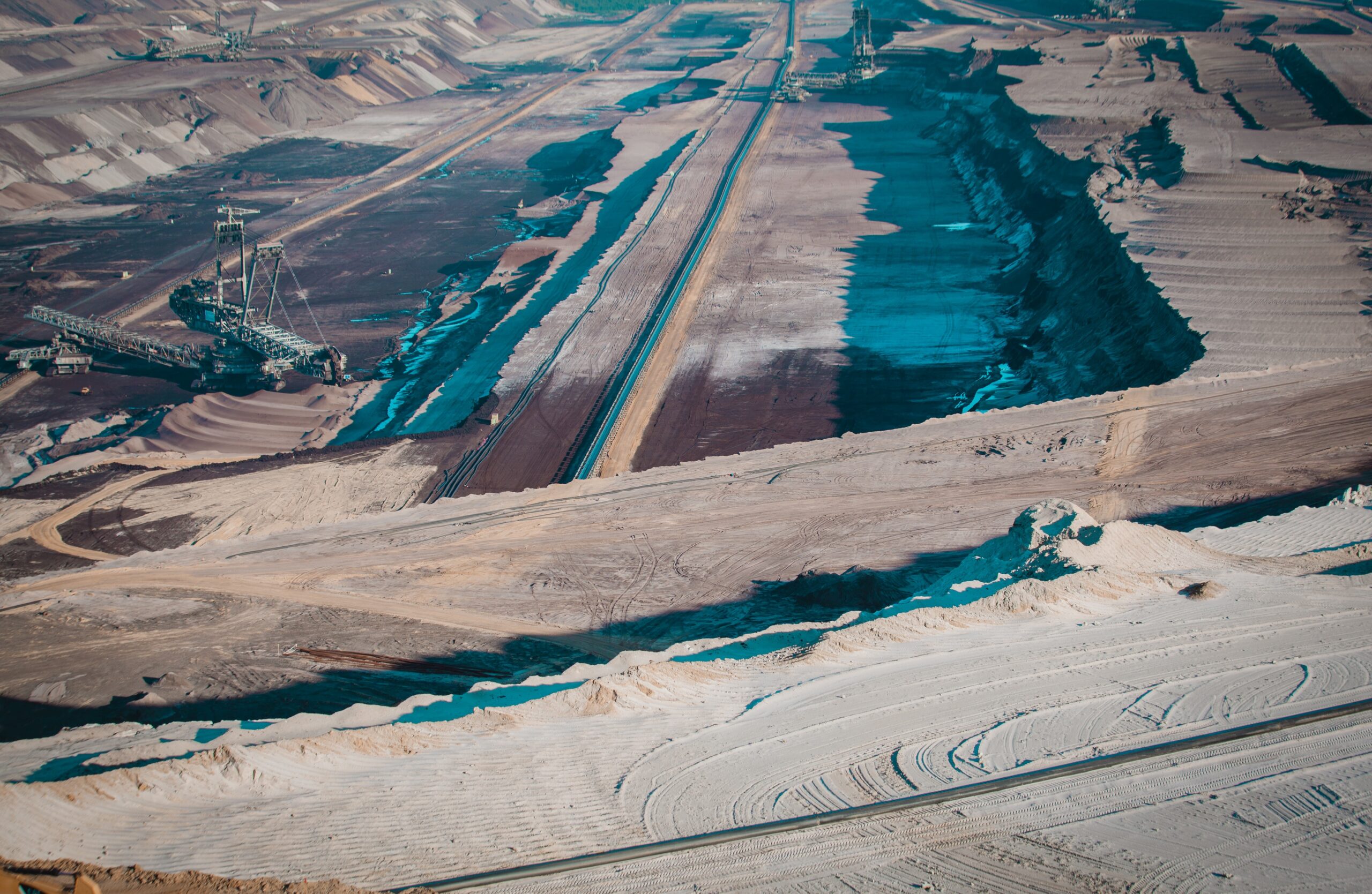 Sprott Asset Management (TSX:SII) VD John Ciampaglia ansluter sig till Proactives Natalie Stoberman för att diskutera lanseringen av sin fond för kritiska metaller, Sprott Energy Transition Materials UCITS ETF (M7ES) på HANetf-plattformen.
Sprott Energy Transition Materials ETF ger exponering mot de företag som tillhandahåller de kritiska metaller som behövs för den globala omställningen till ren energi.
Handla M7ES ETF
HANetf Sprott Energy Transition Materials UCITS ETF (M7ES ETF) är en europeisk börshandlad fond. Denna fond handlas på flera olika börser, till exempel Deutsche Boerse Xetra och London Stock Exchange. Av den anledningen förekommer olika kortnamn på samma börshandlade fond.
Det betyder att det går att handla andelar i denna ETF genom de flesta svenska banker och Internetmäklare, till exempel DEGIRO, Nordnet och Avanza.