Hur korrelerade är Pipeline MLPs med energipriserna?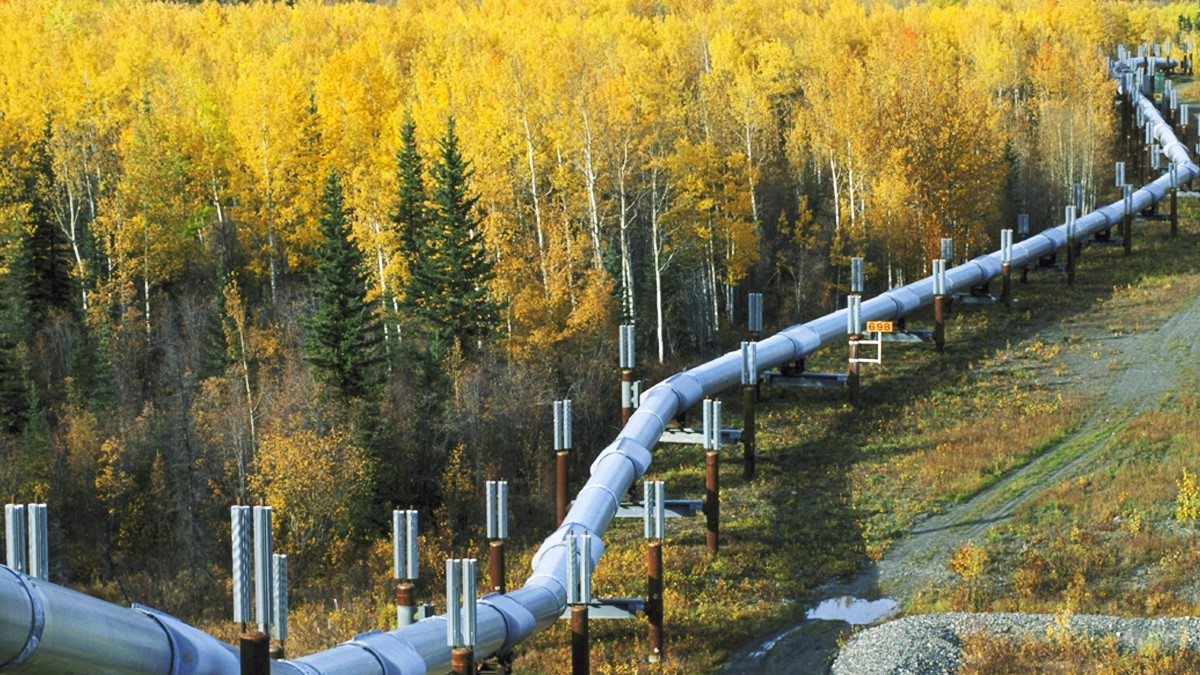 Den kortsiktiga volatiliteten på energimarknaderna har spillt över även på de börshandlade fonder som investerar i pipelineföretag, så kallade MLPs eller master limited partnership. Den senaste tidens kursfall har emellertid gjort det möjligt för långsiktiga investerare att köpa dessa ETFer billigt. Frågan är bara hur korrelerade är Pipeline MLPs med energipriserna?
När energipriserna är flyktiga kan master limited partnership komma att följa råvarutrenderna kortsiktigt. Över längre tidsperioder har emellertid MLPs visat sig ha en mycket låg korrelation med energipriserna. JPMorgan Alerian MLP Index ETN (NYSEArca: AMJ) har sjunkit med nästan 30 procent sedan årets början och Alerian MLP ETF (NYSEArca: AMLP) har minskat 20,5% under samma period. Under samma period har priset på råoljan WTI, West Texas Intermediate, backat med 39,5 procent.
Under den senaste utförsäljningen av råolja kunde investerna inte skilja MLPs från andra energirelaterade tillgångar och dumpade tillgångsklassen när råoljepriset rasade. På senare tid har emellertid AMJ stigit med 6,5 procent och AMLP med 7,0 procent samtidigt som priset på WTI har stigit till nästan 48 USD per fat. De två börshandlade produkterna med fokus på MLPs handlas nu över sina kortsiktiga, 50-dagars glidande medelvärde.
Distribution och lagring av energiprodukter
MLPs investerar i första hand i anläggningar för distribution och lagring av energiprodukter, vilket betyder att deras affärsmodell är mindre beroende av de kortsiktiga svängningarna på råvarumarknaden. Resultatet och omsättningen i en MLP beror i första hand inte på priset på till exempel olja, utan på den mängd energiprodukter som transporteras i dess pipelines.
Följaktligen har MLPS historiskt visat en svagare korrelation till energipriser under längre perioder som MLPS agera mer som energiavgiftsbelagda vägar som tjänar sina pengar på den volym av olja som rör sig genom dessa pipelines. Sedan 2002 ser vi hur sambandet mellan oljepriset och avkastningen hos olika MLPs är svagare.
När råvarumarknaden översvämmas av olja och priserna är fortsatt låga anser all grundläggande ekonomisk teori att konsumtionen kommer att öka eftersom konsumtionen av billig råolja kommer ta fart som en följd av de låga oljepriserna. I takt med att konsumtionen ökar borde det vara möjligt för MLPs att dra fördel av det ökade behivet av transporter och lagring av energiprodukter.
Vinstutdelande investeringar
MLPs är dessutom ett populärt instrument för den som söker vinstutdelande investeringar, och den senaste tidens ökning av avkastningen skulle kunna tyda på en attraktiv inkörsport för MLPS – avkastningen och MLPernas pris har ett omvänt förhållande, så fallande priser motsvarar högre avkastning. AMJ har för den senaste tolvmånaders perioden en direktavkastning på 6,98 procent och AMLP en direktavkastning på 8,64 procent för samma period under tiden har de tioåriga amerikanska statsobligationerna gett en avkastning på 2,22 procent.
Crypto Markets Persevere, Investor Appetite for Web 3 Grows, and More!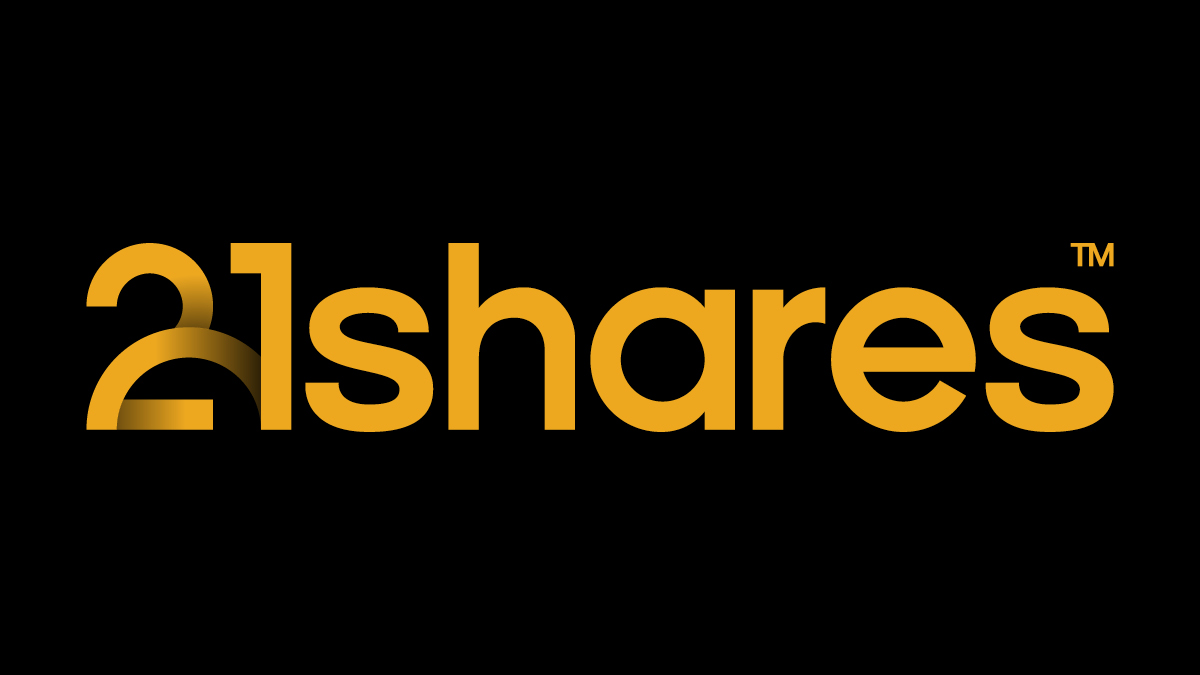 The banking default risk in the United States started spreading to European banks, taking down Credit Suisse with a takeover by UBS. However, for the second consecutive week, the crypto markets performed in the opposite direction of the macro headwinds. Bitcoin was the biggest winner of last week's rally, increasing by 15.5%, while Ethereum increased by 3.9%. The biggest losers were Polygon (-6.72%), Maker (-26%), and Lido (-13.86%), which announced it would launch withdrawals of staked ETH by mid-May, two weeks after Ethereum's Shanghai upgrade.
Figure 1: Weekly TVL and Price Performance of Major Crypto Categories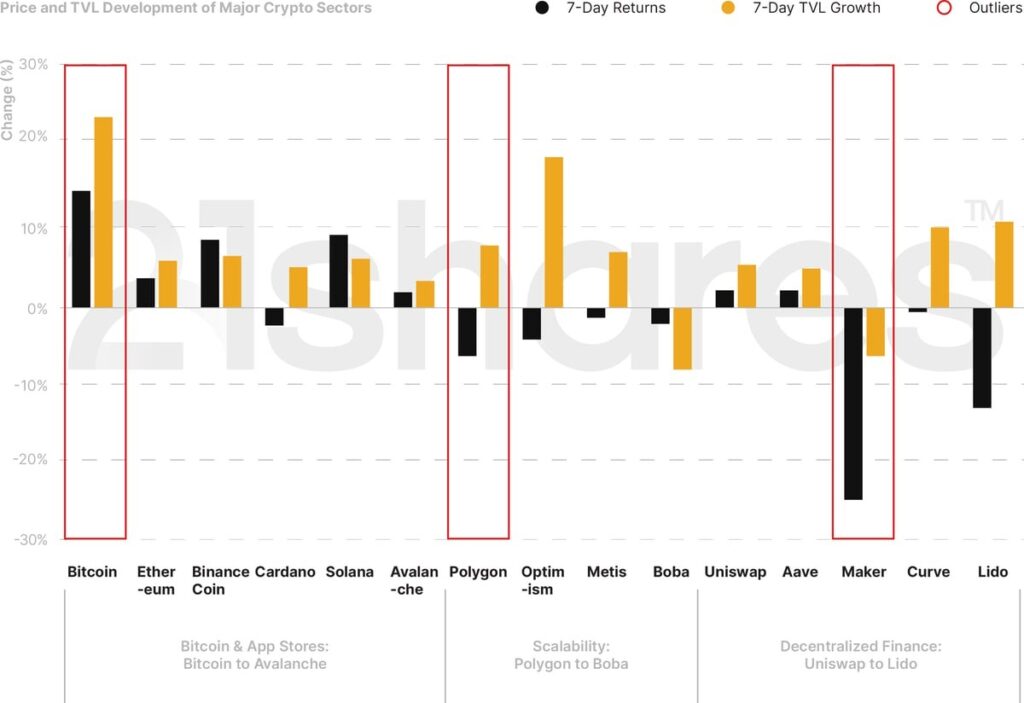 Source: 21Shares, CoinGecko, DeFi Llama. Close data as of March 20.
Key takeaways
• Crypto's market cap increases by 8.5%, despite the looming default crisis in traditional finance.
• Arbitrum unveils token, Cosmos launches Replicated Security
• Lido Finance anticipates mainnet withdrawals by mid-May; National Australian Bank conducts its first Cross Border transaction using its own stablecoin on Ethereum
• Saudi Arabian NFT marketplace "Nuqtah" raises seed funding from Animoca Brands and Polygon.
Figure 2: Bitcoin Options Open Interest By Expiry

Source: Coinglass.com
Spot and Derivatives Markets
Demand for Bitcoin options contracts has increased to levels we haven't seen since 2021, inching close to $12B on March 19 alone, with Deribit enjoying the lion's share of ~$10B. This could mean a trend of allocating investments in cryptoassets as a hedge against inflation and the default contagion risk going around in the banking sector.
On-chain Indicators
Figure 3: Ethereum's Network Value to Transactions Ratio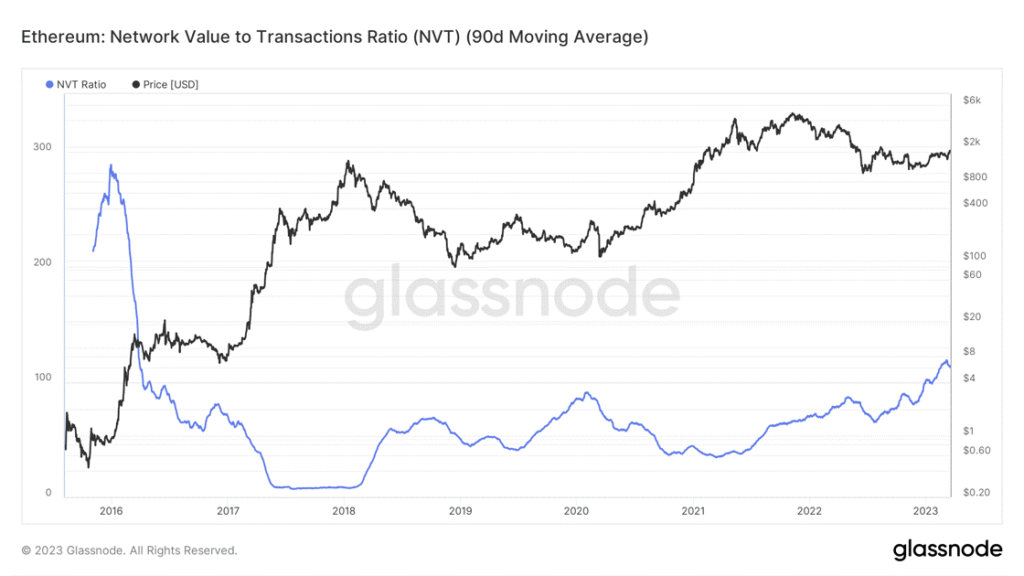 Source: Glassnode
Analogous to the price to earnings for stocks, the Network Value to Transactions (NVT) Ratio can help track the realized valuation levels of an asset. As shown in Figure 3, an NVT ratio as high as 300 indicates that Ethereum may be overvalued since the network value, or market cap, is higher than the transaction volume. Whereas downtrends like the one seen in 2017 indicate that transactions are outgrowing the network value and investors may be buying Ethereum at a discount. Although the chart above indicates that the market cap outweighs the volume of transactions on the network, historically speaking the second-largest cryptoasset by market cap is still in a healthy valuation range.
Next Week's Calendar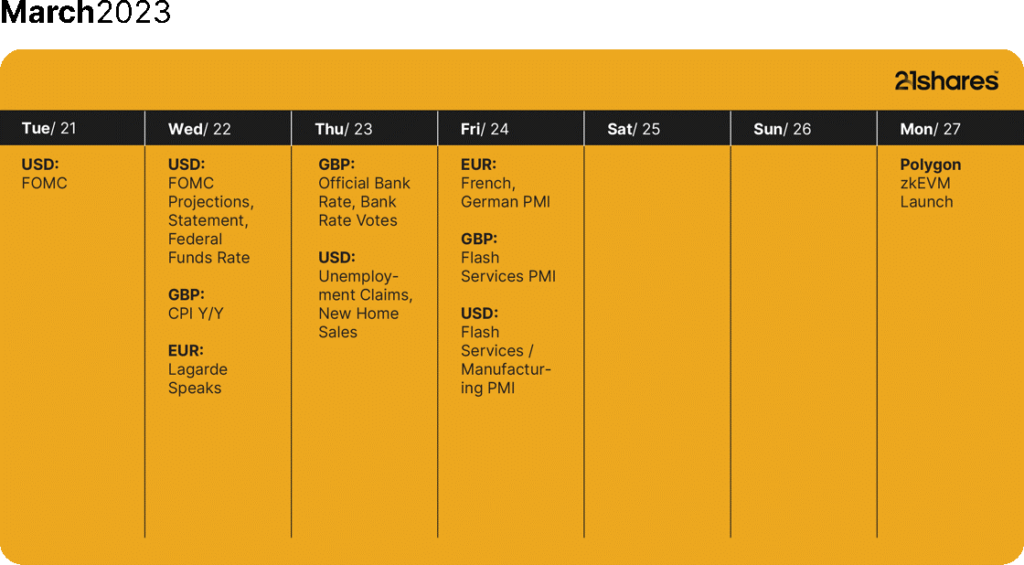 Source: Forex Factory, CoinMarketCal
Research Newsletter
Each week the 21Shares Research team will publish our data-driven insights into the crypto asset world through this newsletter. Please direct any comments, questions, and words of feedback to research@21shares.com
Disclaimer
The information provided does not constitute a prospectus or other offering material and does not contain or constitute an offer to sell or a solicitation of any offer to buy securities in any jurisdiction. Some of the information published herein may contain forward-looking statements. Readers are cautioned that any such forward-looking statements are not guarantees of future performance and involve risks and uncertainties and that actual results may differ materially from those in the forward-looking statements as a result of various factors. The information contained herein may not be considered as economic, legal, tax or other advice and users are cautioned to base investment decisions or other decisions solely on the content hereof.
AuAg Funds säger guld kommer att bli ännu starkare i framtiden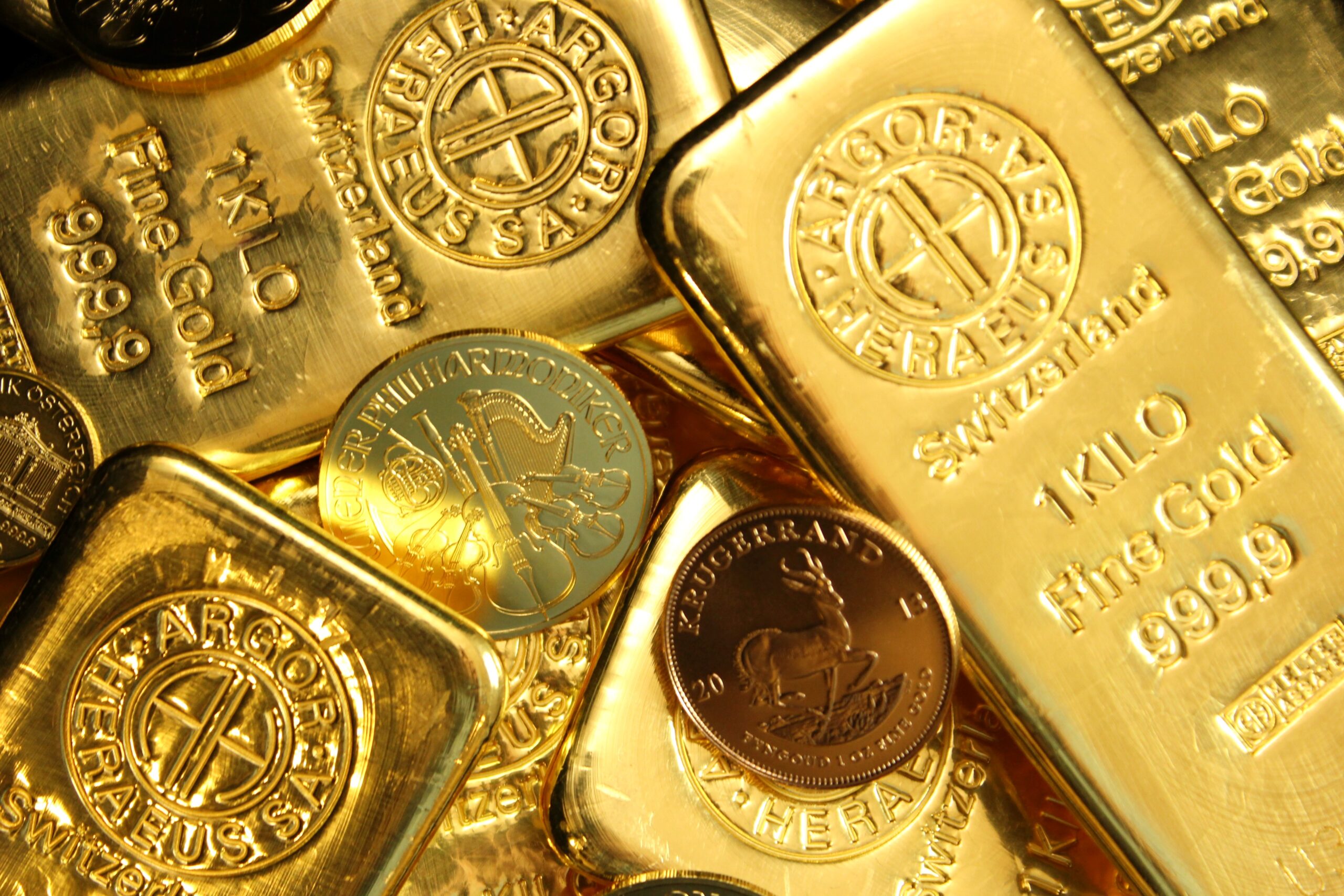 Eric Strand från AuAg Funds säger att återkomsten av kvantitativa lättnader innebär att guldet kommer att bli ännu starkare i framtiden.
Eric Strand från AuAg Funds ansluter sig till Proactives Thomas Warner för att prata om de senaste nyheterna från guldmarknaden, som har sett guldpriserna nå rekord i vissa valutor efter en veckas tumult i den europeiska banksektorn.
Handla ZSG0 ETF
AuAg ESG Gold Mining UCITS ETF – Acc (ZSG0 ETF) är en europeisk börshandlad fond som handlas på bland annat London Stock Exchange och tyska Xetra.
Det betyder att det går att handla andelar i denna ETF genom de flesta svenska banker och Internetmäklare, till exempel DEGIRO, Nordnet och Avanza.
Sprott Asset Management lanserar fond för kritiska metaller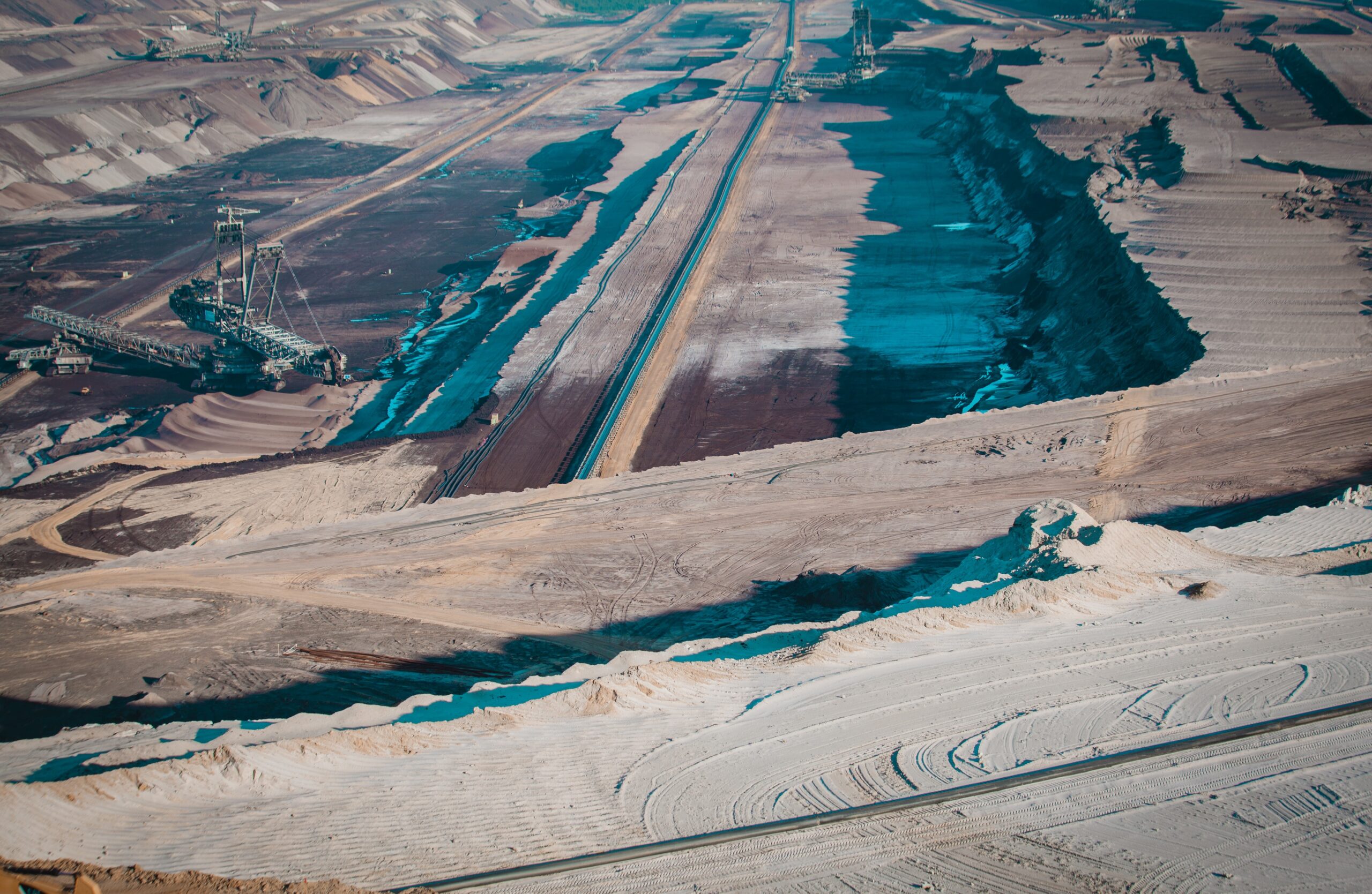 Sprott Asset Management (TSX:SII) VD John Ciampaglia ansluter sig till Proactives Natalie Stoberman för att diskutera lanseringen av sin fond för kritiska metaller, Sprott Energy Transition Materials UCITS ETF (M7ES) på HANetf-plattformen.
Sprott Energy Transition Materials ETF ger exponering mot de företag som tillhandahåller de kritiska metaller som behövs för den globala omställningen till ren energi.
Handla M7ES ETF
HANetf Sprott Energy Transition Materials UCITS ETF (M7ES ETF) är en europeisk börshandlad fond. Denna fond handlas på flera olika börser, till exempel Deutsche Boerse Xetra och London Stock Exchange. Av den anledningen förekommer olika kortnamn på samma börshandlade fond.
Det betyder att det går att handla andelar i denna ETF genom de flesta svenska banker och Internetmäklare, till exempel DEGIRO, Nordnet och Avanza.