What's Happening with UST?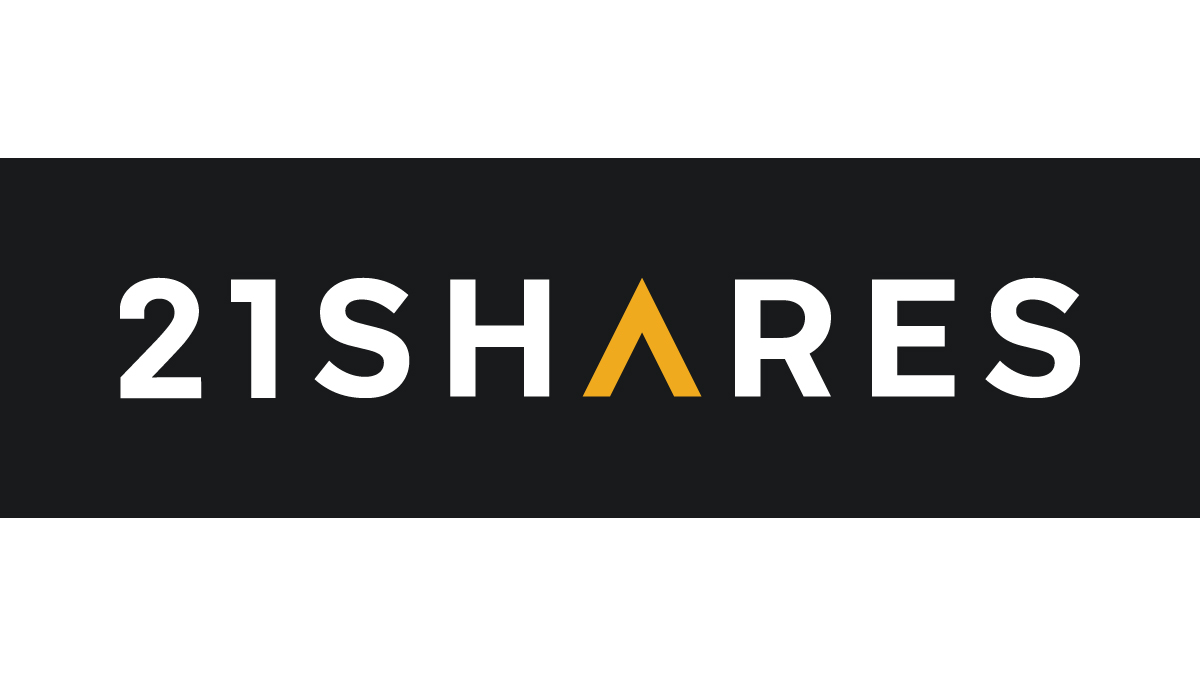 The overall cryptoassets market trickled down to 1.22T in market cap over the past week. On May 4, the Federal Reserve raised its benchmark interest rate by half a percentage point in response to inflation pressures. In response, Dow Jones Industrial Average and Nasdaq Composite fell by 3.12% and 5% respectively the day after. Bitcoin and Ethereum dropped by 54% and 50% since their all-time highs in November 2021.
Thanks to a Bitcoin-backed loan, MicroStrategy holds around 129,218 Bitcoins, acquired at an average price of around $30.7K per Bitcoin. If Bitcoin dips to below $21K, the software analytics company will either have to sell some of its holdings backing the loan or deposit more Bitcoin as collateral. Tesla on the other hand is at a greater loss, holding around 43,200 Bitcoins, acquired at an average price of $34K.
Figure1: Bitcoin's buying and selling movement over the years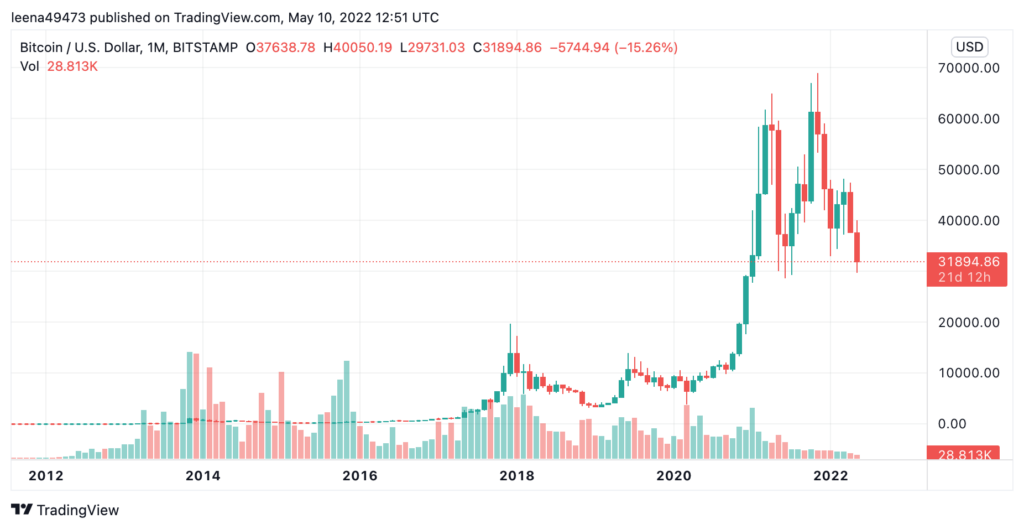 Source: TradingView
The bear case here is if these large institutional investors decide to dump their BTC holdings, we speculate that the price might dip to around $20K. However, this isn't a new drill for Bitcoin's price movement over the years. The first time Bitcoin's price dropped by half was in February 2018, going down to $8K after crossing the $19K mark in December 2017. It took Bitcoin two calendar years to recover. However, in the following years, recovery time shrunk to just a few months. As the market stands, the leverage accelerating recovery could be spotted in the increasing institutional adoption of crypto, especially Bitcoin. We can safely reckon recovery to take place within the next quarter.
Regulations and Adoption
Argentina's central bank made a decision to ban crypto trading on the back of the alleged pressure from the International Monetary Fund, which gave the country a $44B relief package back in 2017. This decision comes just a few days after Argentina's biggest private bank, Banco Galicia, decided to add crypto trading. Uganda is also enforcing a countrywide crackdown this week on digital payment providers facilitating crypto transactions.
Nigeria is upgrading its central bank digital currency (CBDC) eNaira to be used on a wider range of goods and services. On the other hand, Nigeria's central bank is also tightening its grip on cryptoassets, crippling the country's fintech sector, according to a UN report.
On a higher note, the Japanese eCommerce website SBI Motor Japan announced it will start accepting Bitcoin and Ripple for its automotive sales. This will mark the first time Ripple would be deployed on a cross-border e-commerce website in Japan. On May 4, when Bitcoin was trading at $38K, Gucci announced it will accept crypto payments in some US stores at the end of this month and plans to extend the pilot to all stores in North America.
In a win for DeFi adoption, Jane Street took out a $25M loan in USDC from BlockTower Capital through Clearpool, a decentralized capital markets provider built on Ethereum. Clearpool enables institutions to borrow uncollateralized loans via a network of lenders and is backed by venture capital firms, including Arrington Capital and Sequoia Capital.
DeFi and NFTs
Algorithmic stablecoins are getting battle-tested as Terra (UST), the largest in the market, lost its peg last week, dropping to $0.66 on May 10 and to as low as $0.3 the following day. The Luna Foundation Guard plans to lend $750M worth of Bitcoin and 750M UST to market makers to bring UST back to its peg. Read our statement on UST and LUNA to learn more.
Figure 2: UST's 7-day price performance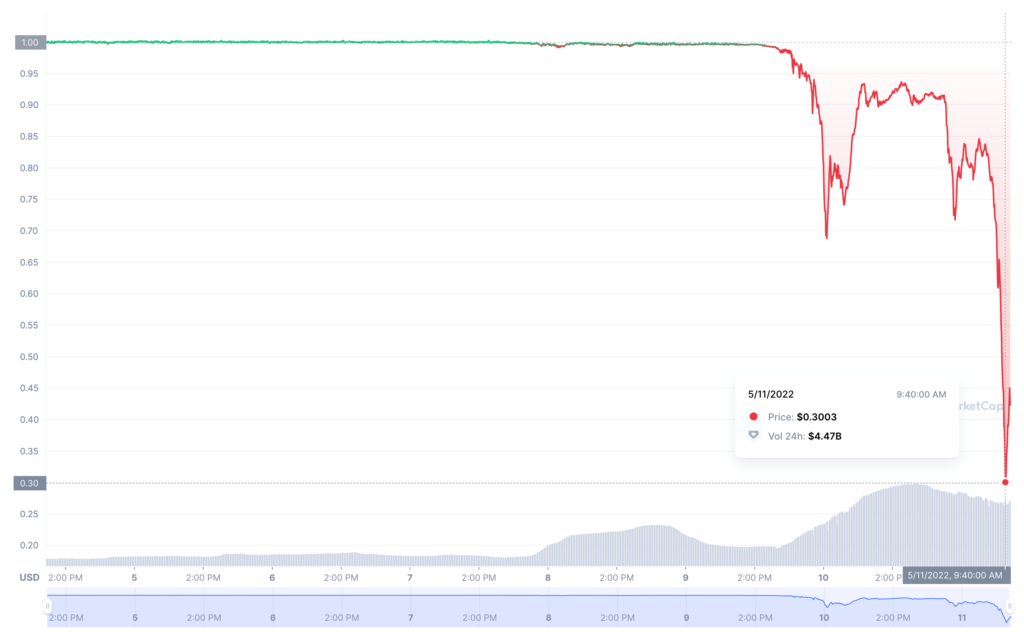 Source: CoinMarketCap
Despite the bloodbath in the market last week, developments in the realm of DeFi are still coming strong. Tron's new algorithmic stablecoin USDD has officially gone live on the blockchain. Tron is collateralizing $10B in bitcoin and other cryptocurrencies to support USDD. The new stablecoin will be available on Ethereum and BNB Smart Chain.
Polkadot also launched XCM, a new cross-chain communications protocol aiming to eliminate the need for complex bridging procedures that have cost the crypto industry billions in cyber attacks. Being as secure as Polkadot's core hub, the Relay Chain, XCM will allow communication between parachains and smart contracts.
Decentralized oracle network Chainlink is partnering with LaProp, a tokenized real estate platform serving the property market in Latin America. Leveraging Chainlink Keepers' node operators' track record in securing billions of dollars invested in DeFi markets, LaProp will allow investors to buy tokenized shares in various real-world properties, yielding a percentage of income from rental payments. Chainlink Keepers is a decentralized automation service that carries out tasks for smart contracts on the BNB Chain.
On the NFTs front, Instagram is testing out NFTs this week through select content creators in the US. The supported blockchains for showcasing NFTs on Instagram are Ethereum and Polygon. In other news, Dubai's Virtual Asset Regulatory Authority (VARA) unveiled its headquarters in the metaverse, making it the first governmental entity in The Sandbox.
Weekly Returns
The returns of the top five cryptoassets over the last week of May 3 to 10 were as follows — BTC (-18.63%), ETH (-19.27%), BNB (-21.4%), SOL(-25.95%), XRP (-18.23%).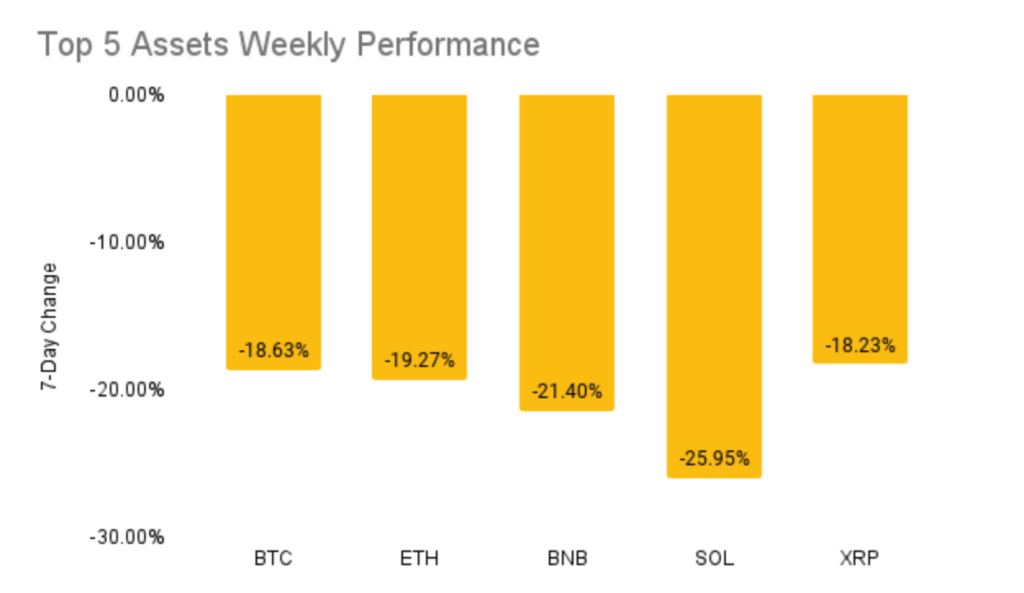 Net Inflows per 21Shares ETP
The net outflows of our ETPs amounted to $20M in the past week of May 3 to 10. Find the breakdown of the inflows and outflows per ETP below.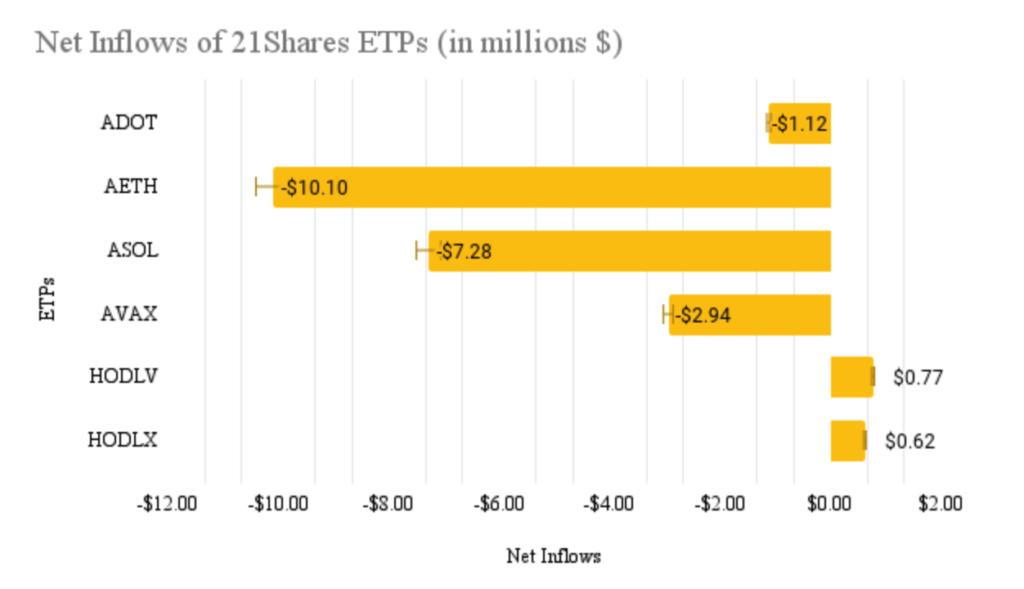 Media Coverage
We are thrilled to welcome Carl Hagerup from State Street Global Advisors (SSGA) to our ever-growing team as 21Shares' new managing director for the Nordics and the Netherlands. "The Nordics is an exciting market for 21Shares and we can see that there is an increasing interest from Swedes to invest in crypto assets," ETF Stream quoted Carl saying. "The natural step for us is to start an expansion in the Nordics and our goal is to continue being an educating thought leader for potential and current crypto investors in both Sweden and the Nordics."
Our research team has been making headlines this past week. Our very own Research Associate Adrian Fritz was featured in Trend Report for a guest post about the metaverse. Exploring the different verticals and technologies, Adrian also drew a comparison between centralized and decentralized metaverses, namely dissecting Meta and The Sandbox.
Carlos Gonzales, also a fellow Research Associate at 21Shares, was featured in a Forbes explainer article about Litecoin. "While designed to have a faster TPS than Bitcoin, Carlos González Campo, research analyst at 21Shares, says, "Layer-2 solutions on top of Bitcoin like the Lightning Network" have both sped up Bitcoin transactions and potentially diminished the need for Litecoin's use case as a faster payment network," the article reads.
News
Binance Joins Elon Musk's Twitter Acquisition with $500M
What happened?
According to documents filed to the SEC, crypto exchange giant Binance is backing Elon Musk's $44B takeover of Twitter with a $500M commitment. Other investors include venture capital firm Sequoia pledging $800M, Fidelity $316M, and a16z $400M. "We hope to be able to play a role in bringing social media and web3 together and broadening the use and adoption of crypto and blockchain technology," said Binance CEO Changpeng Zhao.
Why does it matter?
Musk had previously said that he would enhance the platform with new features; making the algorithms open source to increase trust, defeating the spambots, and authenticating all humans. A priority on his roadmap would be eliminating the spam and scam bots and the bot armies that are on Twitter. Musk said that if he had a dogecoin for every crypto scam he saw, he would have a hundred billion dogecoin. In theory, this could be great news for Crypto Twitter. Having Binance on board could also encourage other crypto-native stakeholders to be involved in the revamp of the social network to become a safer and more innovative platform for the cryptoassets industry.
Varje vecka kommer 21Shares Research-teamet att publicera sina datadrivna insikter om kryptotillgångsvärlden. Vänligen rikta eventuella kommentarer, frågor och feedback till 21Shares.
Svenska AP7 och LGIM etablerar partnerskap för att lansera en innovativ klimatomställningsstrategi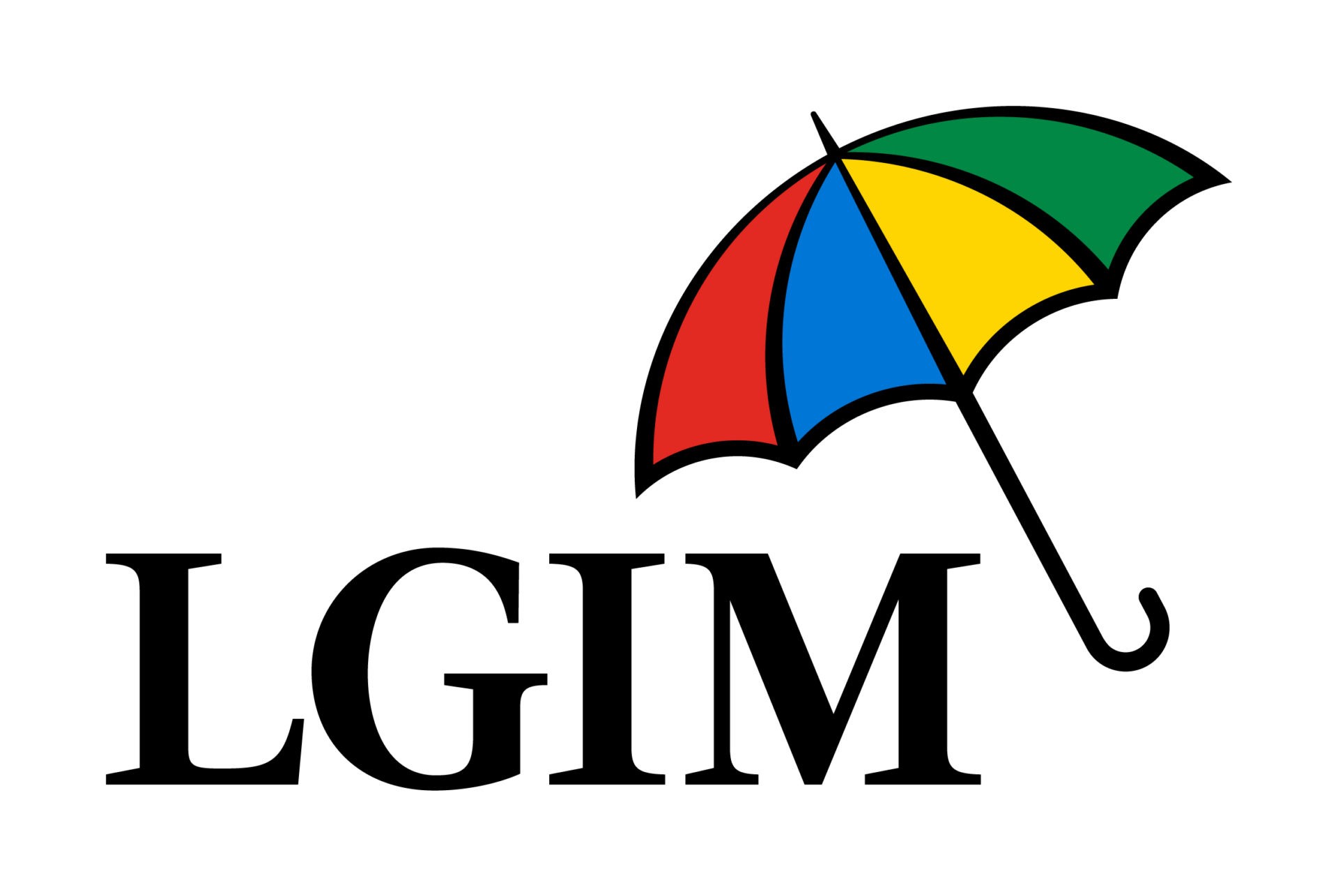 Legal & General Investment Management (LGIM), en av världens största kapitalförvaltare, och svenska premiepensionsbolaget AP7, som representerar fem miljoner svenska pensionssparare, bekräftar sitt samarbete för att etablera en innovativ klimatomställningsstrategi.
Den aktiva investeringsstrategin kommer att syfta till att driva förändringar i verkligheten samt att låsa upp långsiktigt aktieägarvärde genom att investera i, och sedan engagera sig med, specifika företag som är "klimateftersläpande" inom sina sektorer. Strategin kommer att försöka identifiera de företag inom klimatkritiska sektorer som för närvarande inte är det, men som har potential att bli framgångsrikt anpassade till Parismålen. Detta står i kontrast till strategier som investerar i de företag som redan är i linje med Net Zero år 2050.
Strategin syftar till att bidra till att marknaden som helhet, inte bara klimatledare, tar sig an utmaningen om nettonollövergången så snabbt och effektivt som möjligt. Engagemanget med portföljbolagen kommer att vara mycket riktat med samma mål att påskynda takten i klimatomställningen och maximera långsiktigt aktieägarvärde. Strategin kommer att följa en datadriven, grundläggande och engagemangsledd investeringsstrategi som syftar till att stödja klimatomställningen för att nå Net Zero år 2050, med insikter från LGIMs Global Investment Research, verktyg och Investment Stewardship-team.
Nick Stansbury, Head of Climate Solutions på LGIM, kommenterade: "Många ESG-strategier på marknaden äger klimatledare via indexprodukter eller sålla bort eftersläpningar. För den här strategin tar vi dock ett helt annat tillvägagångssätt: genom att utnyttja LGIMs ledande expertis inom förvaltarskap och engagemang, kombinerat med vårt egenutvecklade LGIM Destination@Risk-verktyg, som låter oss bedöma klimatrelaterade investeringsrisker och potentiella möjligheter, tror vi att vi är väl lämpade att leverera på vårt åtagande att driva förändringar i verkligheten och låsa upp avkastning för investerare."
Richard Gröttheim, VD på AP7, fortsatte: "Vi hade en mycket noggrann process för att hitta rätt partner att samarbeta med. Att hitta LGIM var ett möte mellan sinnen. Vi ser fram emot att utveckla denna innovativa lösning tillsammans under de kommande åren."
AP7s beslut att allokera till denna nya klimatomställningsstrategi markerar ett viktigt steg i ett strategiskt partnerskap med LGIM.
Anders Arjes, Nordenchef för LGIM, sammanfattade detta på följande sätt: "När LGIM fortsätter att internationalisera sig är Norden en nyckelmarknad och en ledande region när det gäller att anta innovativa ESG-investeringslösningar. Vi är mycket glada över att ha tilldelats detta mandat av AP7 vars grundläggande investeringstro på klimatförändringar ligger nära vår. Detta skapar ett prejudikat för hur en engagemangsledd aktiv strategi kan komplettera en universell investerares aktiva ägande, och vi ser fram emot att följa med dem på denna viktiga resa. Genom att arbeta tillsammans anser vi att vi kan visa hur långsiktiga investerare kan bli mer aktiva tillgångsägare, driva förändring och sträva efter att nå positiva resultat i de företag och marknader där vi investerar."
Globalt förvaltar LGIM tillgångar på 1,2 biljoner pund eller 1,35 biljoner euro per den 31 december 2022 (källa: LGIMs interna data per den 31 december 2022). Rapporterat förvaltat kapital inkluderar tillgångar under förvaltning av LGIM i Storbritannien, LGIMA i USA och LGIM Asia i Hong Kong. Förvaltat kapital inkluderar värdet av värdepappers- och derivatpositioner.
Valour tillkännager utökat partnerskap med Autostock med en ny strategi, Coinbot Zero STEP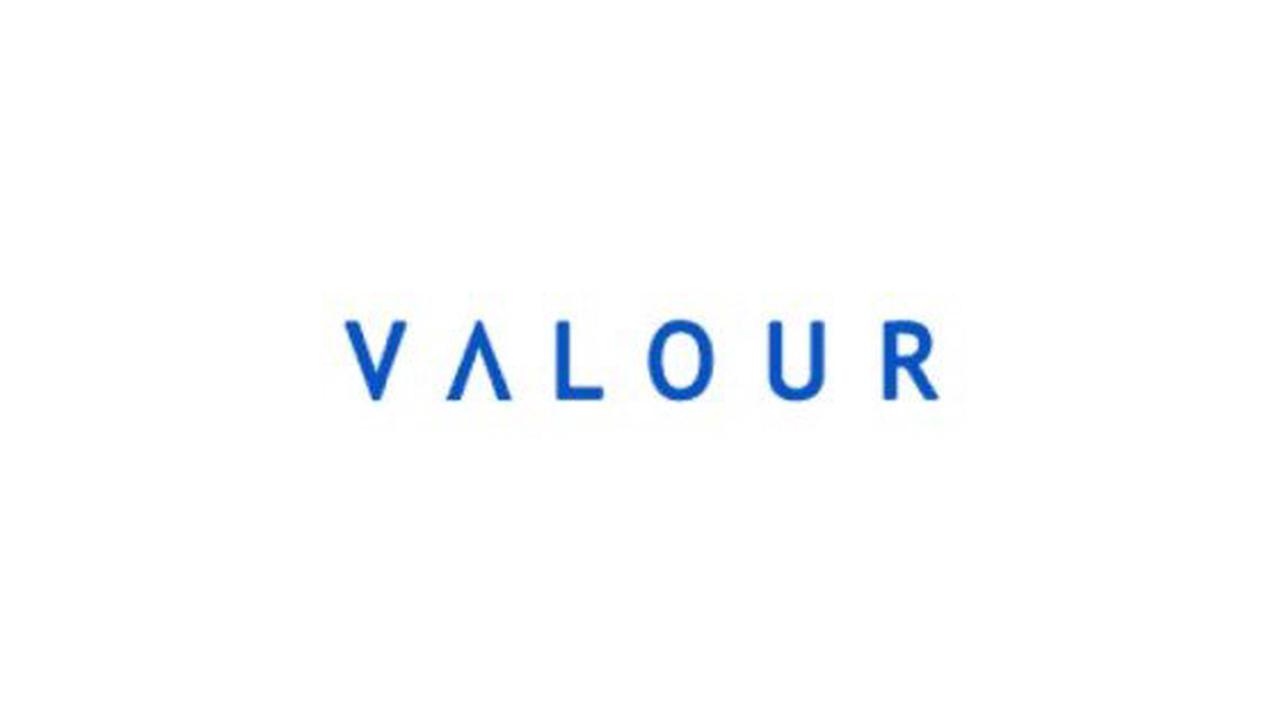 Den nya strategin, Coinbot Zero STEP, syftar till att ge investerarna ett bättre genomsnittligt anskaffningsvärde och kan användas på flera Valours produkter
Valour, det första och enda börsnoterade företaget som överbryggar klyftan mellan traditionella kapitalmarknader, Web3 och decentraliserad finansiering, tillkännagav idag en förlängning av det befintliga partnerskapet med Autostock, en svensk handelsplattform för att lansera en ny automatiserad handelsstrategi.
Autostock AB är en svensk analys- och handelsplattform exklusivt ansluten till Nordnet Bank, som erbjuder avancerade tekniska analysmetoder, automatiserade handelsfaciliteter och algoritmiska strategier. Den nya strategin, känd som Coinbot Zero STEP, kommer att skala in och ut i positionerna, i syfte att ge investeraren ett bättre genomsnittligt anskaffningsvärde.
"Efter den stora framgången med våra nuvarande strategier är vi mycket glada över att kunna tillkännage en ytterligare förlängning av vårt samarbete med Autostock", säger Johanna Belitz, Valour Head of Sales France and Nordics. "Coinbot Zero STEP sticker ut genom att erbjuda automatiserade handelsmöjligheter inte bara med Bitcoin och Ethereum, utan även med andra kryptotillgångar i Valours produktsvit. Detta gör det möjligt för investerare att automatisera sin exponering mot ett brett spektrum av underliggande tillgångar, inklusive Solana eller Cardano, med anmärkningsvärd effektivitet."
"Utvecklingen av automatiserade strategier för digitala tillgångar är mycket imponerande", säger Rikard Nilsson, VD för Autostock. "Med Coinbot Zero STEP väljer vi riskspridning genom att använda flera kryptovalutor, vilket både är fördelaktigt för investeraren och ökar användaraktiviteten. Dessutom kapitaliserar STEP-strategin på perioder av svagare momentum genom att använda ett säljvillkor som är rotat i prisaktion. Automatiserade handelsbeslut baserade på empiriskt härledda algoritmer minskar effektivt påverkan av psykologiska faktorer som annars kan påverka handelsval."
Valour erbjuder fullt hedgade ETPer för digitala tillgångar med låga eller inga förvaltningsavgifter, med produkter listade på europeiska börser, banker och mäklarplattformar. Valour ETPernas befintliga produktutbud omfattar Valour Uniswap(UNI), Cardano (ADA), Polkadot (DOT), Solana (SOL), Avalanche (AVAX), Cosmos (ATOM), Binance (BNB), Enjin (ENJ), Bitcoin Carbon Neutral (BTCN) och Valour Digital Asset Basket 10 (VDAB10) ETPer med låga förvaltningsavgifter. ValourBitcoin Zeros flaggskeppsprodukter är Bitcoin Zero och Ethereum Zero, de första helt säkrade, passiva investeringsprodukterna med Bitcoin(BTC) och Ethereum(ETH) som underliggande tillgångar som är helt avgiftsfria.
Valours flaggskeppsprodukter är Bitcoin Zero och Ethereum Zero, de första helt säkrade, passiva investeringsprodukterna med Bitcoin(BTC) och Ethereum(ETH) som underliggande tillgångar som är helt avgiftsfria.
Om Autostock
Autostock AB är en svensk analys/handelsplattform exklusivt ansluten till Nordnet Bank, som erbjuder avancerade tekniska analysmetoder, automatiserade handelsmöjligheter och algoritmiska strategier. Användarna kan bestämma på vilken nivå de vill dra nytta av Autotrader-programvarans hjälpmöjligheter och ställa in programvaran individuellt för att passa deras preferenser. Autostock erbjuder också stöd för handlare att utveckla sina egna verktyg, hjälp med att utforska sina handelsidéer, felsöka skriptbaserade algoritmer och mycket mer. Användarna kan följas på Autostocks webbplats och på Facebook.
IUQD ETF är en multifaktorfond som fokuserar på amerikanska aktier
iShares Edge MSCI USA Quality Factor UCITS ETF USD (Dist) (IUQD ETF) investerar i aktier med fokus på Fundamental/Quality, USA. Utdelningarna i fonden delas ut till investerarna (halvårsvis).
Den totala kostnadskvoten uppgår till 0,20 % p.a. Fonden replikerar resultatet för det underliggande indexet genom att köpa ett urval av de mest relevanta indexbeståndsdelarna (samplingsteknik). iShares Edge MSCI USA Quality Factor UCITS ETF USD (Dist) är en mycket stor ETF med tillgångar på 869 miljoner GBP under förvaltning. IUQD ETF är äldre än 3 år och har sin hemvist i Irland.
Varför IUQD?
Exponering mot en undergrupp av MSCI-aktier som historiskt har upplevt en stark och stabil vinst
Direktinvesteringar i amerikanska företag som historiskt har upplevt starka och stabila resultat
USA-exponering med fokus på aktier som historiskt har upplevt en stark och stabil vinst
Investeringsmål
Fonden strävar efter att följa utvecklingen av ett index som består av en undergrupp av MSCI USA-aktier som historiskt har haft en stark och stabil vinst.
Investeringsstrategi
MSCI USA Sector Neutral Quality Index spårar de ledande aktierna på den amerikanska marknaden. Beståndsdelarna väljs ut av tre huvudsakliga lika viktade indikatorer: hög avkastning på eget kapital, låga skuldnivåer och låg vinstvariabilitet från år till år.
Handla IUQD ETF
iShares Edge MSCI USA Quality Factor UCITS ETF USD (Dist) (IUQD ETF) är en börshandlad fond (ETF) som handlas på London Stock Exchange.
London Stock Exchange är en marknad som få svenska banker och nätmäklare erbjuder access till, men DEGIRO gör det.
Börsnoteringar
| | | |
| --- | --- | --- |
| Börs | Valuta | Kortnamn |
| gettex | EUR | IS38 |
| London Stock Exchange | USD | IUQD |
Största innehav
| | | | | | |
| --- | --- | --- | --- | --- | --- |
| Kortnamn | Namn | Sektor | Vikt (%) | ISIN | Valuta |
| SPGI | S&P GLOBAL INC | Financials | 4.17 | US78409V1044 | USD |
| JNJ | JOHNSON & JOHNSON | Health Care | 4.05 | US4781601046 | USD |
| NKE | NIKE INC CLASS B | Consumer Discretionary | 3.52 | US6541061031 | USD |
| MSFT | MICROSOFT CORP | Information Technology | 3.44 | US5949181045 | USD |
| AAPL | APPLE INC | Information Technology | 3.40 | US0378331005 | USD |
| META | META PLATFORMS INC CLASS A | Communication | 3.14 | US30303M1027 | USD |
| LLY | ELI LILLY | Health Care | 3.11 | US5324571083 | USD |
| NVDA | NVIDIA CORP | Information Technology | 2.75 | US67066G1040 | USD |
| MA | MASTERCARD INC CLASS A | Information Technology | 2.45 | US57636Q1040 | USD |
| KO | COCA-COLA | Consumer Staples | 2.38 | US1912161007 | USD |
Innehav kan komma att förändras