Investera i amerikanska sektorer med tillväxtpotential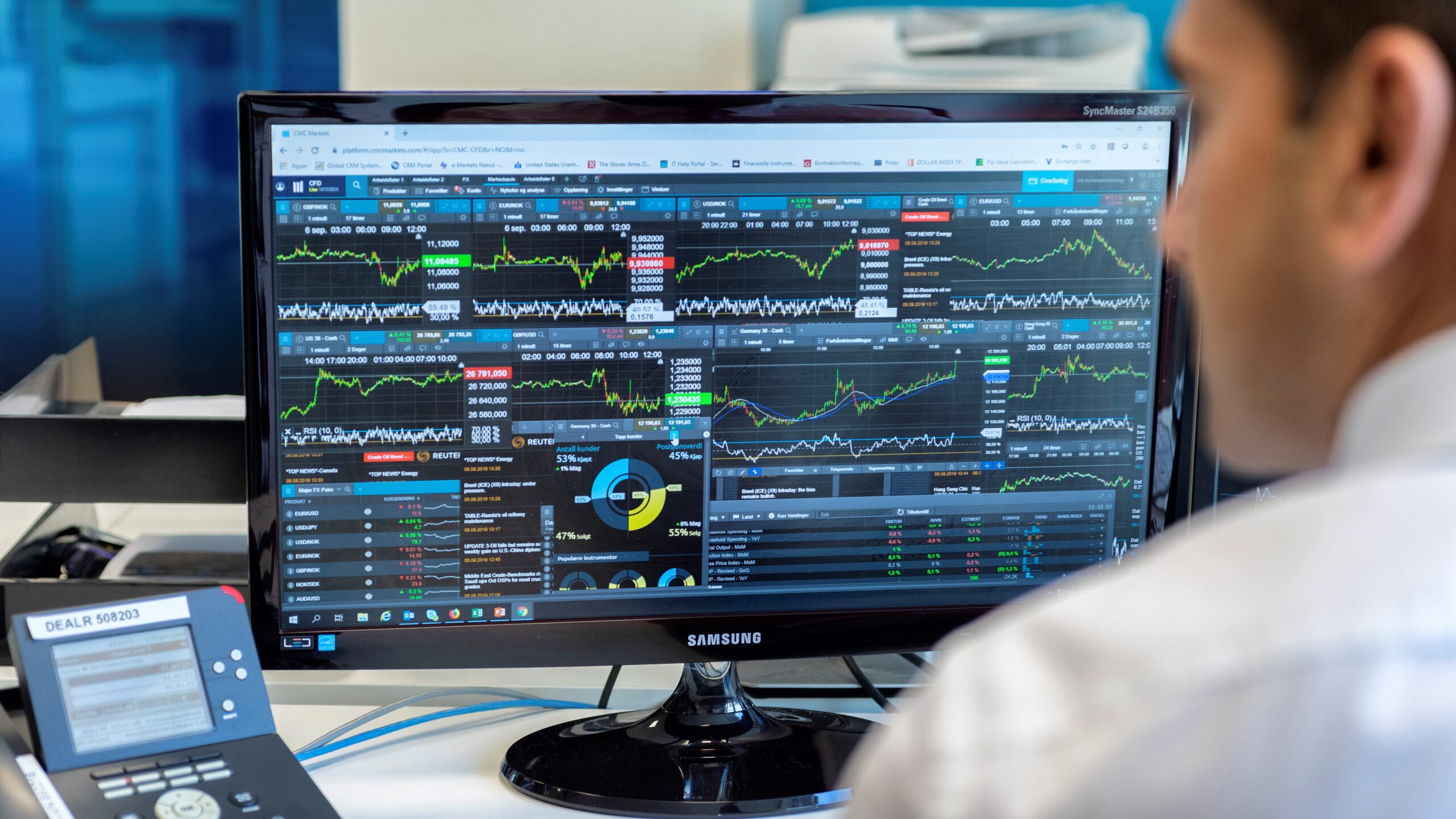 Även om stora delar av den amerikanska aktiemarknaden har stabiliserat sig finns det möjligheter på marknaden. Fler branscher startar nu långsamt upp efter Coronarestriktionerna, och på CMC Markets har flera traders fått upp ögonen för ETFer, börshandlade fonder. Det går till exempel att investera i amerikanska sektorer med tillväxtpotential genom CFDer.
Till skillnad från enskilda aktier ger amerikanska ETFer en bred exponering av såväl stora som små sektorer i USA. Vissa ETFer följer index som Nasdaq och S&P500 medan andra är sektorspecifika. Det finns dedikerade ETFer för sektorer som turism, ESG och bioteknik. Med fler än 1000 ETFer att välja mellan kan du som trader investera i stora och små sektorer med marknadens bästa villkor hos CMC Markets .
Vill du handla amerikanska ETFer? Exponerar dig för specifika sektorer på CMC Markets . Handla med fast courtage på 9 USD oavsett storlek och fem gånger hävstång utan innehavskostnader. Läs mer eller öppna demokonto här.
ETF-handelns möjligheter
Att handla med ETFer är en särskilt bra strategi om du har expertis inom ett specifikt område och vill diversifiera din investering. Om du har kunskap om framtidens energikällor kan en position i Ishares ESG Select ge dig en koncentrerad exponering mot företag inom ESG. Teknik är en sektor som historiskt har överträffat andra sektorer och även här finns det många ETFer. Investera i delar av Nasdaq genom Ishares US TEchnology ETF, eller fokusera enbart på sektorer som 5G genom First Trust Index NextG ETF (NXTG) eller bioteknik genom Ishares Nasdaq Biotechnology.
Covid-19 har påverkat olika bolag på olika sätt. Vissa har upplevt att kassaflödet helt plötsligt har tvärnitat medan andra har upplevt en omsättningstillväxt för tjänster anpassade till ett samhälle i lockdown. Frågan som marknaden ställer sig är hur vägen ur krisen kommer att se ut – vilka företag som överlever och vilka som inte gör det. Med ETFer kan man förenkla problemet genom att vidga sin syn till hela sektorer istället för enskilda aktier. Istället för att köpa aktier i ett oljebolag fördelas både risk och potentiell avkastning mellan flera likartade företag inom oljesektorn.
Vill du handla amerikanska ETFer? Exponerar dig för specifika sektorer på CMC Markets. Handla med fast courtage på 9 USD oavsett storlek och fem gånger hävstång utan innehavskostnader. Läs mer eller öppna demokonto här.
Bra att veta om ETF-handel
Det finns många fördelar med amerikanska ETFer – men också saker som du bör tänka på. Det pågående handelskriget och effekterna av Covid-19 gör framtidsutsikterna mer osäkra.
I allmänhet lönar det sig att vara påläst om de sektorer som du funderar på att ta en position i. Teknikbolag har ofta en hög prissättning och många ställer sig frågan om tillväxten kan fortsätta. Oljebolagens förmåga att anpassa sig till en grön utveckling är också avgörande för branschen på sikt. Sektorer som 5G och bioteknik har också företag som "satsar allt på ett kort" och antingen lyckas eller går under, vad man kallar binärt utfall.
Läs mer om ETFer från CMC Markets
CFDer är komplexa finansiella instrument och att investera i dem innebär en stor risk att snabbt förlorar pengar på grund av hävstången. 69 procent av icke-professionella kunder förlorar pengar när de handlar med dessa produkter. Du bör överväga om du förstår hur CFDer fungerar och om du har råd att ta risken att förlora dina pengar.

Crypto Markets Persevere, Investor Appetite for Web 3 Grows, and More!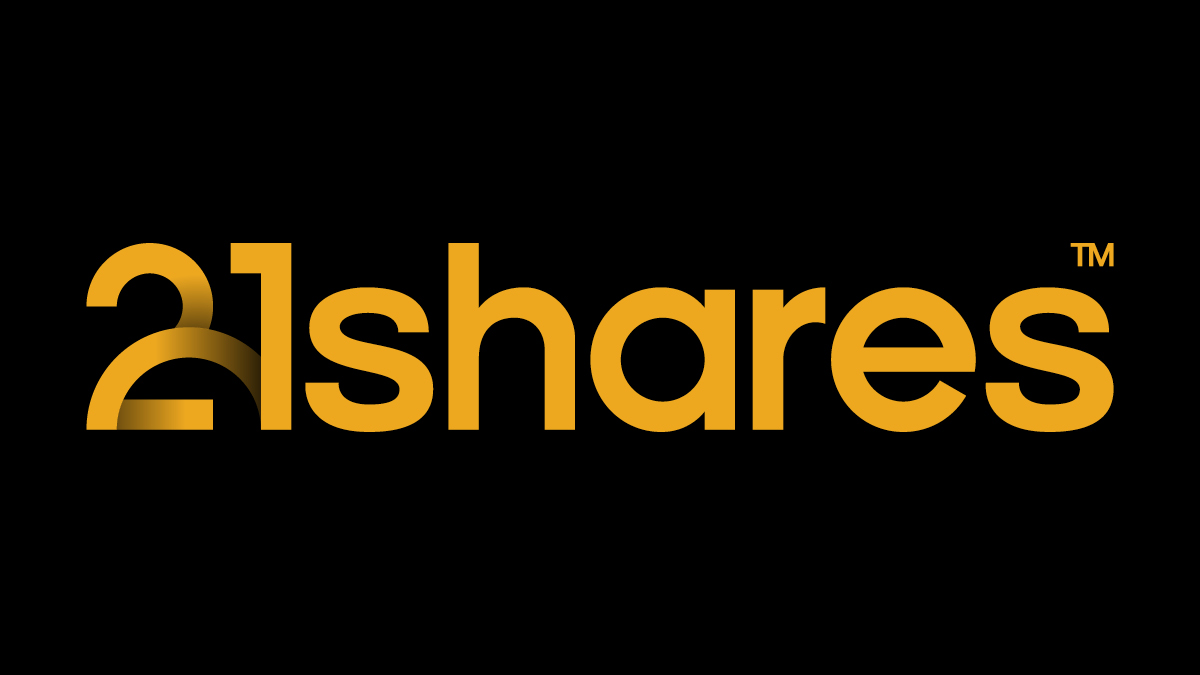 The banking default risk in the United States started spreading to European banks, taking down Credit Suisse with a takeover by UBS. However, for the second consecutive week, the crypto markets performed in the opposite direction of the macro headwinds. Bitcoin was the biggest winner of last week's rally, increasing by 15.5%, while Ethereum increased by 3.9%. The biggest losers were Polygon (-6.72%), Maker (-26%), and Lido (-13.86%), which announced it would launch withdrawals of staked ETH by mid-May, two weeks after Ethereum's Shanghai upgrade.
Figure 1: Weekly TVL and Price Performance of Major Crypto Categories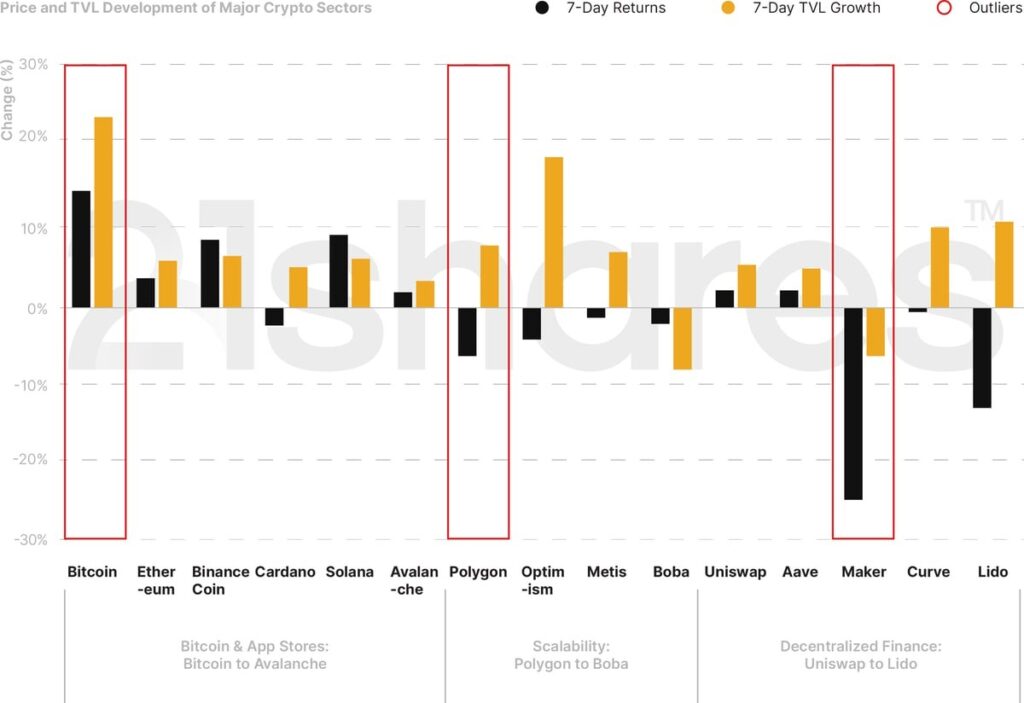 Source: 21Shares, CoinGecko, DeFi Llama. Close data as of March 20.
Key takeaways
• Crypto's market cap increases by 8.5%, despite the looming default crisis in traditional finance.
• Arbitrum unveils token, Cosmos launches Replicated Security
• Lido Finance anticipates mainnet withdrawals by mid-May; National Australian Bank conducts its first Cross Border transaction using its own stablecoin on Ethereum
• Saudi Arabian NFT marketplace "Nuqtah" raises seed funding from Animoca Brands and Polygon.
Figure 2: Bitcoin Options Open Interest By Expiry

Source: Coinglass.com
Spot and Derivatives Markets
Demand for Bitcoin options contracts has increased to levels we haven't seen since 2021, inching close to $12B on March 19 alone, with Deribit enjoying the lion's share of ~$10B. This could mean a trend of allocating investments in cryptoassets as a hedge against inflation and the default contagion risk going around in the banking sector.
On-chain Indicators
Figure 3: Ethereum's Network Value to Transactions Ratio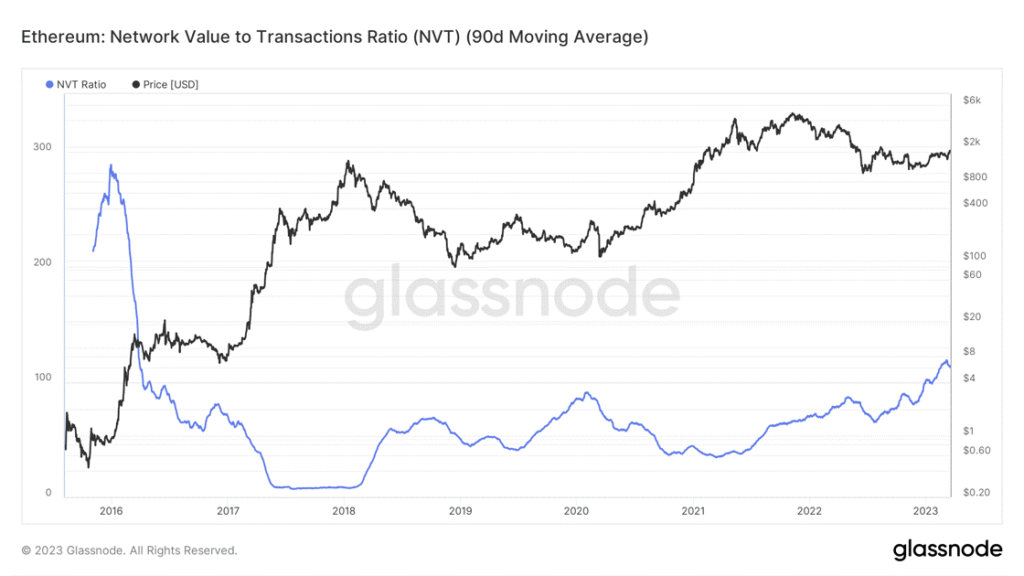 Source: Glassnode
Analogous to the price to earnings for stocks, the Network Value to Transactions (NVT) Ratio can help track the realized valuation levels of an asset. As shown in Figure 3, an NVT ratio as high as 300 indicates that Ethereum may be overvalued since the network value, or market cap, is higher than the transaction volume. Whereas downtrends like the one seen in 2017 indicate that transactions are outgrowing the network value and investors may be buying Ethereum at a discount. Although the chart above indicates that the market cap outweighs the volume of transactions on the network, historically speaking the second-largest cryptoasset by market cap is still in a healthy valuation range.
Next Week's Calendar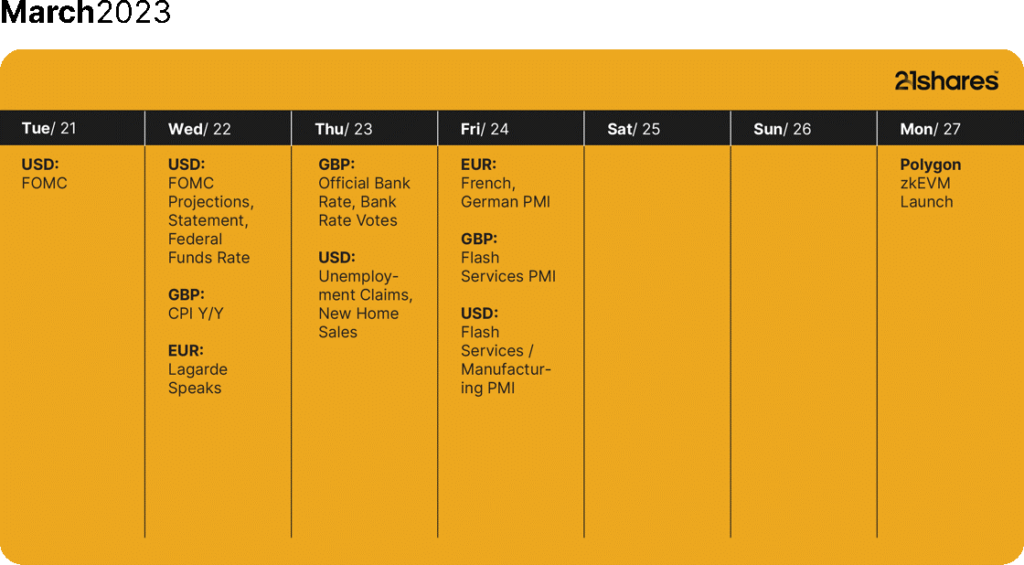 Source: Forex Factory, CoinMarketCal
Research Newsletter
Each week the 21Shares Research team will publish our data-driven insights into the crypto asset world through this newsletter. Please direct any comments, questions, and words of feedback to research@21shares.com
Disclaimer
The information provided does not constitute a prospectus or other offering material and does not contain or constitute an offer to sell or a solicitation of any offer to buy securities in any jurisdiction. Some of the information published herein may contain forward-looking statements. Readers are cautioned that any such forward-looking statements are not guarantees of future performance and involve risks and uncertainties and that actual results may differ materially from those in the forward-looking statements as a result of various factors. The information contained herein may not be considered as economic, legal, tax or other advice and users are cautioned to base investment decisions or other decisions solely on the content hereof.
AuAg Funds säger guld kommer att bli ännu starkare i framtiden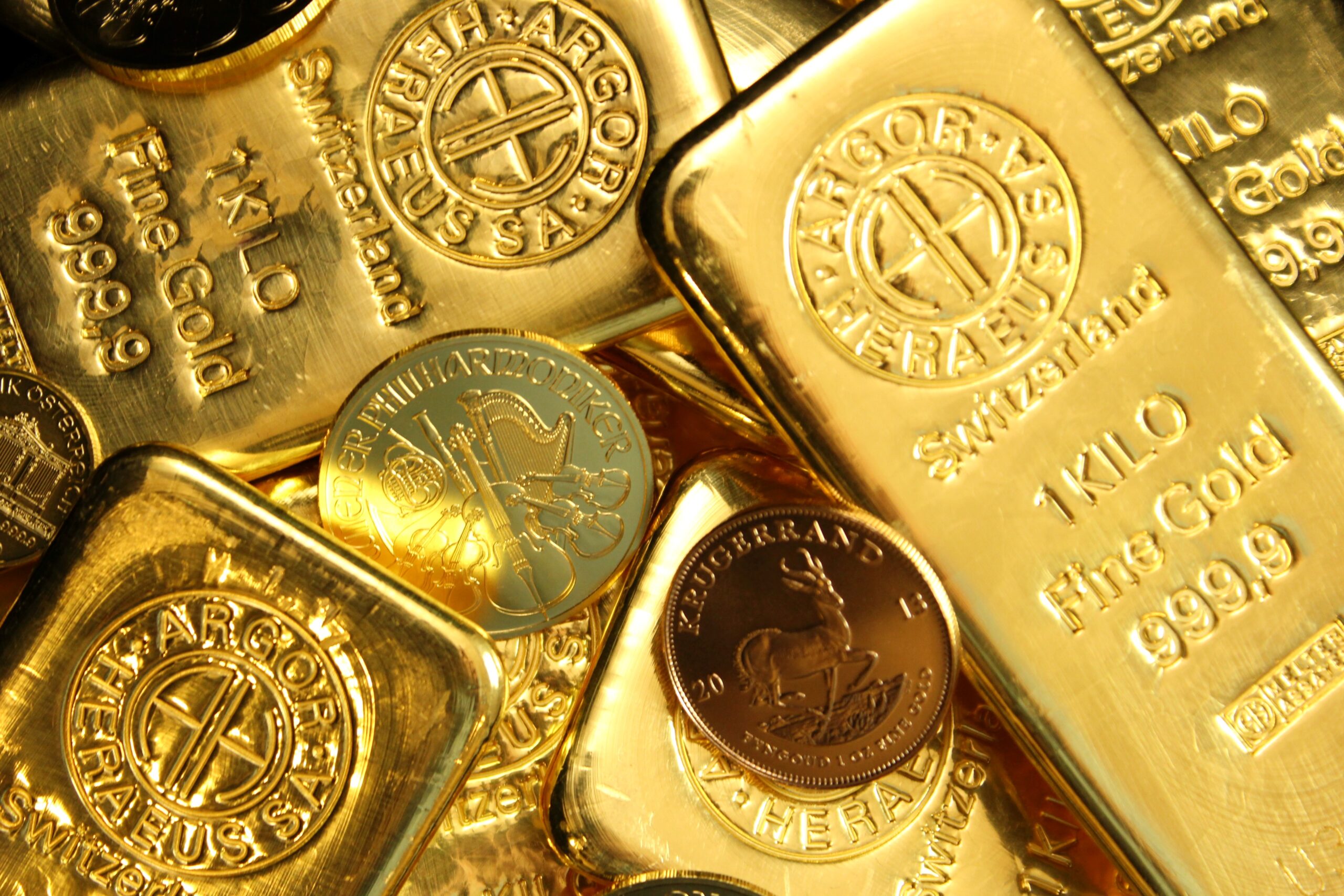 Eric Strand från AuAg Funds säger att återkomsten av kvantitativa lättnader innebär att guldet kommer att bli ännu starkare i framtiden.
Eric Strand från AuAg Funds ansluter sig till Proactives Thomas Warner för att prata om de senaste nyheterna från guldmarknaden, som har sett guldpriserna nå rekord i vissa valutor efter en veckas tumult i den europeiska banksektorn.
Handla ZSG0 ETF
AuAg ESG Gold Mining UCITS ETF – Acc (ZSG0 ETF) är en europeisk börshandlad fond som handlas på bland annat London Stock Exchange och tyska Xetra.
Det betyder att det går att handla andelar i denna ETF genom de flesta svenska banker och Internetmäklare, till exempel DEGIRO, Nordnet och Avanza.
Sprott Asset Management lanserar fond för kritiska metaller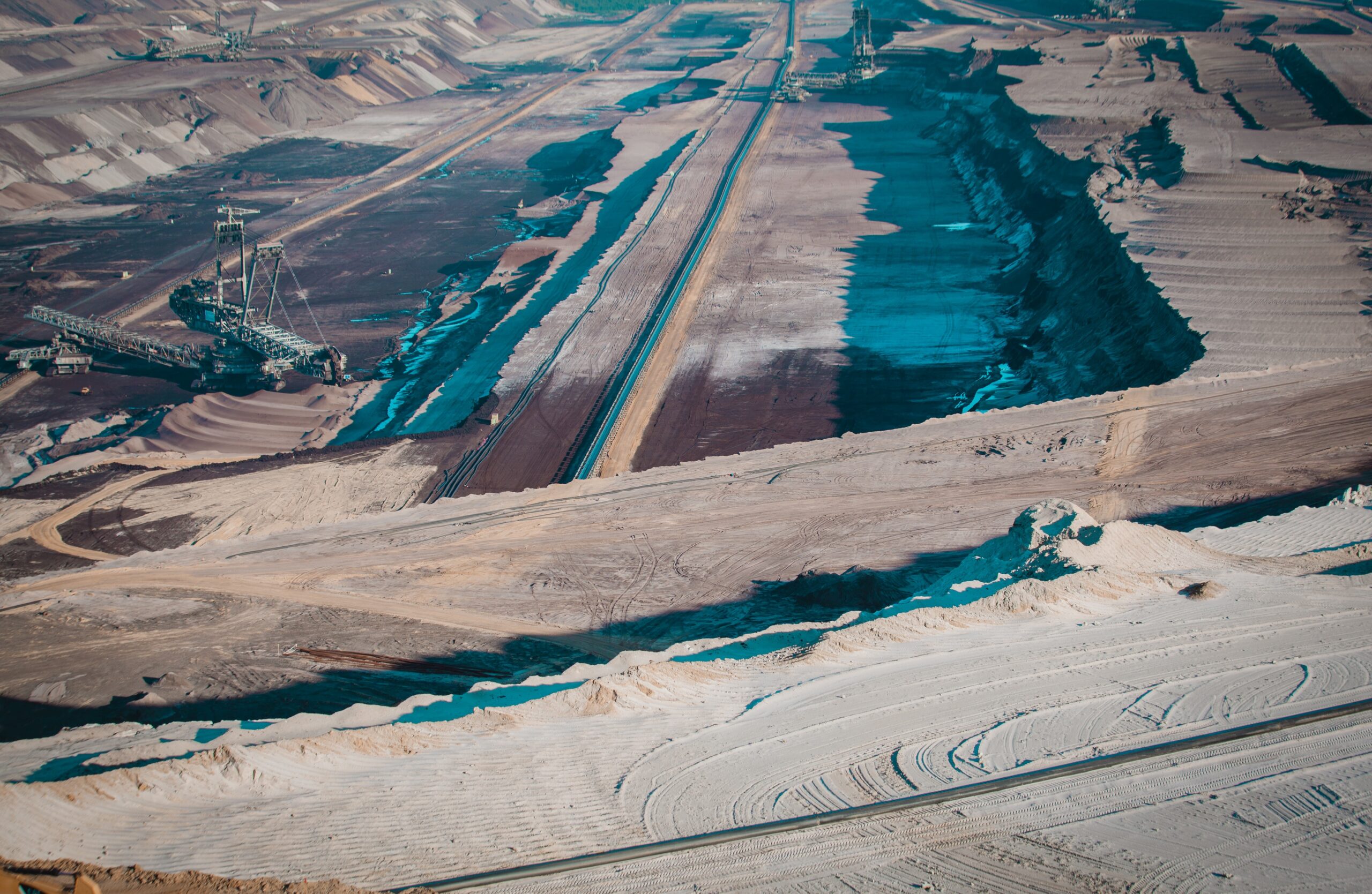 Sprott Asset Management (TSX:SII) VD John Ciampaglia ansluter sig till Proactives Natalie Stoberman för att diskutera lanseringen av sin fond för kritiska metaller, Sprott Energy Transition Materials UCITS ETF (M7ES) på HANetf-plattformen.
Sprott Energy Transition Materials ETF ger exponering mot de företag som tillhandahåller de kritiska metaller som behövs för den globala omställningen till ren energi.
Handla M7ES ETF
HANetf Sprott Energy Transition Materials UCITS ETF (M7ES ETF) är en europeisk börshandlad fond. Denna fond handlas på flera olika börser, till exempel Deutsche Boerse Xetra och London Stock Exchange. Av den anledningen förekommer olika kortnamn på samma börshandlade fond.
Det betyder att det går att handla andelar i denna ETF genom de flesta svenska banker och Internetmäklare, till exempel DEGIRO, Nordnet och Avanza.