Fundamental Improvements in the Aftermath, What's Next?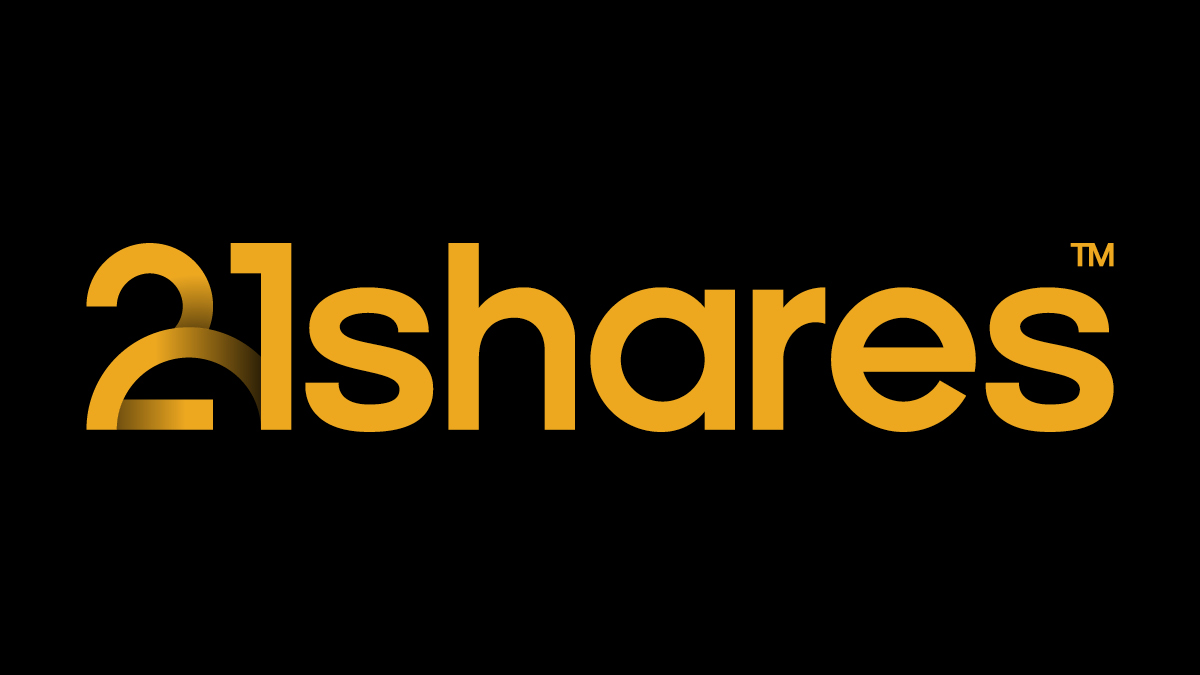 Markets reacted in opposite directions this month, as regulating the cryptoasset industry is still in talks in the U.S. New developments in the Ripple case spurred some optimism, with the hope that the long tail of cryptoassets may not be considered crypto-securities. Bitcoin and Ethereum fell by almost 4% each over the past month. However, the market cap of the decentralized finance (DeFi) industry alone has increased by 8%. As shown below, the biggest winners of July were Maker, which increased by 50% in returns, Solana (+28%) came in second, and thirdly Optimism (+ 21.8%). These jumps in price movements can be attributed to fundamental improvements and developments in both the application and infrastructure layers, which we will elaborate on later in this monthly review.
Figure 1: Price and TVL Development of Major Crypto Sectors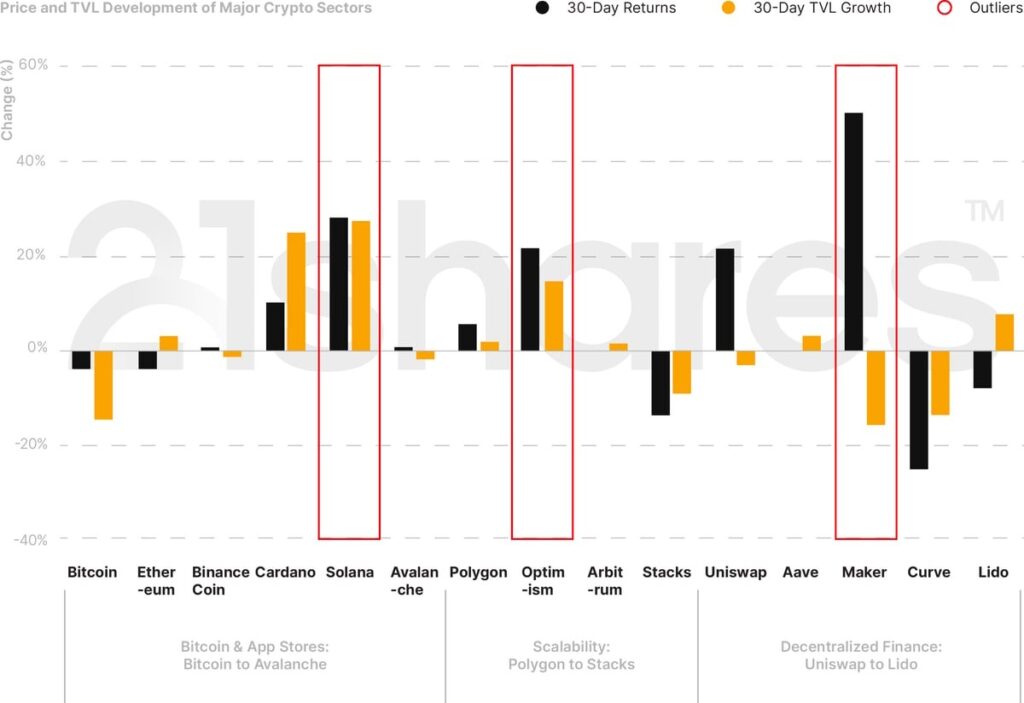 Source: 21shares, CoinGecko, DeFi Llama. Data as of July 30 close.
5 Trends to Remember from July
• XRP by itself may not be a security, according to a U.S. court decision.
On July 13, U.S. District Court Judge Analisa Torres issued a summary judgment order that was partly in favor of the Securities and Exchange Commission (SEC) and partly in favor of Ripple. Specifically, Judge Torres distinguished between the target of an investment contract (e.g., XRP as a token) versus the sale and marketing of that asset (e.g., the investment contract around the sale or offer of XRP). The former was not held to be a security, but the latter was in certain circumstances. Judge Torres' decision also held that there were disputes of material fact that were not appropriate to resolve on summary judgment, so there could be a trial relating to a few additional issues (including whether Ripple's founders aided and abetted Ripple's securities law violations). Although not conclusive, the court's decision spurred short-lived optimism across the cryptoassets market. On July 13, Bitcoin reached $31.45K, the highest since May 2022. Ethereum, on the other hand, surpassed the $2K, a level last seen in April following the Shanghai upgrade. As for the industry's long tail of tokens, especially those labeled in previous SEC lawsuits (against Coinbase and Binance) as securities, Solana, Polygon, and Cardano all enjoyed roughly 30% increase in returns for the two days following the verdict.
Hoping it would mean the same for the collapsed Terra Luna, Terraform Labs filed a motion to dismiss their case based on Judge Torres' "programmatic sales" argument. On July 21, the lawyers for the SEC filed a response against Terraform's motion, vaguely suggesting that they're considering an appeal against the Ripple court decision. Judge Jed Rakoff rejected Terraform's motion at the end of the month, saying that the court rejected the approach adopted by Judge Torres in the Ripple case. While this may not change XRP's ruling, it may affect the market sentiment of the token, which has persevered as of writing this report, still enjoying the 40% increase over the past month.
• MakerDAO: A Return to Fundamentals
Maker also implemented the enhanced DAI savings rate (eDSR), first increasing the yield to 3.49% in June, while a subsequently approved proposal in late July switched the interest rate into a dynamic model that could potentially see the yield reach 8%. Thus, eDSR could catalyze the adoption of DAI as the deposit rewards could surpass the risk-free benchmark of traditional finance, represented by the US treasury at 4%, and help to establish an attractive savings rate that could improve the liquidity of DeFi. This isn't to argue that Maker's deposit rewards would be considered a safe investment compared to the risk-free rate of the US Treasury, as the US government is the sole lender of last resort, but it does show the measures DeFi protocols are adopting in order to compete and build a sustainable treasury leveraging the current macro environment. Although temporary, elevated interest rates present a valuable window for projects to capitalize on, fostering lasting treasury growth. Finally, Maker's shift towards real-world assets (RWA) is proving fruitful, generating around $90M in annual revenue, with more than 50% exposure.
Figure 2: Revenues per Type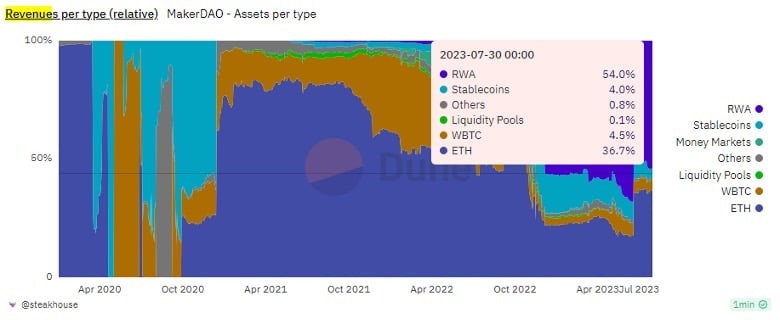 Source: Steakhouse on Dune
This growth is significant as it provides a practical revenue generation approach without relying solely on token emissions. It also showcases the benefits of bridging with the TradFi, encouraging other protocols to build sustainable treasuries for runway protection during times of volatility. Furthermore, the increase in DAI's savings rate elevates DeFi's stablecoin yield benchmark, incentivizing protocols to become more competitive and driving further user adoption. It is worth noting that DeFi tokens outperformed the market in July, potentially forming a bottom for the first time in almost two years. So, we'll be closely observing Maker's impact on the broader sector and how it could influence their decision to further integrate with TradFi.
Figure 3: Price Indices Performance of the Different Ethereum Industries
Source: Glassnode
• The Evolution of Polygon 2.0 as an Infrastructure Power House
The Polygon Foundation has revealed plans for the infrastructure of Polygon 2.0. This new network aims to unify various scaling services under a Layer 2 framework that uses Zero Knowledge technology for interoperability. The architecture has four main categories: Staking, Interoperability, Execution, and Proving, with emphasis on the first two. The staking layer will offer shared security like Polkadot and Cosmos, while interoperability focuses on native asset transfers across networks. Polygon will also upgrade its POS chain to a zkEVM network, using existing validators for submitting routing data to Ethereum.
Further, The MATIC token will transition to POL at a 1:1 ratio with uncapped supply and 2% yearly emissions to support staking and the ecosystem's growth. Finally, Governance will be categorized into three branches to establish clear responsibilities for the stakeholders and form a treasury to help drive the growth of Polygon. The announcement, culminating Polygon's 6-week program to unveil its new network design, saw a steady growth in total number of users and an increase of close to 100% in AuM on the new scaling solution, climbing from ~$23M to ~$55M, as shown below.
Figure 4: Polygon zkEVM scaling solution AuM
Source: 21shares on Dune
• A Rise in Institutional Adoption
With Europe's first comprehensive legislation regulating cryptoassets (Markets in Crypto Assets) going into effect in 2024, the following instances speak volumes of the dire need for legal clarity to streamline the adoption of this asset class along with its underlying technology, especially for institutions.
• Societe Generale became the first company to receive a digital asset service provider (DASP) license in France. The license allows Forge, the bank's cryptoasset division, to operate digital asset custody, sell and purchase digital assets for legal tender, and trade digital assets. In April, Forge launched CoinVertible (EURCV), an institutional-grade, euro-pegged stablecoin so far only built on the Ethereum blockchain, with plans to become blockchain-agnostic.
• Bank of Italy partnered with Polygon for a limited environment for trading securities on DeFi, tailored especially for institutions. Milano Hub, the bank's innovation center, selected the "Institutional DeFi for Security Token Ecosystem Project", an ecosystem project promoted by Cetif Advisory to research opportunities offered by DeFi and experiment with security tokens. This project is anticipated to act as a catalyst to onboard Italian banks, asset management companies, and other financial institutions into a DeFi platform that is fully compliant with regulatory requirements, which is the main obstacle to institutional adoption.
Figure 5: Breakdown of the RWA-backed assets issued by Institutions on the Polygon network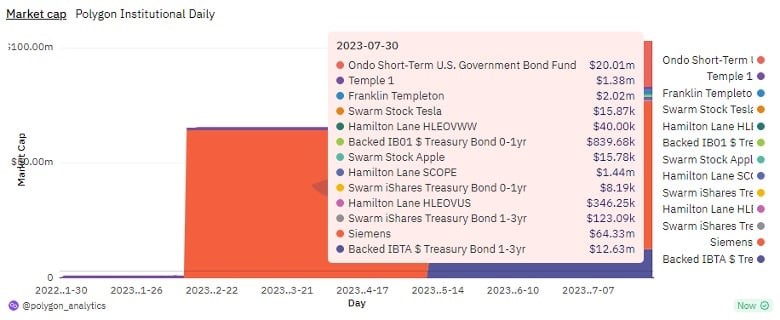 Source: Polygon Analytics on Dune
• Ethereum's Scaling Solutions are Transitioning Towards Customizable Scalability
Allowing projects to deploy tailored applications as standalone networks enables customization of fee payments, permissions, and application development using various programming languages. Initiating this trend in early 2023, Arbitrum and Optimism introduced Orbit and OpStack, respectively, to bootstrap the creation of custom networks. OpStack emerged as the preferred solution, as it was adopted by major players like Coinbase, Binance, WorldCoin, and Zora, leveraging Optimism's law of chains to promote seamless interoperability among OP-stack-based chains and addressing a crucial gap in crypto's infrastructure. For context, Coinbase's base network launched on July 13, securing close to $85M in total deposits in less than two weeks. Although the hype around meme coins drove the activity, the trend still demonstrates users' excitement for Ethereum's scaling future.
Figure 6: Gas Used by Scaling Solutions to Settle Transactions on Ethereum
Source: @msiib7 on Dune
That said, ZkSync and Starkware entered the competition with ZKStack and Stark Net Stacks in July, offering customizable frameworks for embryonic networks to address their unique business needs. This development brings exciting prospects for programmable scalability and resolves privacy issues that are not easily achievable on Ethereum or its scaling solutions alone. Finally, the trend of embracing the Ethereum ecosystem was evident with Celo's announced intent to pivot from an Ethereum competitor into an L2 anchored to Ethereum's security. A decision that is driven by the need to benefit from the deep liquidity and vibrant developer ecosystem
What to Expect
• A Breakthrough in Resolving Cryptocurrency Infrastructure Challenges
Chainlink's highly anticipated interoperability product finally launched on Mainnet. CCIP is an inter-blockchain communication standard that enables data and value transfer across four incompatible networks at the start. The solution incorporates four features to improve bridging: Active Risk Management (ARM) Network to detect and pause the malicious activity, programmatic transfers to automatically execute predefined instructions, rate limits for preventing unauthorized token transfers beyond a certain threshold, and smart execution to enable seamless cross-chain activities without extra payments using a pre-funded account. Check out our State of Crypto Issue 8 for a deeper dive into the technology.
CCIP is crucial in addressing weak security in cross-chain bridges, which have been exploited for nearly $2.5B in value over time. Thus, it's a pivotal milestone to have an internet of contracts, similar to how the TCP/IP unified the global internet, facilitating liquidity to be globally accessible and the value of applications to flow across networks to be established on a battle-tested infrastructure that has enabled more than $8T in transactional value.
Further, CCIP may become Chainlink's most significant product due to the wide need for interoperability. For context, applications using Chainlink's CCIP can pay in LINK or ERC20 tokens, with a 10% premium on ERC20 to encourage LINK usage. This makes LINK a universal gas currency across chains, removing the need for token sales by node operators and phasing out the foundation's subsidies. Finally, with a fee-based model in place, CCIP can generate sustainable earnings for DONs, the backbone of Chainlink's security. That said, despite initial modest earnings of $35K over the past months, partnerships with Synthetic and Aave using CCIP for token transfers and cross-chain governance suggest significant growth potential. Integration with SWIFT also solidifies CCIP's position as a cross-chain solution for both crypto and traditional finance.
Figure 7: Total Revenue Accrued by CCIP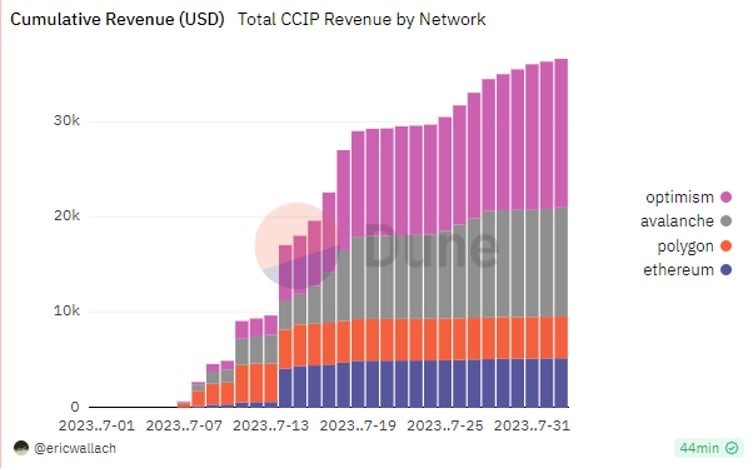 Source: @Ericwallach on Dune
• Solana Attempting to Claw Back
Although Solana faced a challenging start to the year due to FTX's collapse, then the SEC's legal actions against Coinbase and Binance, recent developments have hinted at a potential recovery. First, Solana Labs introduced Solang, enabling Ethereum developers to use Solidity (Ethereum's programming language) on Solana, and GameShift, a web3 game development API streamlining the game development process. Then, Neon EVM went live, offering Ethereum-compatible smart contracts on Solana without significant code modifications.
Overall, Solana's activity is showing signs of hopeful recovery, with active addresses rising 25% in the past seven weeks and total AuM hitting a year-high. Catalysts like Jump Crypto's Firedancer, diversifying node software and combating outages, and demanding apps like Hiver and Teleport could drive excitement. Further, Saga, Solana's phone device, might boost adoption as it abstracts the complexity of web3. Nonetheless, there's still a lot of work to do to encourage users to move their capital back to Solana, especially as the total value transferred on the network remains at relatively muted levels.
Figure 8: Monthly Value moved on Solana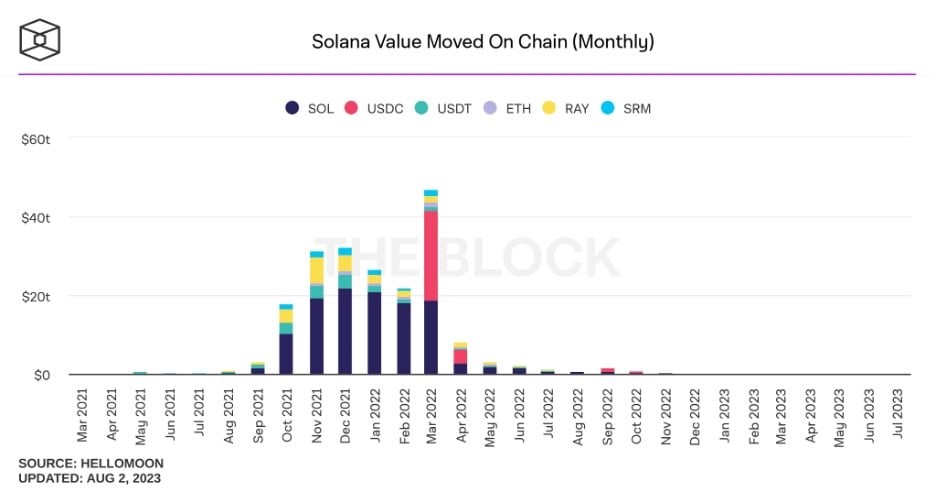 Source: TheBlock
• Ramifications of the Ripple Case
Although the court decision is inconclusive, we may see foundations and developers rethinking their strategies when bootstrapping their services and products to accommodate regulatory expectations, primarily concerning how their protocols achieve decentralization. It took Uniswap two years to launch its token after it had dedicated this time to focus on the fundamentals of the decentralized app, which is a tactic that has proved to pay off, building Uniswap to become the world's largest decentralized exchange with more than $3B in assets under management and a market cap of almost $5B. More projects at the application layer could postpone token launches until they establish alignment between their product's core services and market demand. Established projects may overhaul their entire business models to enhance token value capture. As discussed earlier in this report, we are already witnessing this shift with Polygon's new tokenomics. Following Uniswap's steps, entrepreneurs will focus their efforts on scoring investments from traditional players in venture capital and private equity instead of launching their tokens from the very start to raise funds.
Bookmarks
Research Analyst Tom Wan's insights were featured on Forkast News.
Digging Into Ethereum Withdrawals and Future Improvements.
Want to learn more about Ripple? Read our investment thesis.
Celsius has been selling its assets as part of its bankruptcy proceedings.
Learn more about Ethereum's Liquid Staking Derivatives, which now constitute the largest DeFi sector by AUM and are expected to continue proliferating as the ETH staking ratio grows.
Next Month's Calendar
These are the top events we're closely monitoring in August.
• August 10: CPI data in the U.S.
• August 16: FOMC Meeting Minutes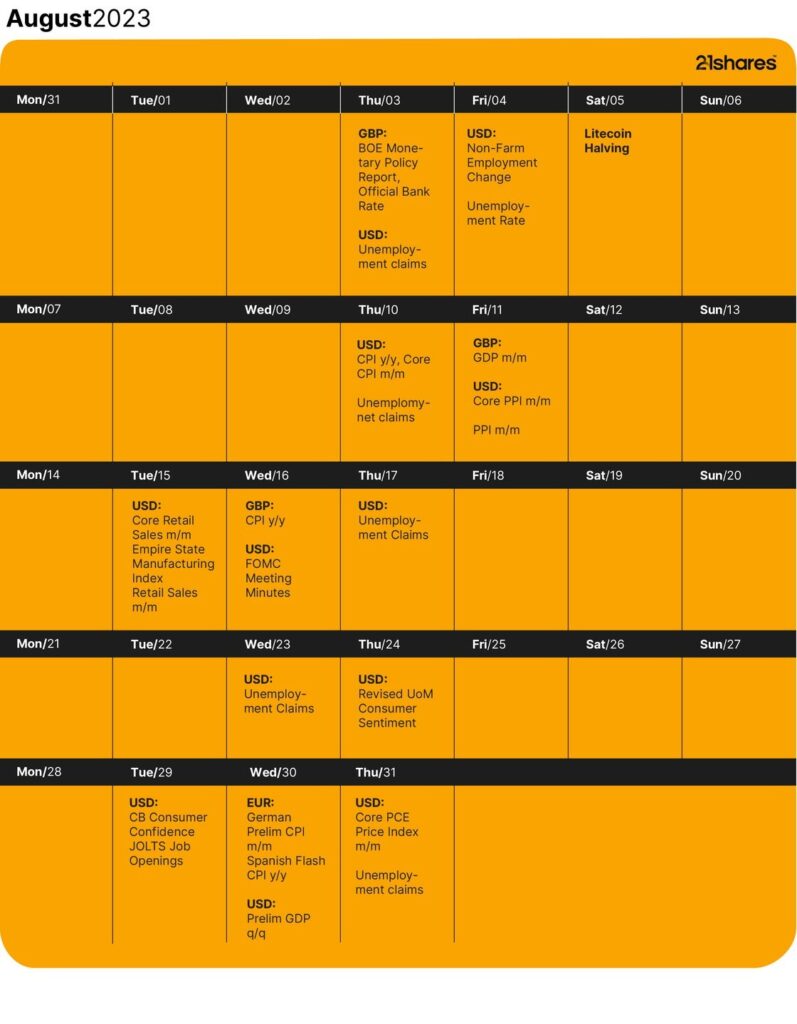 Source: 21shares, Forex Factory, CoinMarketCap
Research Newsletter
Each week the 21Shares Research team will publish our data-driven insights into the crypto asset world through this newsletter. Please direct any comments, questions, and words of feedback to research@21shares.com
Disclaimer
The information provided does not constitute a prospectus or other offering material and does not contain or constitute an offer to sell or a solicitation of any offer to buy securities in any jurisdiction. Some of the information published herein may contain forward-looking statements. Readers are cautioned that any such forward-looking statements are not guarantees of future performance and involve risks and uncertainties and that actual results may differ materially from those in the forward-looking statements as a result of various factors. The information contained herein may not be considered as economic, legal, tax or other advice and users are cautioned to base investment decisions or other decisions solely on the content hereof.
21Shares lanserar två nya ETPer på Euronext Paris och Amsterdam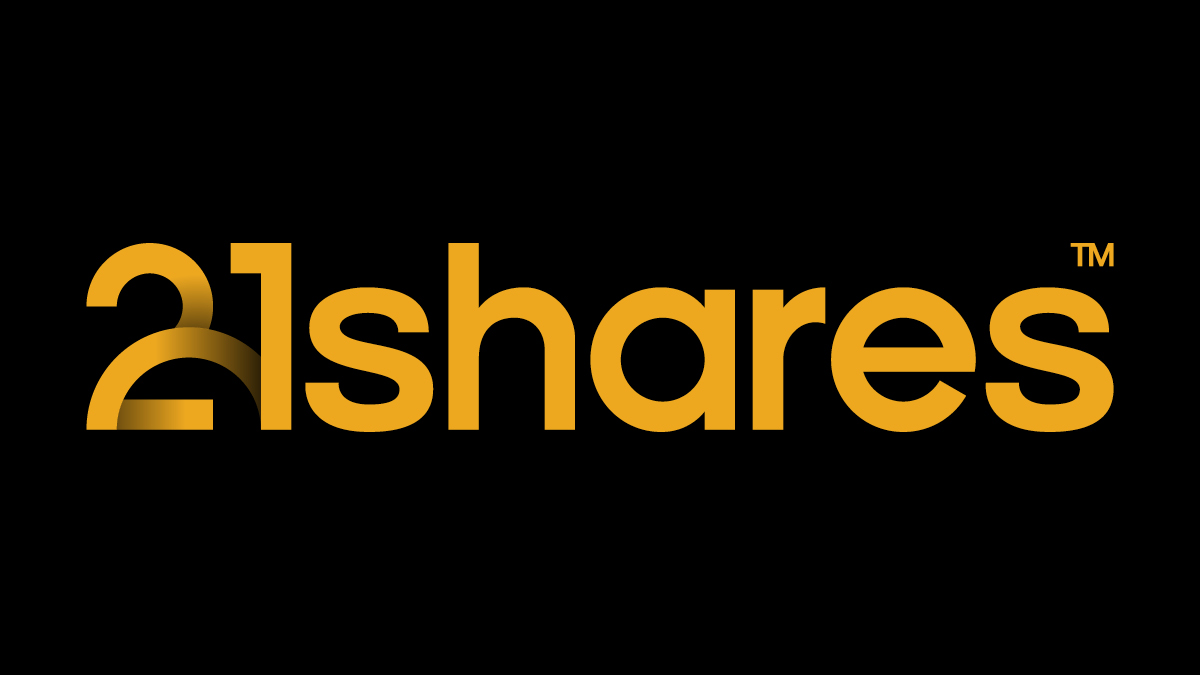 21Shares listar två nya ETPer på Euronext Paris och Amsterdam, 21Shares Arbitrum ETP respektive 21Shares Optimism ETP. De två ETPerna är strukturerade för att ge investerare riktad exponering mot dessa banbrytande Layer 2s, som verkar på Ethereum-blockkedjan
Dessa tillägg markerar en viktig milstolpe för företaget eftersom det fortsätter att växa sitt produktsortiment som svar på den växande efterfrågan från investerare.
De två ETPerna, som kallas AOPT respektive AARB, är strukturerade för att ge investerare en målinriktad, enkel och effektiv exponering mot dessa banbrytande Layer 2s, som verkar på Ethereum-blockkedjan och utformade för att öka skalbarheten och minska transaktionsavgifterna. Dessa börshandelsprodukter kommer att tillåta investerare att dra nytta av tillväxten och utvecklingen av Optimism och Arbitrum.
Här är huvudfunktionerna
Optimism Etp: Erbjuder investerare exponering för Optimism, en Layer 2-lösning för skalbarhet för Ethereum som syftar till att avsevärt förbättra nätverket och minska övergångskostnaderna. Denna tillgång har fått investerarnas uppmärksamhet tack vare dess förmåga att göra decentraliserade appar (eller dApps) mer tillgängliga och bekväma.
Arbitrum Etp: Arbitrum är också en lösning utformad för att förbättra skalbarheten av Ethereum, men minskar nätverksöverbelastning, vilket gör det till en avgörande aktör inom den decentraliserade finanssektorn (DeFi).
Massimo Siano, VD och chef för Sydeuropa på 21Shares, kommenterade: "Noteringen av dessa två ETP är i linje med den växande aptiten för kryptoprodukter i Europa. Vi vill fortsätta att bekräfta vårt ledarskap genom att fortsätta på denna väg, vilket också bekräftar vårt fulla stöd för tillväxten och utvecklingen av kryptovalutasektorn."
Båda ETPerna kommer att noteras och handlas på Euronext Paris och Euronext Amsterdam, i både euro och dollar, vilket ökar 21Shares närvaro på europeiska marknader.
Handla AOPT ETP och AARB ETP
21Shares Optimism ETP (AOPT) och 21Shares Arbitrum ETP (AARB) är börshandlade kryptovalutor (ETP) som handlas på Euronext Paris.
Euronext Paris är en marknad som få svenska banker och nätmäklare erbjuder access till, men DEGIRO gör det.
Indiens vikt i emerging market index stiger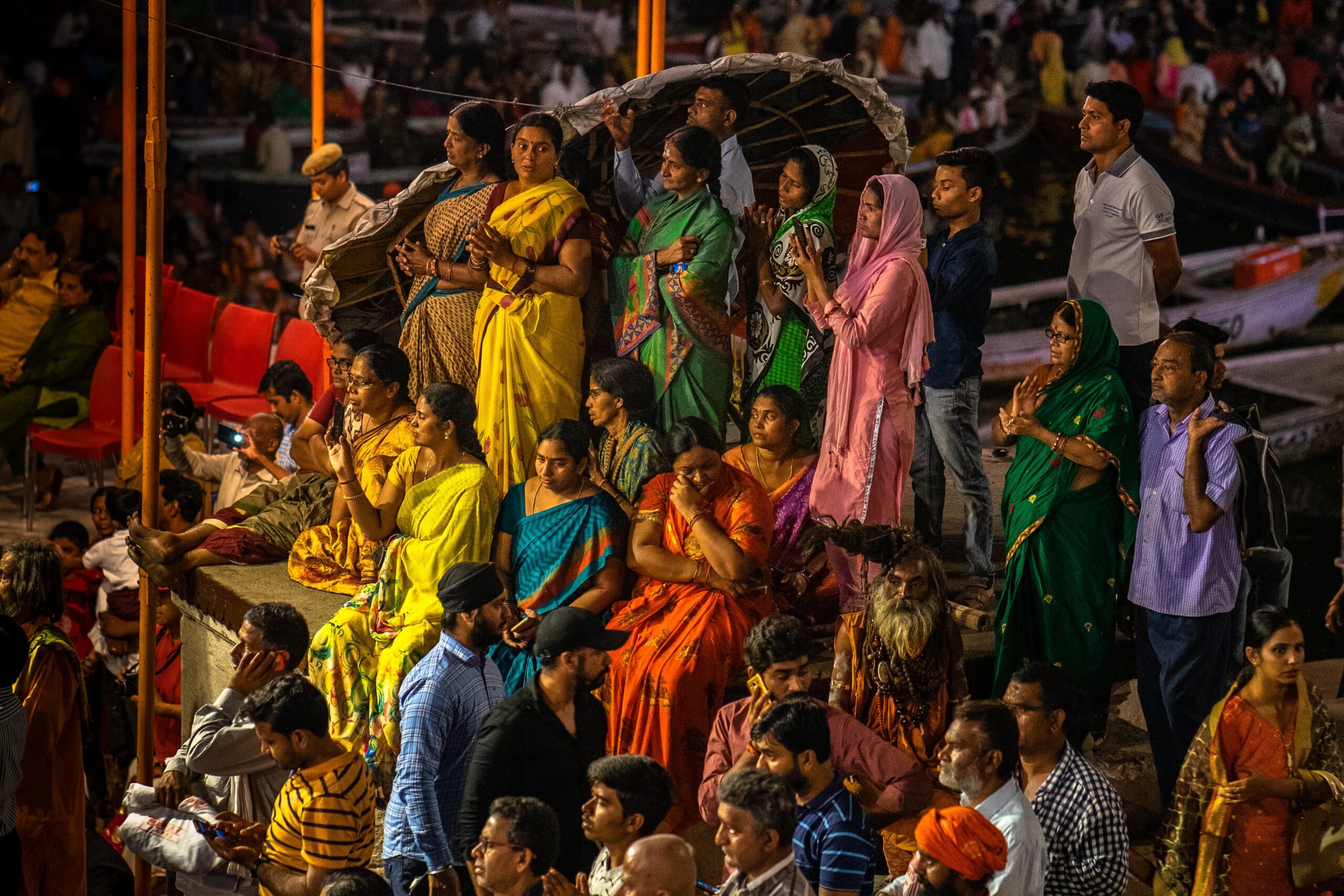 Indiens vikt i Emerging Markets index, MSCIs Global Standard klättrade till 16,27 procent, vilket överträffade det tidigare rekordet i oktober 2022 på 16,21 procent.
Förra månaden tog Indien tillbaka den andra positionen efter att ha ersatt Taiwan. För närvarande har Kina den högsta viktningen på mätaren, på 28 procent. Indiens viktning höll sig stabil på cirka 8 procent från 2015 till oktober 2020.
Under 2023 har indiska marknader uppvisat en relativt stark överprestation. MSCI India har noterat en imponerande ökning på 12,3 procent hittills från år, vilket överträffar den blygsamma ökningen på 2,7 procent som observerats i MSCI Emerging Markets.
Handla INQQ ETF
India Internet & Ecommerce ESG-S UCITS ETF (INQQ ETF) är en europeisk börshandlad fond. Denna fond handlas på flera olika börser, till exempel Deutsche Boerse Xetra och London Stock Exchange. Av den anledningen förekom
Det betyder att det går att handla andelar i denna ETF genom de flesta svenska banker och Internetmäklare, till exempel DEGIRO, Nordnet, Aktieinvest och Avanza.mer olika kortnamn på samma börshandlade fond.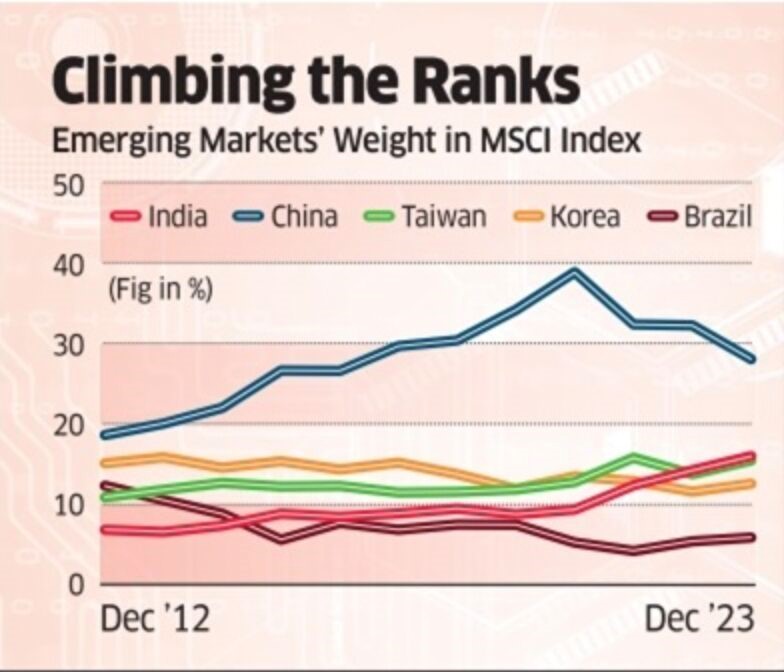 1 av 5 skulle prioritera sparande till sina barn om skatten upp till 300 000 kr togs bort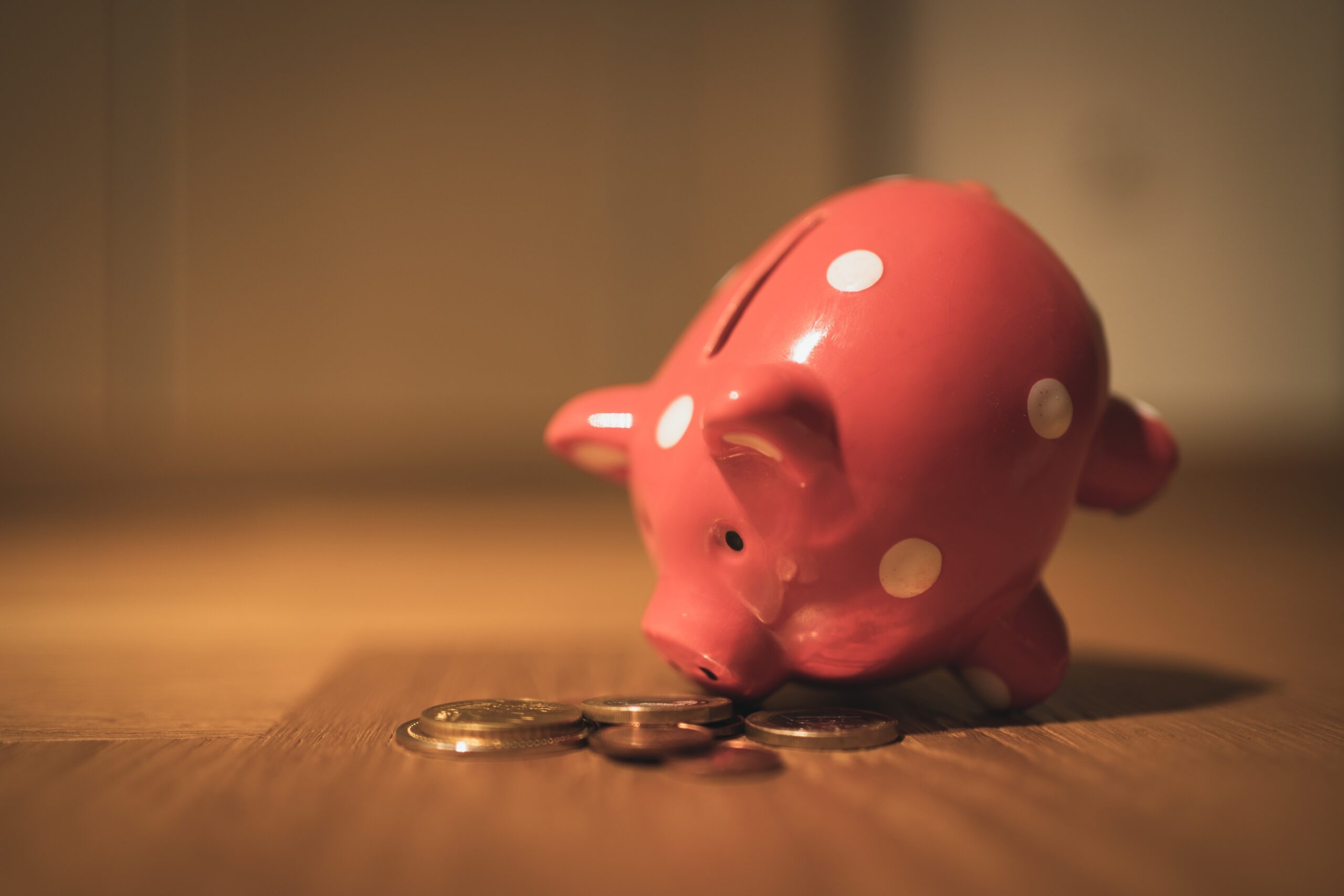 Färre sparar nu till barn än för ett år sedan. Om skatten på ISK-sparande upp till 300 000 kr togs bort skulle däremot 21 procent öka sparande till sina barn eller påbörja ett barnsparande. Det visar en ny undersökning som Kantar Sifo Prospera gjort på uppdrag av Fondbolagens förening.
För fjärde året i rad presenterar nu Fondbolagens förening en enkätundersökning om barnsparande. Sedan förra årets mätning kan vi se att andelen föräldrar som sparar till sina barn har sjunkit tillbaka till samma nivå som vi noterade 2020. Det är nu 86 procent som barnsparar jämfört med 90 procent 2022.
Trots utmanande privatekonomiska tider med inflation och högre räntor har 8 av 10 ett oförändrat barnsparande jämfört med förra året. Precis som i fjol är det även i år 10 procent som ökat sitt sparande samtidigt som lika många minskat det. På frågan om vilken sparform som valts drar fondsparandet ifrån som den populäraste och ökar till 71 procent från förra årets 69 procent. Sparkontot är näst mest populärt med 46 procent, medan aktier minskar till 14 procent. Det motsatta ser vi när vi frågar om sparande till barnbarn. Då ökar faktiskt aktier till 19 procent (10 procent 2022), samtidigt som fonder minskar från 64 till 55 procent.
Under hösten har det varit en flitig debatt om investeringssparkontot (ISK) där många förväntar sig att regeringen infriar löftet i Tidöavtalet om att 300 000 kr på ISK ska bli skattefria. ISK är det mest populära kontot för barnsparande, även om det i år minskar till förmån för kapitalförsäkringen som beskattas på ett liknande sätt. 1 av 5 barnsparare menar att den föreslagna skattelättnaden skulle få dem att öka eller påbörja ett barnsparande.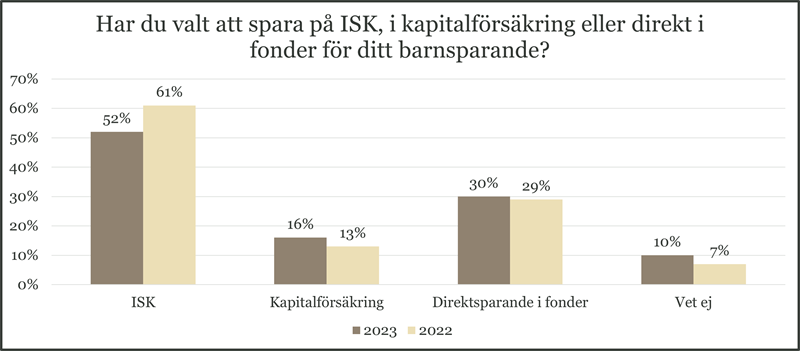 "Dagens unga ska vara väldigt glada att deras föräldrar väljer att hålla i det långsiktiga barnsparandet trots utmanande ekonomiska tider. Det är också intressant att se hur kapitalförsäkringen ökar i popularitet. Så länge man kan öppna ett konto utan avgifter finns det fördelar med kapitalförsäkringen när föräldrar kan sätta sina barn som förmånstagare. Då tillhör pengarna barnen samtidigt som föräldrar kan välja när i tiden det är lämpligt att fördela ut pengarna, säger Philip Scholtzé, sparekonom på Fondbolagens förening.
Män placerar med högre risk till sina barn
De flesta som fondsparar till sina barn väljer fortfarande aktiefonder. Sedan förra året har dock andelen minskat från 70 procent till 65 procent. Var de pengarna hamnat i stället vet vi inte eftersom fler nu (24 procent) jämfört med förra året (18 procent) svarar att de inte vet vilken fondtyp de sparar i. Vi noterar också en stor könsskillnad i denna fråga. 80 procent av männen väljer aktiefonder till sina barn medan 47 procent av kvinnorna väljer detsamma. I stället är det fler kvinnor (31 procent) än män (21 procent) som väljer räntefonder. En stor skillnad mellan män och kvinnor ser vi också på svarsalternativet "vet ej". Det är 38 procent av kvinnorna som inte vet vilken fondtyp de sparar i till sina barn jämfört med 11 procent av männen.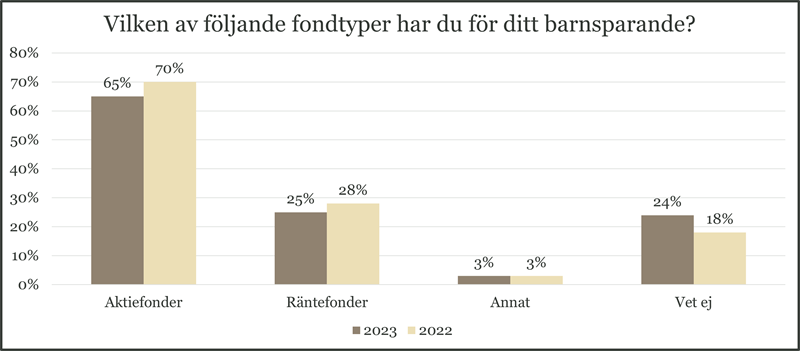 "För ett långsiktigt sparande som ett barnspar för de flesta är tycker jag att det finns goda argument för att välja aktiefonder. Särskilt när det är minst 5 år kvar till att pengarna ska användas. Det är en utmaning att så många som 1 av 4 inte vet vilken fondtyp de har placerat i. För även om ränteläget är annorlunda nu än för några år sedan kan skillnaden i avkastning gentemot aktiefonder bli väldigt stor över långa spartider. Det är viktigt att utsätta sina pengar för rätt typ av risk och chans till avkastning och den resan börjar med att förstå vad man investerar i, säger Philip Scholtzé.
Undersökningen har genomförts för fjärde året i rad av Kantar Sifo Prospera på uppdrag av Fondbolagens förening. Undersökningen genomfördes i november 2023 genom en enkät som har besvarats av 1 037 personer.