Don't try to buy on the dips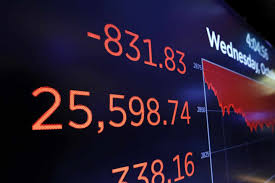 Timing the market can be especially difficult regardless of whether you're talking about stocks or bonds. Catherine Gordon of Vanguard Investment Strategy Group suggests taking the emotion out of your financial plan by setting your asset allocation based on your goals, time horizon, and risk tolerance. Don't try to buy on the dips
All investing is subject to risk, including the possible loss of the money you invest
Investment objectives, risks, charges, expenses, and other important information about a fund are contained in the prospectus; read and consider it carefully before investing.
This webcast is for educational purposes only. We recommend that you consult a tax or financial advisor about your individual situation.
Vanguard is one of the world's largest investment companies, offering a large selection of low-cost mutual funds, ETFs, advice, and related services. Whether you are an individual investor or a financial professional, or you represent a corporate or institutional investor, you can benefit from the size, stability, and experience we offer.
Founder John C. Bogle structured Vanguard for just one purpose—to build wealth for its clients…and only for its clients. The crucial difference from other fund companies: Vanguard would redirect net profits from economies of scale to fund shareholders in the form of lower costs. The arrangement was similar to that of a credit union or a traditional mutual insurance company. Sales commissions were eliminated, and operating expenses were kept low. And, soon after its founding, Vanguard opened the first index mutual fund, launching the era of low-cost index investing.
Vanguard's innovations were revolutionary, but they were not an overnight success. Indeed, this new approach was often ignored or even scoffed at.
Steady growth
But as the 1970s turned into the 1980s, the news about Vanguard started to get around. It spread largely by word of mouth, as early clients told their families and friends about their experience—the prudently-managed funds, the conscientious service, the low costs. As assets rose, Vanguard reduced costs further and launched more funds, both indexed and actively managed. The company extended services to retirement plans, institutions, and financial advisors. Its loyal client base continued to grow, and Vanguard's steady incoming cash flow and low redemption rate began to move it toward the ranks of the nation's major fund firms. And as Vanguard grew, it was able to steadily lower its average fund expense ratio from 0.89% in 1975 to 0.38% by 1990 (and eventually to 0.19% by 2013).
Other investment companies started to take notice. By the 1990s, as low-cost investing and index funds demonstrated their merits, competitors began to emulate Vanguard by offering their own index funds.
And as more investors and organizations realized the importance of cost efficiency, various fund companies selectively cut costs—sometimes just temporarily—in hopes of attracting new assets.
Meanwhile, under the leadership of Mr. Bogle's successor, Chairman and CEO John J. Brennan, the company continued to expand, first venturing outside the United States in 1996 when it established offices in Melbourne, Australia. Vanguard later opened offices in a number of other international locations, including its European headquarters in London.
Today, Vanguard is one of the world's largest and most trusted investment management companies, with operations around the globe. Our consistent, time-tested investment philosophy has proved itself in academic research and—most importantly—in helping millions of investors reach their goals. Vanguard has become widely recognized as a leading advocate of principled, common-sense investing.
Still standing alone
In a fiercely competitive investment arena, Vanguard remains alone in placing clients' interests in the driver's seat. Our corporate structure is still unique among mutual fund providers, with shareholders as the ultimate owners, receiving net profits in the form of lower costs.
As it continues to expand further into international markets, Vanguard offers an ever-wider range of investment products and services for individuals, institutions, and financial advisors, all at costs that are consistently among the lowest in the industry.
Vanguard's dedicated crew is led by an experienced, stable management team. We've had just three CEOs in nearly four decades, with Chairman and CEO F. William McNabb leading the firm since 2008. Because Vanguard can't be acquired by an outside entity, our clients can be confident that we will remain the same unique company, focused solely on their interests, in the years ahead.