Världens första Första ESG-fokuserade Gold Mining ETF
Världens första ESG-fokuserade Gold Mining ETF som lanserades på London Stock Exchange för att hjälpa investerare att få tillgång till guldbrytningssektorn på ett ansvarsfullt sätt
HANetf och AuAg Funds är glada över att kunna lansera Europas första ESG-fokuserade guldbrytning ETF, AuAg ESG Gold Mining UCITS ETF (ticker: ESGO Frankfurt: ZSG0). ESGO strävar efter att erbjuda exponering för en lika viktad korg med 25 ESG-screenade guldgruvor.
AuAg ESG Gold Mining UCITS ETF (ticker: ESGO Frankfurt: ZSG0) noteras på Londonbörsen onsdagen den 7 juli och passas till försäljning över hela Europa. Fonden har skapats i samarbete med det svenska fondbolaget AuAg Fonder, ett boutiquemärke med starkt fokus på ädelmetaller och gröntekniska element, och har utvecklats på HANetf ETF-plattformen.
ETF spårar Solactive AuAg Gold Mining Index, som rankar guldgruvor för ESG-egenskaper och exkluderar alla utom de 25 bästa ESG-riskföretagen i branschen. Oberoende ESG-screening tillhandahålls av Sustainalytics, som har mer än 25 års erfarenhet av att leverera ESG-relaterad forskning. ETF klassificeras som artikel 8 enligt SFDR (Sustainable Finance Disclosure Regulation).
Likaviktad och varje innehav har en tilldelning på 4 procent
Fonden är lika viktad, varvid varje innehav har en tilldelning på 4%. Den lika viktade designen hjälper till att undvika koncentrationsrisker i större guldgruvarbetare. Den möjliga underviktningen hos några dominerande megaföretag kan också ge en fördelaktig avkastningsprofil för AuAg ESG Gold Mining UCITS ETF på en tjurmarknad för guld- och guldgruvor. Fondens totala kostnadsprocent är 0,60%.
Ädla metaller, med sina unika egenskaper, är oumbärliga för omvandlingen till en grön värld. Effektinvesteringar inom industrin främjar miljövänliga gruvföretag, bygga solfarmar på plats, använda bränslecellbrytbilar och återställa platser efter projektet och lämna återanvändbar infrastruktur (vägar, vatten, el) för andra projekt. Gruvsektorns roll i växthusgasutsläpp innebär att ESG-kriterier måste övervakas, vilket är fokus för Solactive AuAg ESG Gold Mining Index.
Eric Strand, VD på AuAg Funds och grundare av AuAg ESG Gold Mining UCITS ETF, sa: "Vi är glada att kunna lansera AuAg ESG Gold Mining UCITS ETF (ESGO ZSG0) som möjliggör investeringar i de företag som utvinner ädla metaller med en aktiv ESG-strategi. Gruvdrift är en bransch som har sett stora förbättringar inom alla aspekter av ESG, men standarder varierar mellan regioner och företag. ESGO hjälper investerare att få exponering mot guldbrytningsföretag med de bästa ESG-referenserna och investera i sektorn mer ansvarsfullt. "
"Att lansera AuAg ESG Gold Mining UCITS ETF (ticker: ESGO) är nästa stora steg för AuAg-fonder. Vi har redan två dagligen handlade UCITS-fonder i AuAg Silver Bullet och AuAg Precious Green, båda med fokus på ädelmetaller och green-tech-element. Nu har vi utformat ett unikt index och lagt till vår första börshandlade fond i familjen. "
Hector McNeil, medgrundare och co-CEO på HANetf, sade: "ESG är mycket viktigt för alla typer av investeringar och investerare kräver i allt högre grad större tydlighet och transparens från investeringsleverantörer."
"Det är ett stort fokus på HANetf vilket delvis förklarar varför vi är glada över att kunna lansera AuAg ESG Gold Mining UCITS ETF – ESGO med AuAg Funds. Det finns också en stark investeringshistoria att berätta när man investerar i ESG-vänliga guldföretag, vilket är en tillväxtsektor, delvis på grund av monetär inflation och den gröna omvandlingen. "
"HANetf lanserade Royal Mint Physical Gold ETC – RMAU på marknaden i mars 2020, och det hade den unika egenskapen att vara den första Gold ETC som lanserades med stöd av 100% LBMA-ansvariga tackor. Den har hållit den standarden sedan lanseringen och granskas unikt oberoende. RMAU-investerare frågade HANetf om vi kunde göra detsamma för guldföretag, så vi är mycket stolta över att göra det med AuAg Fonder med lanseringen av ESGO. "
Handla ZSG0 ETF
AuAg ESG Gold Mining UCITS ETF (London: ESGO) (Frankfurt: ZSG0) är en europeisk börshandlad fond som kommer att handlas på flera olika börser, till exempel Borsa Italiana, Deutsche Boerse Xetra och London Stock Exchange. Av den anledningen förekommer olika kortnamn på samma börshandlade fond.
Det betyder att det går att handla andelar i denna ETF genom de flesta svenska banker och Internetmäklare, till exempel DEGIRO, Nordnet och Avanza.
21Shares Monthly Review is Out: Insights from January 2023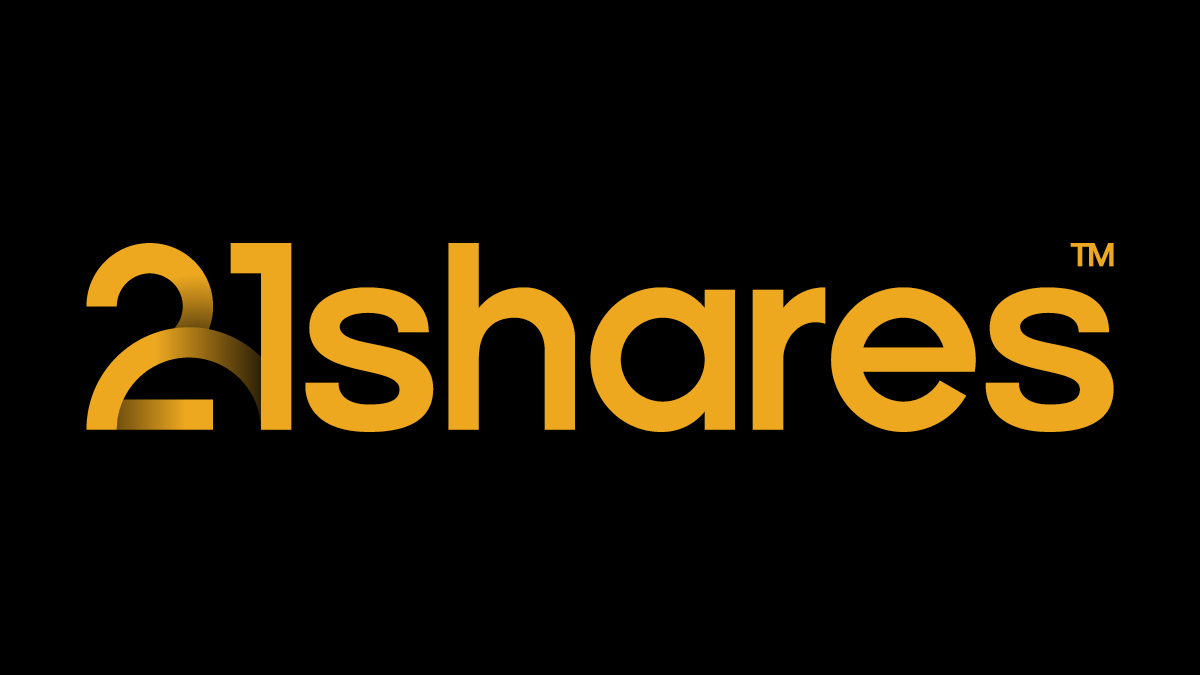 Easing inflation in the US hyped market sentiment in crypto's favor in January, despite some headwinds brought by Genesis' bankruptcy and a law enforcement action against Bitzlato, accused of laundering $700M, with Binance being the last destination for the funds. Over the past 30 days, Bitcoin and Ethereum have increased by almost 40% and 30%, respectively. The outlier of last month's rally was Solana, up by 140%, which may be attributed to the hype created by the meme token called BONK. Optimism stood out within the realm of scalability solutions, increasing by 132%. As for decentralized applications, staking-as-a-service platform Lido, increased by 117% over the past month; users have been allocating billions to collect rewards.
Figure 1: Price and TVL Development of Major Crypto Sectors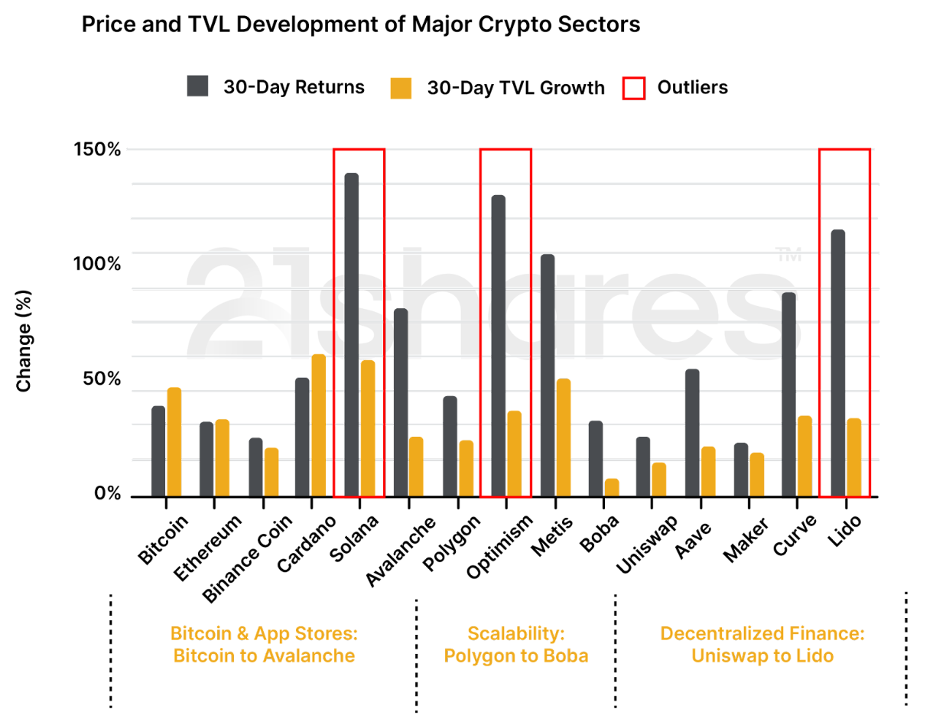 Source: 21Shares, Coingecko, DeFi Llama. Data as of January 30.
Key takeaways from this report:
• Former CEO of troubled crypto exchange FTX pleads not guilty, and crypto lender Genesis files for bankruptcy,
• Ethereum Shanghai Upgrade still on schedule, Polygon zkEVM mainnet launching soon, and Fantom to introduce account abstraction in its next upgrade.
• Liquid staking protocols experience tremendous growth, DeFi continues to embrace the onboarding of Real World Assets (RWAs).
• NFT marketplaces and GameFi protocols continue migrating to Polygon; Seoul is launching a metaverse for its public services by 2026.
Spot and Derivatives Markets
Figure 2: Total Liquidations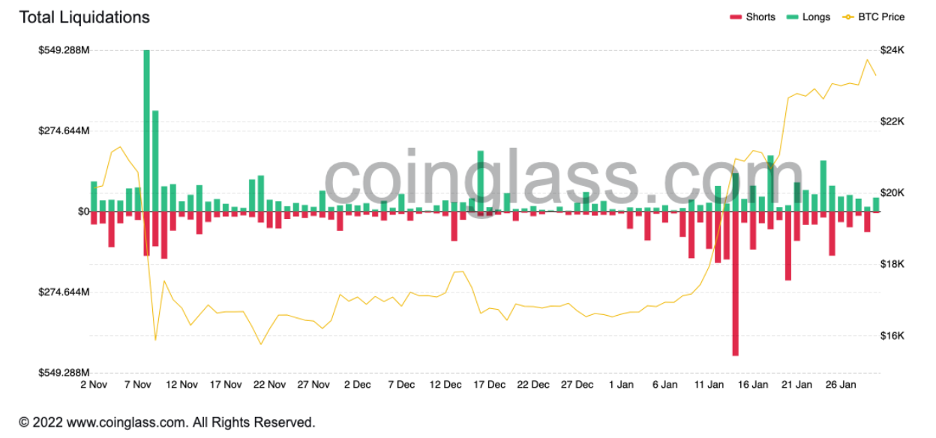 Source: Coinglass
Over the past month, we have seen the largest short squeeze in months of over $2.57 billion liquidated on Binance, OKX, and Bybit. This dynamic is an indication that there were more funds betting against Bitcoin and the recent positive rally disappointed their positions. The recent price action is simply a regression to the mean. We are back to levels where we were post the LUNA debacle and pre-FTX. However, it is important to note that this rally may not be long-lasting as we may face mispriced headwinds.
On-chain Indicators
Figure 3: Inflation Rate of Bitcoin versus Ethereum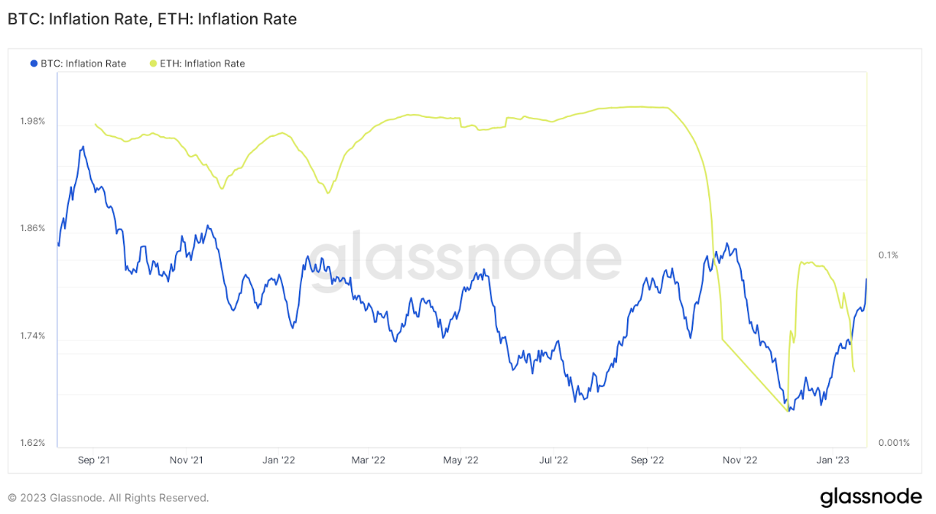 Source: Glassmode
Since the Merge of September 15 last year, Ethereum's supply change is now nearing -3K ETH, according to data collected by Ultra Sound Money. That means that ETH is gradually becoming a deflationary asset, thanks to a post-Merge mechanism that removes a portion of ETH that has been spent on transaction fees. That is in comparison to its rival cryptoasset, which has also progressed on the deflating front on the back of Bitcoin's halving slated to happen next year. The fact that Bitcoin's native, unaltered, underlying technology is bringing its inflation down, is very telling of Bitcoin's core value proposition akin to gold: scarcity.
Next Month's Calendar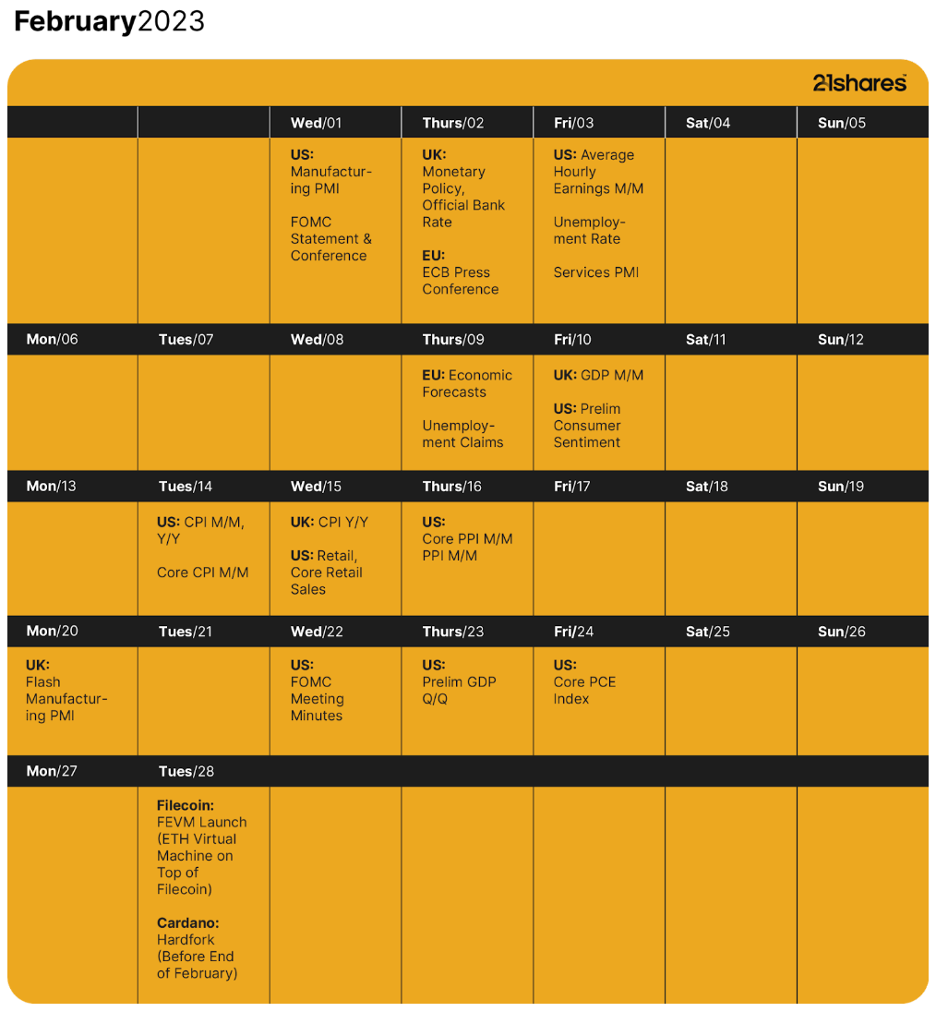 Source: 21shares, Forex Factory
Research Newsletter
Each week the 21Shares Research team will publish our data-driven insights into the crypto asset world through this newsletter. Please direct any comments, questions, and words of feedback to research@21shares.com
Disclaimer
The information provided does not constitute a prospectus or other offering material and does not contain or constitute an offer to sell or a solicitation of any offer to buy securities in any jurisdiction. Some of the information published herein may contain forward-looking statements. Readers are cautioned that any such forward-looking statements are not guarantees of future performance and involve risks and uncertainties and that actual results may differ materially from those in the forward-looking statements as a result of various factors. The information contained herein may not be considered as economic, legal, tax or other advice and users are cautioned to base investment decisions or other decisions solely on the content hereof.
Söderberg & Partners förvärvar nätmäklaren Aktieinvest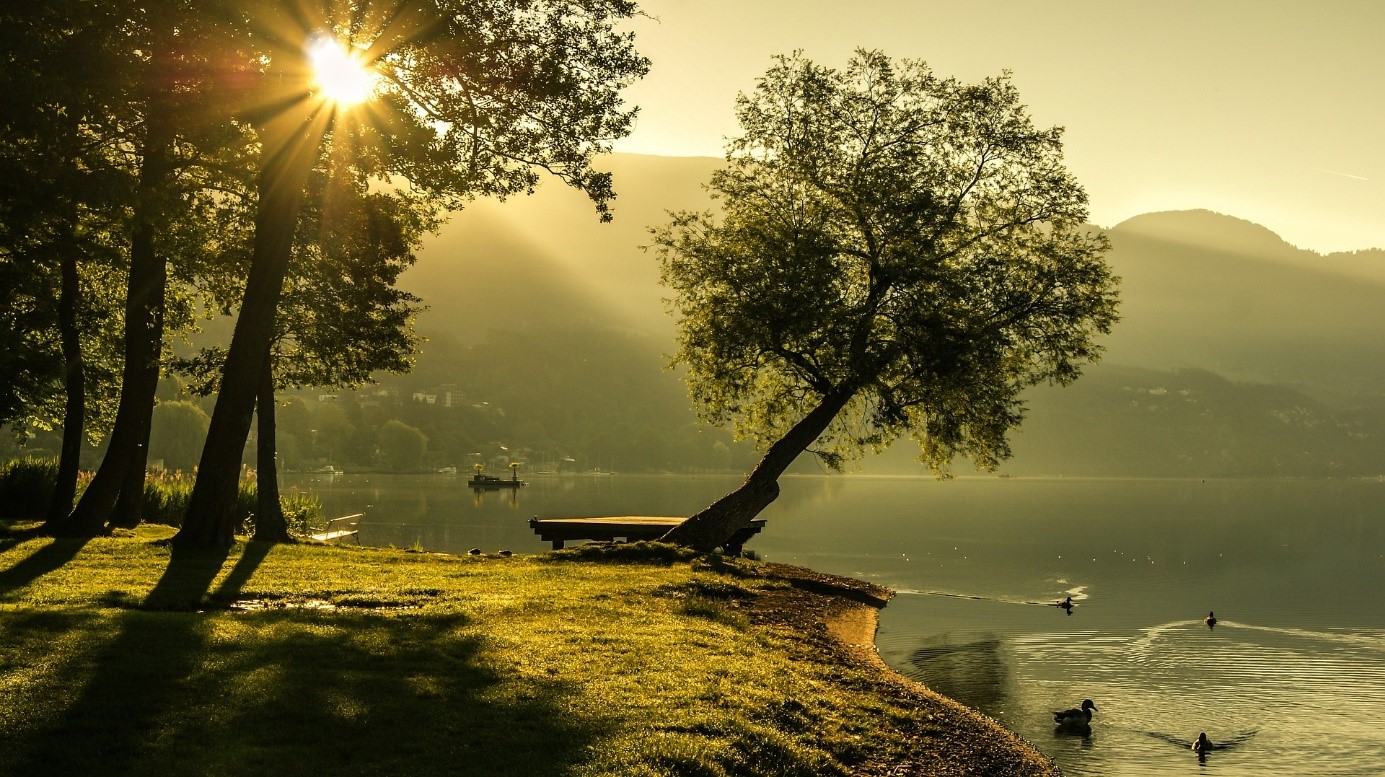 Söderberg & Partners har förvärvat nätmäklaren Aktieinvest av Pareto Securities AB. Aktieinvest erbjuder en plattform för privatpersoner att spara i aktier, fonder, och ETFer, och hjälper även företag med bland annat noteringsprocesser, emissioner och administration av aktiebaserade incitamentsprogram.
Affären innebär en breddning av Söderberg & Partners erbjudande inom privat sparande och blir ett värdefullt komplement till flera av Söderberg & Partners dotterbolag – däribland sparplattformen Levler och konsultfirman Novare Pay Consulting, som är experter på ersättningsfrågor och incitamentsprogram.
Det här är ett viktigt förvärv för oss av flera anledningar. Aktieinvest är ett väldigt robust bolag med tjänster och produkter som kompletterar vårt befintliga erbjudande väl. De sitter även på både system och kompetens som kommer att gynna flera av våra bolag och projekt, säger Gustaf Rentzhog, vd och koncernchef för Söderberg & Partners.
Aktieinvest ser själva stora fördelar i att bli en del av Söderberg & Partners.
I Söderberg & Partners får vi en ägare med stort fokus inom privat sparande där Aktieinvest kan bidra med mångårig erfarenhet och unika tjänster. I vår företagsaffär ser vi möjligheter till ett fördjupat samarbete och flera synergier i produkt- och tjänsteutvecklingen framåt. Vi är mycket glada att vi tillsammans med nya ägare kommer kunna erbjuda ett breddat utbud av produkter och tjänster inom hela vår verksamhet och därmed kunna addera ytterligare värde till våra privat- och företagskunder, säger Dan Johnson, vd för Aktieinvest.
Viktig pusselbit i Levlers aktiesatsning
För sparplattformen Levler innebär förvärvet av Aktieinvest en strategiskt viktig del i bolagets satsning på aktiehandel.
Vi arbetar för fullt med att utveckla och lansera aktiehandel på Levler som ska sänka trösklarna och göra det enklare för fler att spara även i aktier. En viktig del i att göra sparande enkelt är möjligheten att kunna sätta upp månadssparande – något som vi och många andra sparplattformar erbjuder för fondsparande, men inte lika vanligt för aktiesparande. Aktieinvest har utvecklat en lösning för fraktionshandel av aktier som gör det möjligt att sätta upp ett automatiserat månadssparande även för aktier. Det kommer att bli ett värdefullt komplement till Levlers kommande aktiehandelserbjudande och ambition att utmana de stora nätmäklarna, säger Louise Hagsten, vd för Levler.
Även Aktieinvests nuvarande ägare, Pareto Securities, ser logiken i Söderberg & Partners intresse för Aktieinvest.
Vi blev approcherade av Söderberg & Partners i somras och har sedan dess haft en ingående dialog med dem. Genom den har vi förstått att Aktieinvest är ett värdefullt komplement till flera av deras befintliga erbjudanden och passar väl in i deras satsning på privat sparande. Det är med mycket blandade känslor vi säljer detta fina bolag med sin långa historik av att erbjuda unika tjänster och en högkvalitativ service till aktie- och fondsparare, säger Mats Carlsson, vd för Pareto Securities Sverige.
Förvärvet av Aktieinvest görs av Söderberg & Partners Holding AB (SPHAB) och affären är villkorad av Finansinspektionens godkännande.
XDPC ETF spårar S&P 500 och valutasäkras i CHF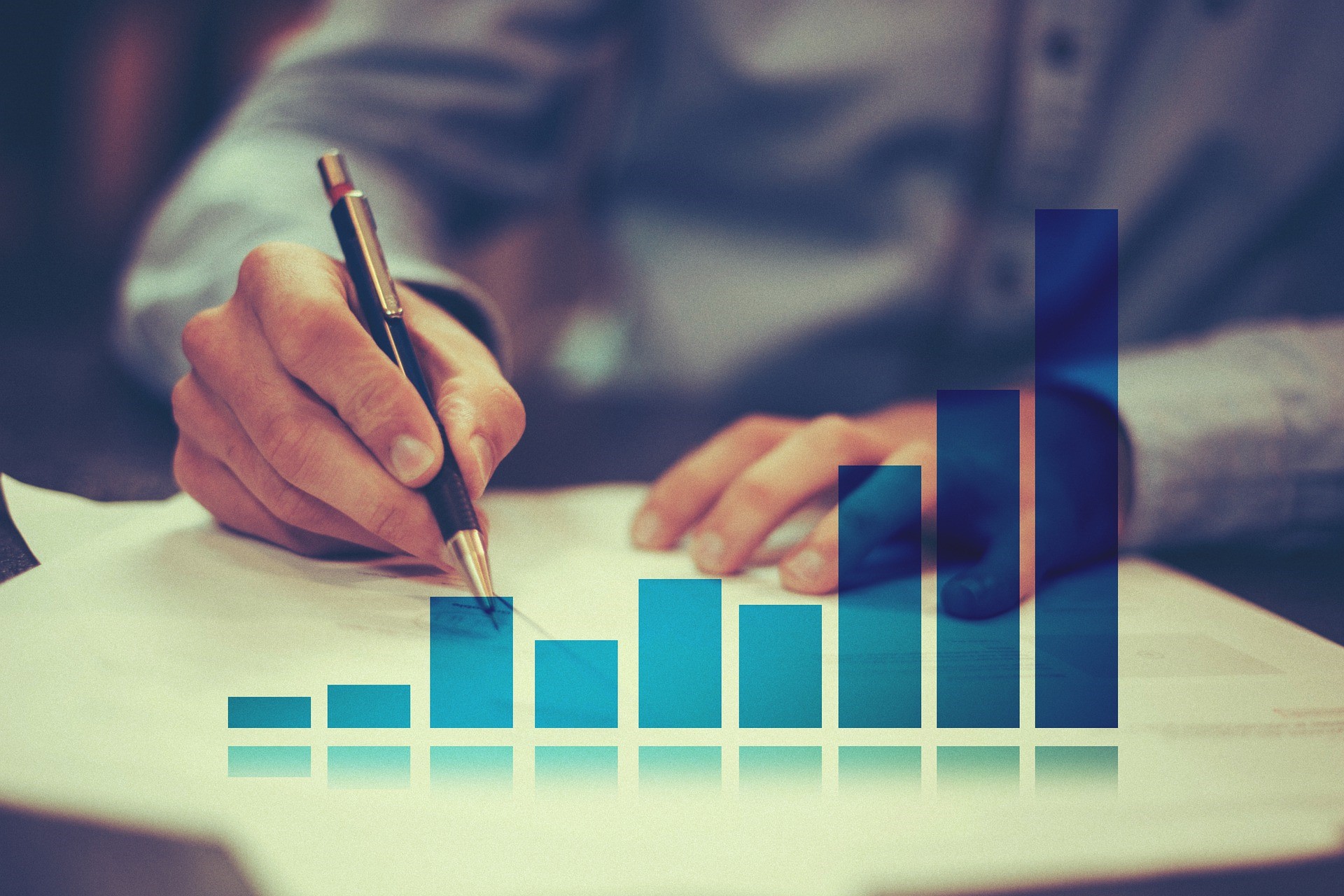 Xtrackers S&P 500 UCITS ETF 3C CHF (XDPC ETF) hedged investerar i aktier med fokus på USA. Utdelningarna i fonden återinvesteras (ackumulerar). S&P 500® (CHF Hedged) möjliggör en bred investering med låga avgifter på ca. 505 aktier.
Den totala kostnadskvoten uppgår till 0,20 % p.a. Fonden replikerar resultatet för det underliggande indexet genom att köpa alla indexbeståndsdelar (full replikering). Xtrackers S&P 500 UCITS ETF 3C CHF hedged är en mycket liten ETF med tillgångar på 8 miljoner euro under förvaltning. XDPC ETF är äldre än 5 år och har sin hemvist i Irland.
Investeringsstrategi
S&P 500® (CHF Hedged)-index följer de största amerikanska aktierna. Valutasäkrad till schweiziska franc (CHF).
Indexbeskrivning
Målet är att din investering ska återspegla resultatet för S&P 500 Index (Index) som är utformat för att återspegla resultatet för aktier i 500 företag som representerar alla större amerikanska industrier, samtidigt som man försöker minimera valutafluktuationer på aktieklassnivå. Indexet är beräknat i amerikanska dollar.
Ett företags viktning i indexet beror på dess relativa storlek baserat på det kombinerade värdet av ett företags lättillgängliga aktier jämfört med andra företag på aktiemarknaderna. Indexet beräknas på totalavkastningsnettobasis. Det innebär att eventuella utdelningar och utdelningar som görs av bolagen i Indexet återinvesteras i aktierna efter skatt.
Handla XDPC ETF
Xtrackers S&P 500 UCITS ETF 3C CHF hedged (XDPC ETF) är en europeisk börshandlad fond som handlas på SIX Swiss Exchange.
SIX Swiss Exchange är en marknad som få svenska banker och nätmäklare erbjuder access till, men DEGIRO gör det.
Börsnoteringar
| | | |
| --- | --- | --- |
| Börs | Valuta | Kortnamn |
| gettex | EUR | XDPC |
| SIX Swiss Exchange | CHF | XDPC |
Största innehav
| | | | | |
| --- | --- | --- | --- | --- |
| ISIN | Namn | Vikt % | Land | Sektor |
| US0378331005 | APPLE ORD | 7.01% | United States | Information Technology |
| US5949181045 | MICROSOFT-T ORD | 5.85% | United States | Information Technology |
| US0231351067 | AMAZON.COM INC ORD | 3.20% | United States | Consumer Discretionary |
| US02079K3059 | ALPHABET INC-CL A ORD | 2.04% | United States | Communication Services |
| US02079K1079 | ALPHABET INC-CL C ORD | 1.89% | United States | Communication Services |
| US88160R1014 | TESLA ORD | 1.86% | United States | Consumer Discretionary |
| US0846707026 | BERKSHIRE HATHWAY CL B ORD | 1.54% | United States | Financials |
| US91324P1021 | UNITEDHEALTH GRP ORD | 1.45% | United States | Health Care |
| US4781601046 | JOHNSON&JOHNSON ORD | 1.34% | United States | Health Care |
| US67066G1040 | NVIDIA ORD | 1.33% | United States | Information Technology |
| US30303M1027 | META PLATFORMS ORD A | 1.25% | United States | Communication Services |
| US30231G1022 | EXXON ORD | 1.12% | United States | Energy |
| US92826C8394 | VISA INCORPORATION ORD | 1.05% | United States | Information Technology |
| US7427181091 | PROCTERGAMBLE ORD | 1.01% | United States | Consumer Staples |
| US46625H1005 | JPMORGAN CHASE ORD | 1.00% | United States | Financials |
Innehav kan komma att förändras