Low BTC volatility, Visa with StarkNet, Solana NFTs leave, and More!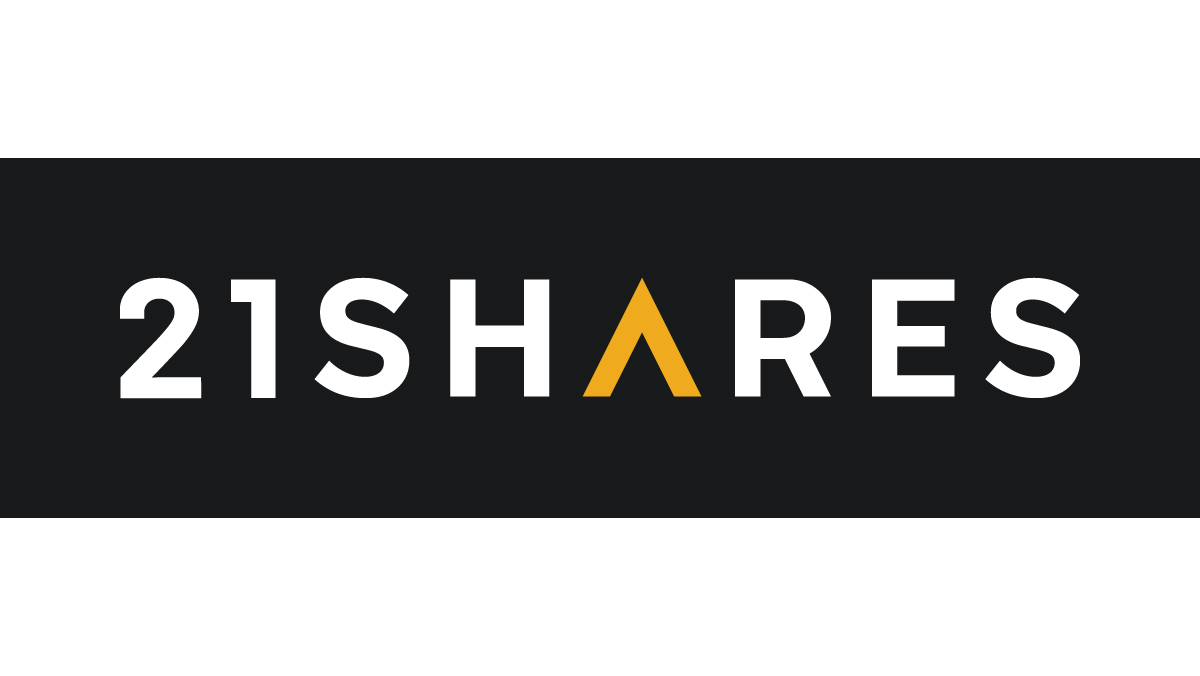 Markets were relatively quiet during the holidays as Bitcoin's weekly volatility hovers near all-time lows. As of Monday's close, Bitcoin and Ethereum traded up 2.88% and 5.12%, respectively. In addition, the biggest movers of last week were Solana (-15.65% in TVL) among the alternative Layer 1s, Optimism (6.98%) among the major Layer 2s, and Lido (9.17%) among the most prominent DeFi players.
Figure 1: Weekly TVL and Price Performance of Major Crypto Categories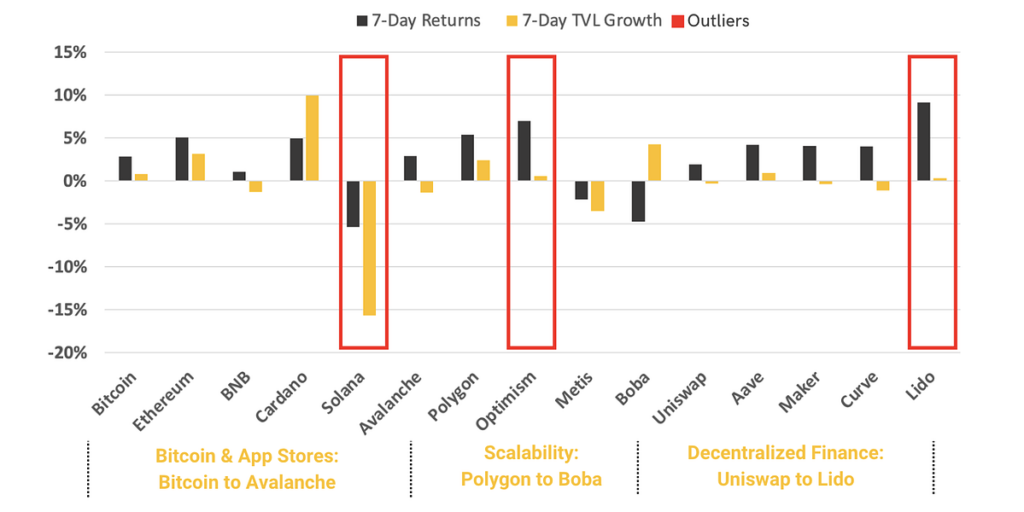 Source: CoinGecko, data as of December 26 (close price).
Key takeaways
• Bitcoin's weekly volatility is at near all-time lows.
• Visa is proposing to launch automatic recurring payments on top of StarkNet.
• CME Group and CF Benchmark launch DeFi reference rates for Aave, Synthetix, and Curve.
• Solana's popular NFT projects, DeGods and Y00ts, will leave the blockchain and migrate to Ethereum and Polygon, respectively.
Spot and Derivatives Markets
Figure 2: BTC Funding Rates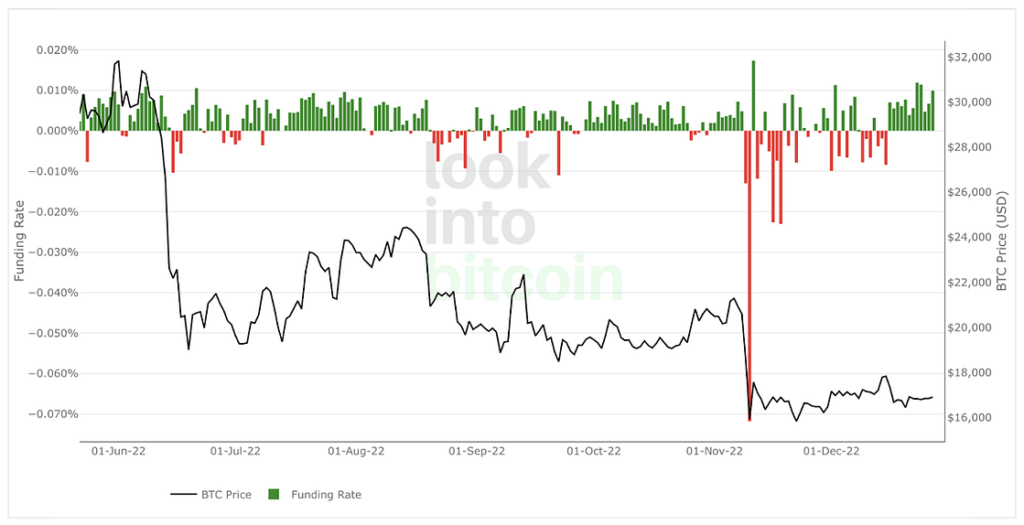 Source: lookintobitcoin
If we look at the derivatives market, BTC funding rates have been consistently positive since December 16, indicating that many investors are positioned to the upside after the market downturn caused by the FTX debacle last month.
On-chain Indicators
Figure 3: Weekly BTC Volatility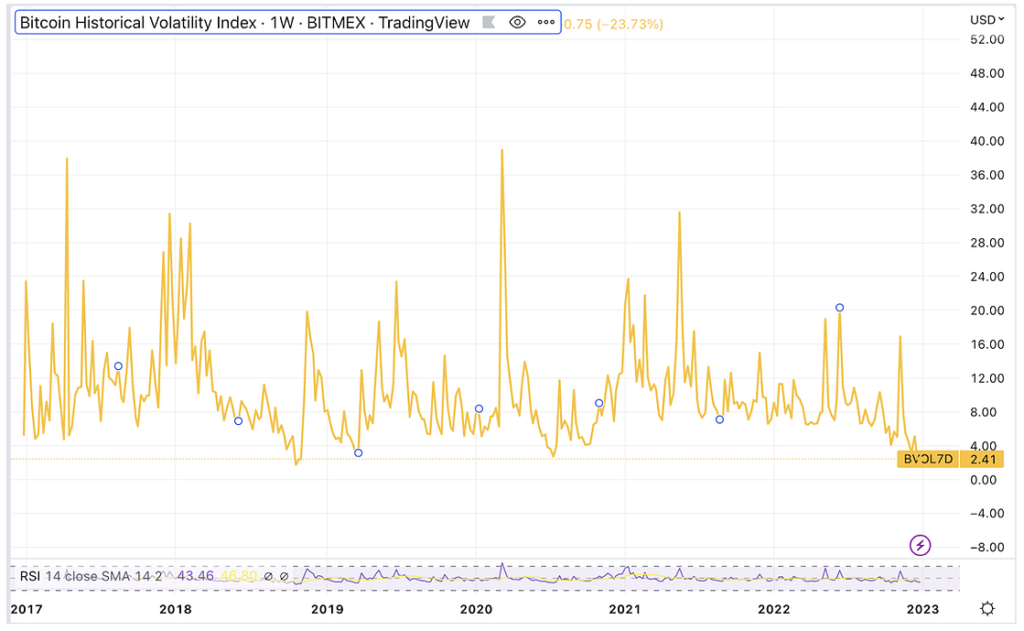 Source: BitMEX, TradingView
The BitMEX Weekly Historical Bitcoin Volatility Index is at near all-time lows. There are only two other instances where we saw similar levels of volatility in the last five years, yielding opposite outcomes. The most recent precedent is July 2020, which marked the beginning of last cycle's bull run. The other precedent is October 2018, before Bitcoin experienced a 50% drawdown from $6,000 to $3,000. In both cases, we saw a steep rise in volatility, a pattern we could observe in the coming weeks.
Next Week's Calendar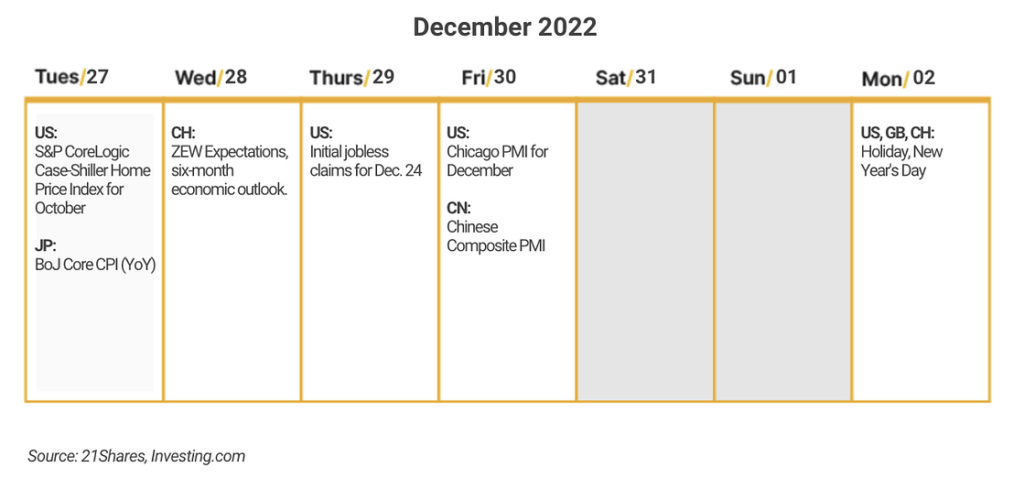 The cryptoassets market is performing better ahead of the Merge slated to take place on September 15, you can track its progress here and read more about its implications in our primer. Bitcoin is up by almost 12% over the past week, its TVL has also risen by 13%. Whereas Ethereum jumped by nearly 11%. As shown in the figure below, Solana and Avalanche have also jumped in returns by 18% and 14% respectively, however, their TVL have dipped by almost -2% and -6% respectively. Regarding scalability solutions and DeFi protocols, Optimism saw an 18% increase in performance and Lido, a 12% increase in TVL.
Figure 1: 7-Day Price and TVL Developments of Cryptoassets in Major Sectors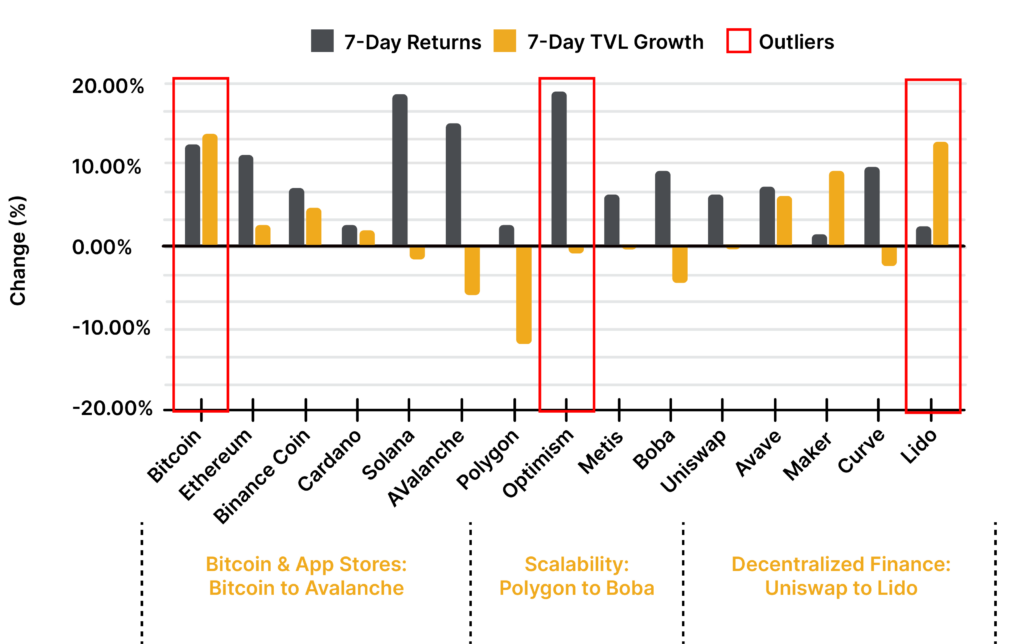 Source: 21Shares, Coingecko, DeFi Llama
Key takeaways
• Bitcoin mining difficulty increased by almost 10% since August 29
• ETH official switch to POS is less than 48 hours away
• Frax joins Aave and Curve in building an all-inclusive DeFi ecosystem
• Google Cloud to become an Axie Infinity Ronin sidechain validator
Spot and Derivatives Markets
Figure 2: ETH Spot to Futures Volume (30-D MA)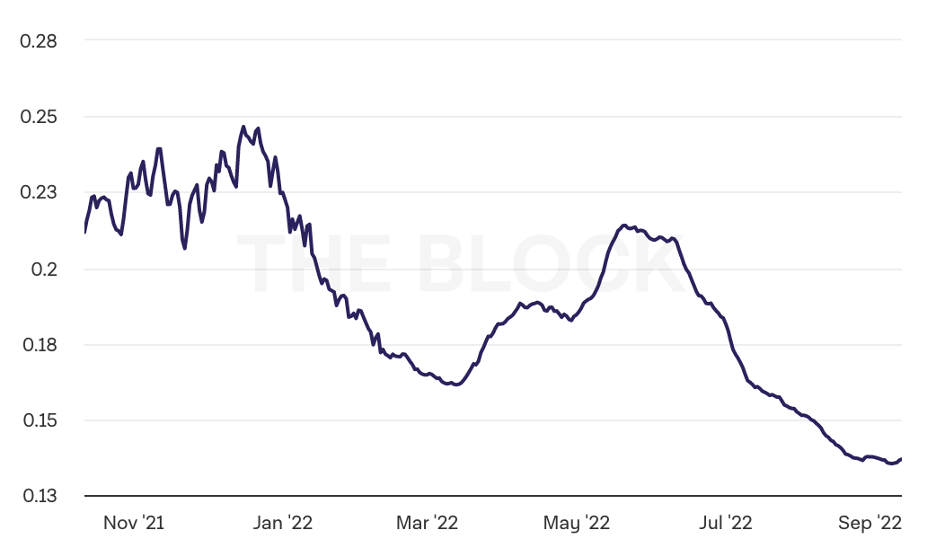 Source: TheBlock, CryptoCompare
The figure above indicates the looming speculation around the Merge, given the declining spot volume against the futures.
On-chain Indicators
Figure 3: Bitcoin Mining Difficulty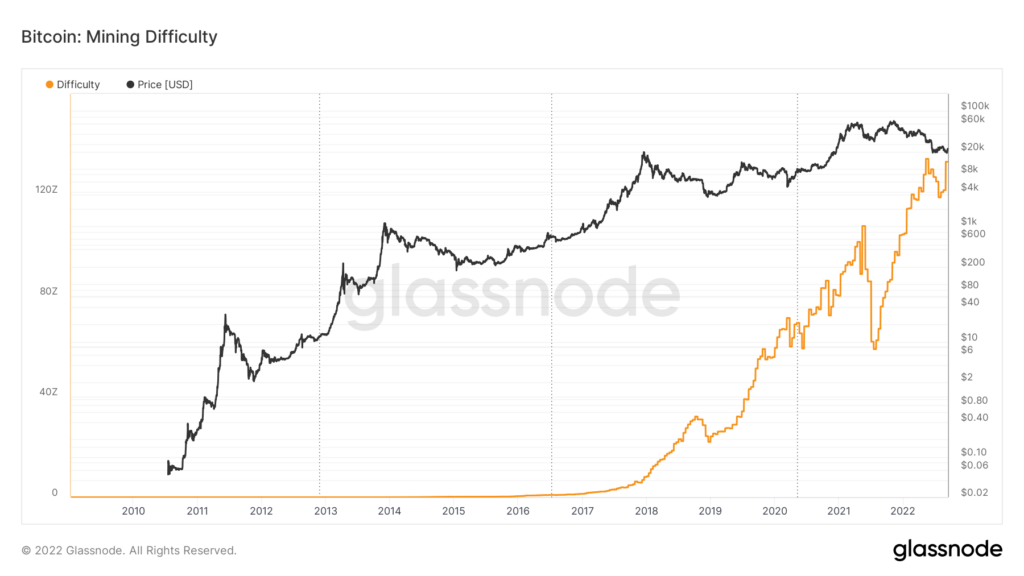 Source: Coinglass
Bitcoin mining difficulty increased by almost 10% since August 29, it's the highest increase the network has seen since May 2022. Although this indicator isn't exactly directly proportional to the returns on the cryptoasset, a rising Bitcoin mining difficulty shows a healthy network attracting more miners, making the Bitcoin network more secure with computing power.
From the Press
Last week we celebrated the inception of our new parent company, 21.co and our unicorn status which caught the attention of several media outlets and publications around the world.
• On the occasion, our co-founders have appeared on Swiss TV; you can watch here.
• From the US: Axios, 21Shares' parent gets a $2 billion valuation
• From France: CryptoActu: 21Shares, l'émetteur de multiples ETP crypto, valorisé à 2 milliards de dollars
• From Italy: Advisor Online, 21.co è ufficialmente parent company di 21Shares e Amun
• From Germany: Fonds Professionell, 21Shares erhält neue Struktur
• From the UAE: Reuters, Crypto firm 21.co raises $25 million to value it at $2 billion
Next Week's Calendar

Research Newsletter
Each week the 21Shares Research team will publish our data-driven insights into the crypto asset world through this newsletter. Please direct any comments, questions, and words of feedback to research@21shares.com
Disclaimer
The information provided does not constitute a prospectus or other offering material and does not contain or constitute an offer to sell or a solicitation of any offer to buy securities in any jurisdiction. Some of the information published herein may contain forward-looking statements. Readers are cautioned that any such forward-looking statements are not guarantees of future performance and involve risks and uncertainties and that actual results may differ materially from those in the forward-looking statements as a result of various factors. The information contained herein may not be considered as economic, legal, tax or other advice and users are cautioned to base investment decisions or other decisions solely on the content hereof.
Spanien introducerar lag om deklaration av kryptotillgångar för 2024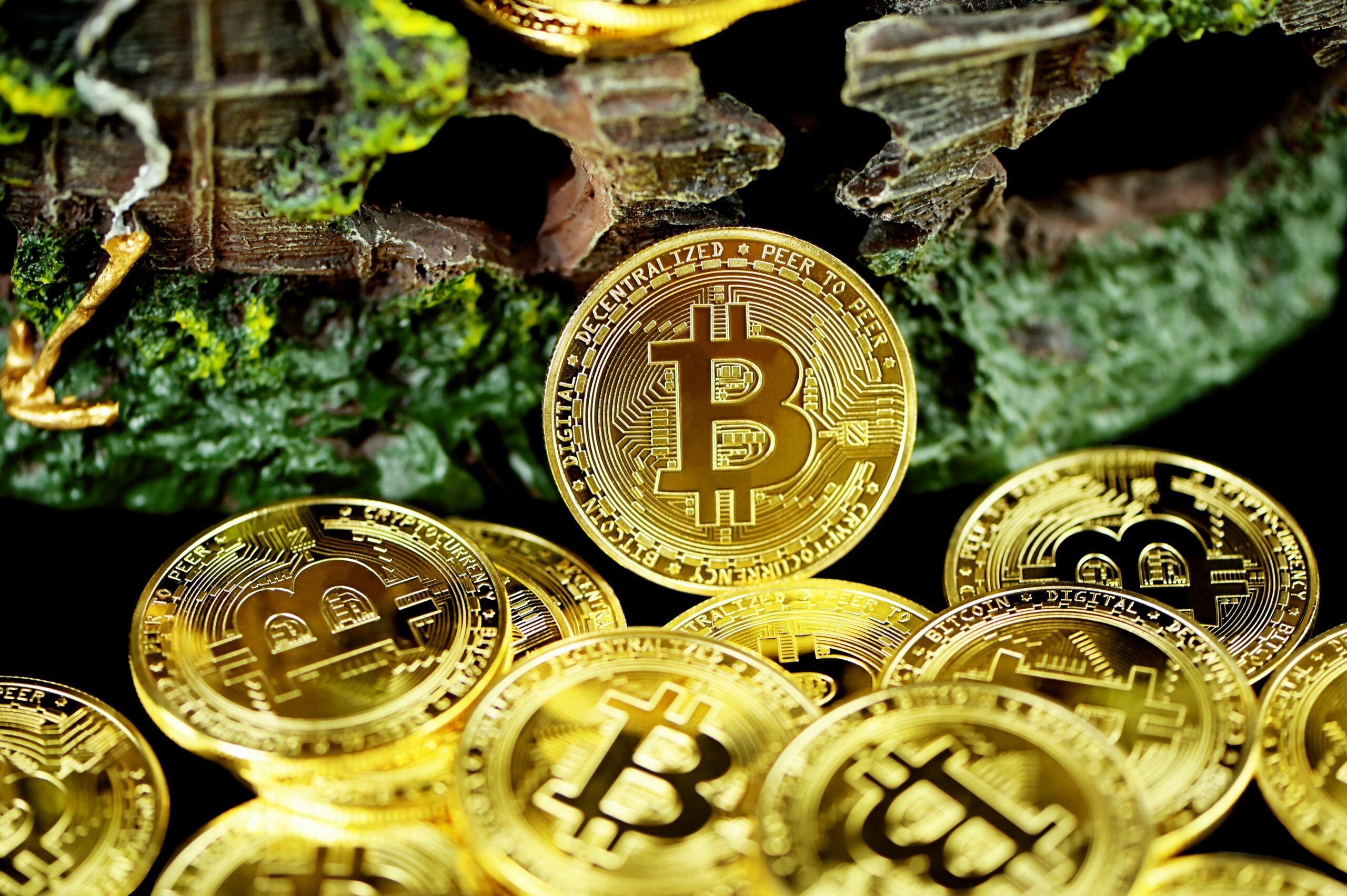 Spanien har gett sina invånare mandat att deklarera sina kryptotillgångar och kryptovalutor på icke-spanska plattformar. Detta krav, meddelat av Agencia Tributaria, Spaniens skatteförvaltningsbyrå, träder i kraft den 1 januari 2024, med en deadline den 31 mars 2024.
Tillkännagivandet, som först gjordes i Boletín Oficial del Estado den 29 juli 2023, introducerar blankett 721, tillägnad deklaration av virtuella tillgångar som innehas utomlands. Detta direktiv riktar sig dock till en specifik grupp eftersom endast de individer vars balansräkningar överstiger 50 000 euro i kryptotillgångar är skyldiga att deklarera sina utländska innehav.
De som har plånböcker i egen förvaring är inte undantagna utan måste rapportera sina innehav genom standardformuläret för förmögenhetsskatt 714.
XWEM ETF investerar i globala momentumaktier med höga ESG-betyg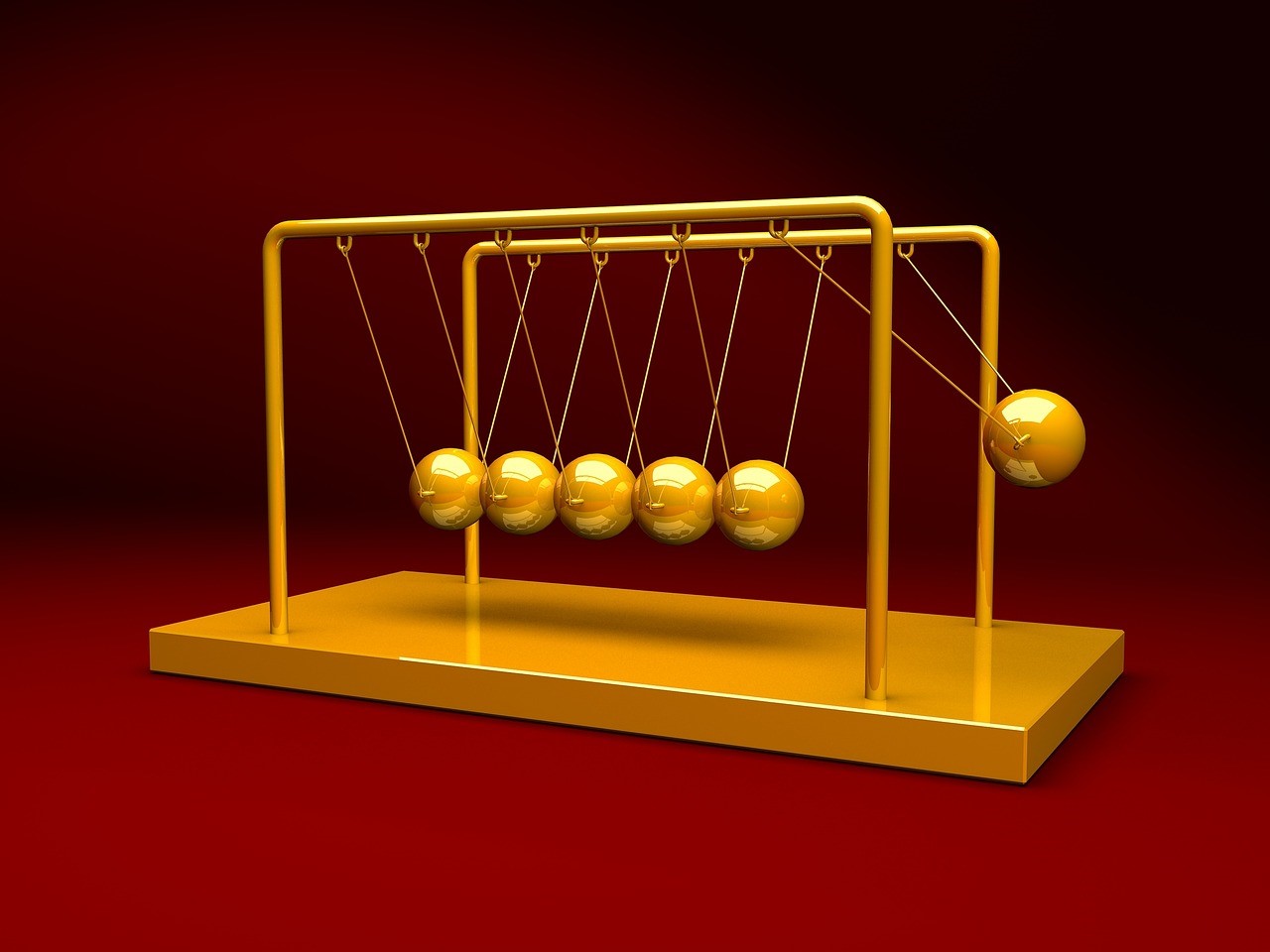 Xtrackers MSCI World Momentum ESG UCITS ETF (XWEM ETF) med ISIN nummer IE000TL3PL69, strävar efter att spåra MSCI World Momentum Low Carbon SRI Screened Select-index. MSCI World Momentum Low Carbon SRI Screened Select-index spårar aktier från utvecklade länder över hela världen som väljs ut enligt momentumfaktorstrategin och ESG-kriterier (miljö, social och företagsstyrning). Moderindexet är MSCI World-indexet.
Den börshandlade fondens TER (total cost ratio) uppgår till 0,25 % p.a. Xtrackers MSCI World Momentum ESG UCITS ETF är den enda ETF som följer MSCI World Momentum Low Carbon SRI Screened Select-index. ETFen replikerar det underliggande indexets prestanda genom fullständig replikering (köper alla indexbeståndsdelar). Utdelningarna i ETFen ackumuleras och återinvesteras i ETFen.
ETF lanserades den 5 juli 2023 och har sin hemvist i Irland.
Indexbeskrivning
MSCI World Momentum Low Carbon SRI Screened Select Index syftar till att spegla resultatet på följande marknad:
Stora och medelstora företag från globala utvecklade marknader som uppfyller vissa ESG-egenskaper i förhållande till moderindex.
Optimerad för att producera ett index över värdepapper med starka momentumegenskaper, såsom de företag som presterat bra under de senaste 6 och 12 månaderna.
Granskas kvartalsvis
Handla XWEM ETF
Xtrackers MSCI World Momentum ESG UCITS ETF (XWEM ETF) är en europeisk börshandlad fond. Denna fond handlas på flera olika börser, till exempel Deutsche Boerse Xetra och London Stock Exchange. Av den anledningen förekommer olika kortnamn på samma börshandlade fond.
Det betyder att det går att handla andelar i denna ETF genom de flesta svenska banker och Internetmäklare, till exempel DEGIRO, Nordnet, Aktieinvest och Avanza.
Börsnoteringar
Största innehav
| | | | | |
| --- | --- | --- | --- | --- |
| ISIN | Namn | Vikt % | Land | Sektor |
| US5949181045 | MICROSOFT-T ORD | 6.07% | USA | Informationsteknologi |
| US67066G1040 | NVIDIA ORD | 4.78% | USA | Informationsteknologi |
| US0378331005 | APPLE ORD | 3.25% | USA | Informationsteknologi |
| US11135F1012 | BROADCOM LIMITED ORD | 3.15% | USA | Informationsteknologi |
| US5324571083 | LILLY ORD | 2.60% | USA | Health Care |
| US68389X1054 | ORACLE SYS ORD | 2.40% | USA | Informationsteknologi |
| DK0060534915 | NOVO-NORDISK ORD | 2.25% | Danmark | Health Care |
| US3696043013 | GENERAL ELECTRIC ORD | 2.20% | USA | Industri |
| US58933Y1055 | MERCK & CO INC ORD | 2.20% | USA | Health Care |
| DE0007236101 | SIEMENS ORD | 2.12% | Tyskland | Industri |
| JP3435000009 | SONY GROUP CORPORATION | 2.02% | Japan | Sällanköpsvaror |
| US8552441094 | STARBUCKS-T ORD | 2.02% | USA | Sällanköpsvaror |
| FR0000120321 | L OREAL S.A. | 1.91% | Frankrike | Dagligvaror |
| IE000S9YS762 | LINDE PLC ORD | 1.73% | Storbritannien | Materials |
| US8636671013 | STRYKER ORD | 1.68% | USA | Health Care |
Innehav kan komma att förändras
Virtune lanserar Virtune Chainlink ETP på Nasdaq Stockholm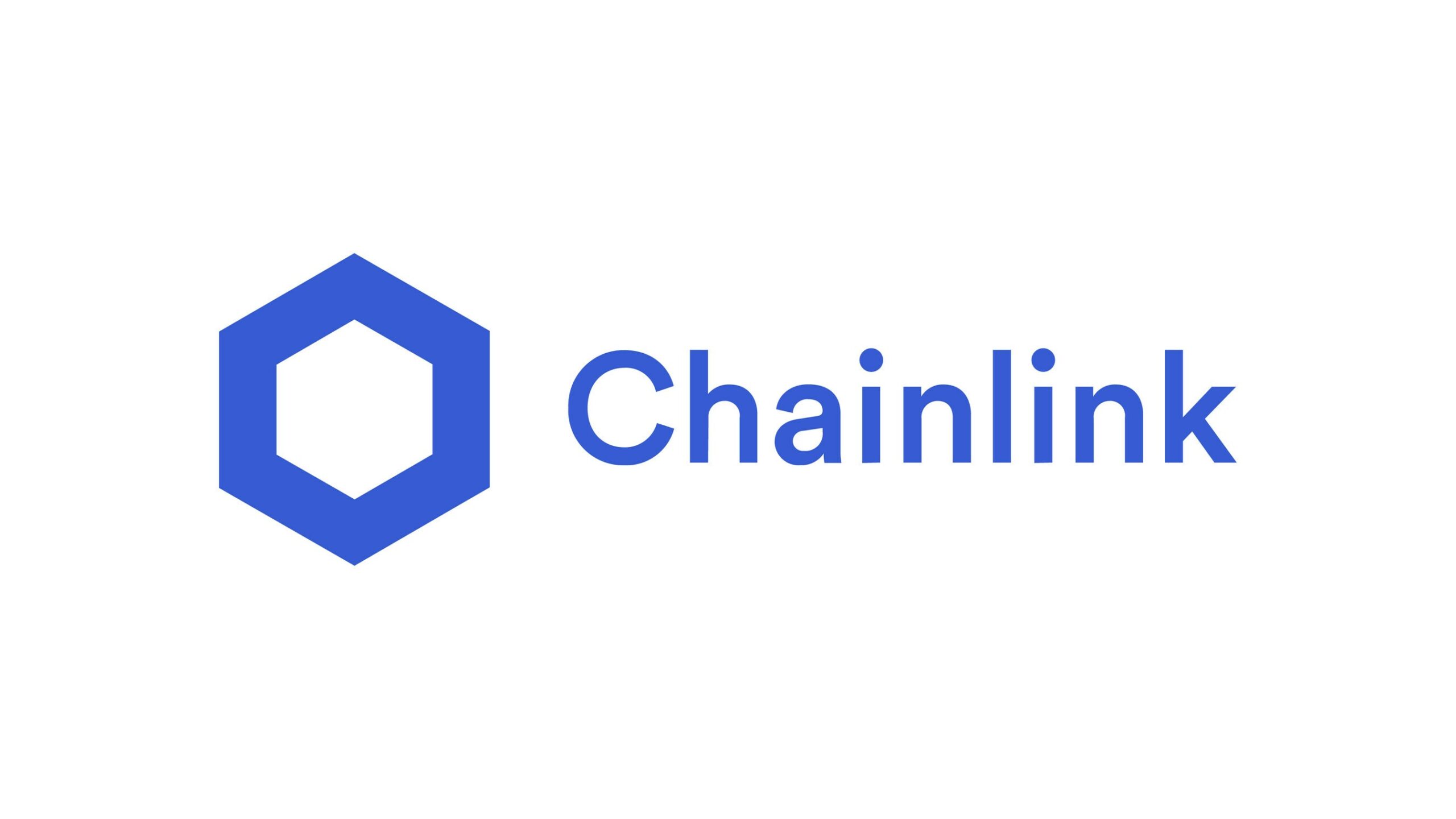 Virtune, en svensk reglerad digital tillgångsförvaltare i Sverige, lanserar en ny innovativ krypto-ETP på Nasdaq Stockholm, den största börsen i Norden. Virtune lanserar idag Virtune Chainlink ETP som erbjuder exponering mot Chainlink genom ett väletablerat finansiellt instrument och med en 100 procent fysiskt uppbackad struktur.
ETPn är 100 procent fysiskt uppbackad och handlas i SEK för svenska och övriga nordiska investerare samt är tillgänglig på DEGIRO, Nordnet, Aktieinvest, Levler och Avanza.
Chainlink är för närvarande en av de 15 största kryptovalutorna med ett totalt marknadsvärde på cirka 8,2 miljarder dollar och har haft en tillväxt på 165 procent sedan årets början. Chainlink fungerar som en bro för smarta kontrakt på olika blockkedjor och gör dem kompatibla med varandra. Detta görs med hjälp av ett decentraliserat orakelnätverk, som hjälper blockkedjor att kommunicera med externa enheter som dataflöden, händelser och betalningsmetoder på ett säkert sätt. Detta ger komplexa smarta kontrakt den nödvändiga informationen från den yttre världen och gör dem till det främsta sättet för människor att ingå avtal i den decentraliserade världen.
Denna ETP riktar sig till institutionella investerare såväl som privatpersoner och möter den ökande efterfrågan från investerare i Norden som har väntat på ett sömlöst sätt att exponera sig mot Chainlink.
Viktig information om ETPn
1:1 exponering mot Chainlink
100 procent fysiskt uppbackad
Årlig förvaltningsavgift på 1,49 procent
Virtune Chainlink ETP
Fullständigt namn: Virtune Chainlink ETP
Förkortat namn: Virtune Chainlink
Handelsvaluta: SEK
Första handelsdagen: Torsdag den 30 november
Ticker: VIRLINK
ISIN: SE0021149259
Christopher Kock, vd för Virtune:
"Vi är mycket glada över att introducera den första Chainlink ETPn i Norden efter att ha upplevt en ökande efterfrågan från investerare i Norden. Chainlink är en lovande plattform vilket också har bevisats bland annat genom dess samarbete med stora finansiella institutioner. Virtune Chainlink ETP är en 100 procent fysiskt uppbackad Chainlink-produkt som erbjuder investerare ett enkelt, transparent och säkert sätt att få exponering mot Chainlink genom en reglerad struktur noterad på Nasdaq Stockholm, tillsammans med branschledande samarbetspartners."