How did the debt ceiling standoff affect the crypto market in May?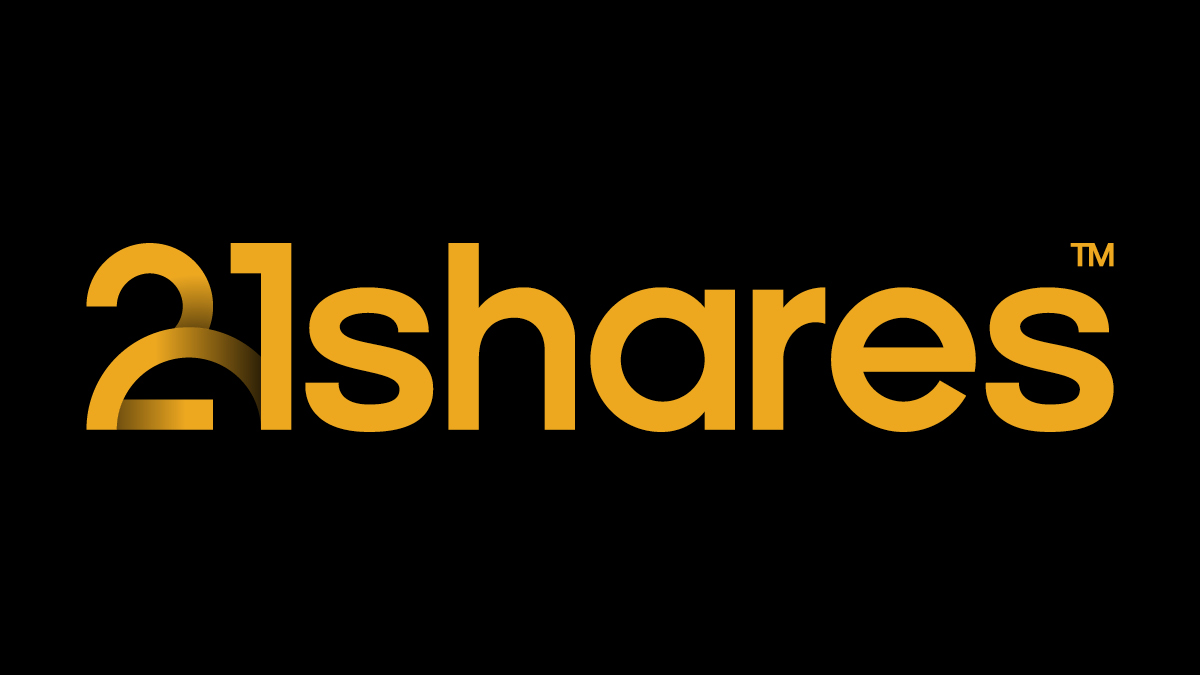 Markets have tumbled in fear of a default crisis in the U.S.; President Joe Biden and top congressional Republican Kevin McCarthy are closing in on a deal raising the government's $31.4 trillion debt ceiling for two years while capping spending on most items. Regulatory headwinds pushed two of the world's largest market makers to withdraw from trading digital assets in the U.S. Falling by 5% over the past month, Bitcoin had its share of speculation around its network's soaring transaction fees, signaling unprecedented congestion. On the upside, Lido was the biggest winner of this month, increasing by 6%. Ethereum's upgrade unlocking staked ETH has revitalized investor confidence in the cryptoasset. It also boosted demand for protocols like Lido, which saw a 6% increase in net new assets; despite Celsius withdrawing $800M right after the liquidity event. Our dashboards show that Lido processed withdrawals flawlessly to avoid putting additional stress on the activation or exit queue using a buffer of ETH from deposits and rewards.
Figure 1: Price and TVL Development of Major Crypto Sectors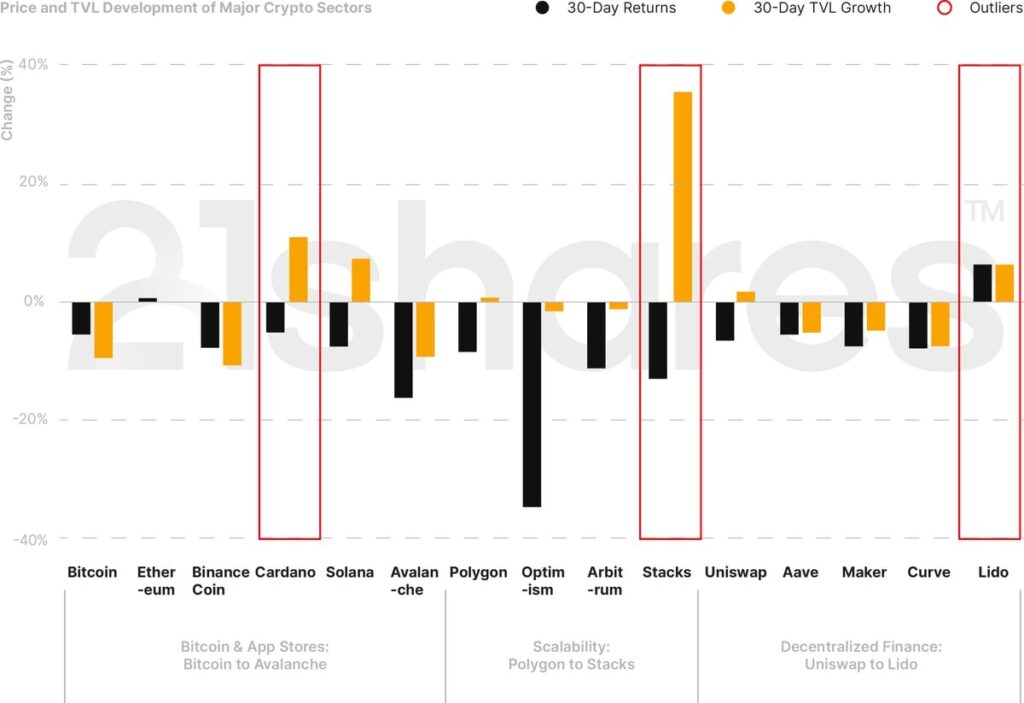 Source: 21shares, Coingecko, DeFi Llama. Data as of May 30 close.
Key takeaways from this report
Bitcoin trials smart-contract functionality while inspiring legacy networks to continue innovating, and Avalanche launches a no-code launchpad to create Web3 applications.
• Lido V2 goes live, enabling withdrawals, Galaxy Digital executes its first on-chain options trade and Tether holds 2% in BTC and continues allocating 15% of net profits to BTC after a strong Q1.
• Another try at borrowing against NFTs, as marketplace Blur launches NFT lending protocol and Binance launches NFT lending feature with zero gas fees.
Spot and Derivatives Markets
Figure 2: Total Liquidations
Source: Coinglass
On May 10, we saw over $100 million in liquidations after a pseudonymous source tweeted false information alleging that Bitcoin wallets controlled by the U.S. government were on the move. Most positions liquidated were long, as BTC dropped 5% from ~$28,200 to ~ $26,800 in less than an hour (see Figure 2). The market's overreaction was entirely avoidable. We built a dashboard over two months ago that anyone can access to monitor the U.S. government-controlled wallets in real time and in fact, the assets remained in the wallets.
On-chain Indicators
Figure 3: Percentage of Ethereum in Exchanges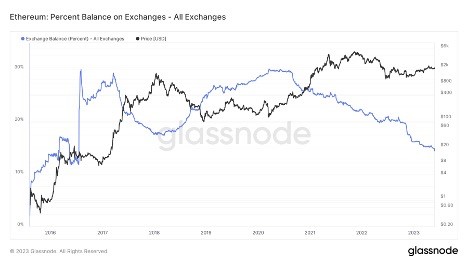 Source: Glassnode
The amount of ETH held on centralized exchanges reached its lowest point in seven years, accounting for only 14% of the total circulating supply. This significant decrease can be traced back to November, when users swiftly withdrew their assets from crypto exchanges due to the collapse of FTX. The trend regained momentum in March, triggered by several banking failures resulting in a sense of distrust in the financial markets. As such, non-custodial staking solutions such as Lido and Rocketpool, benefited from the assets exodus from custodial exchanges.
Next Month's Calendar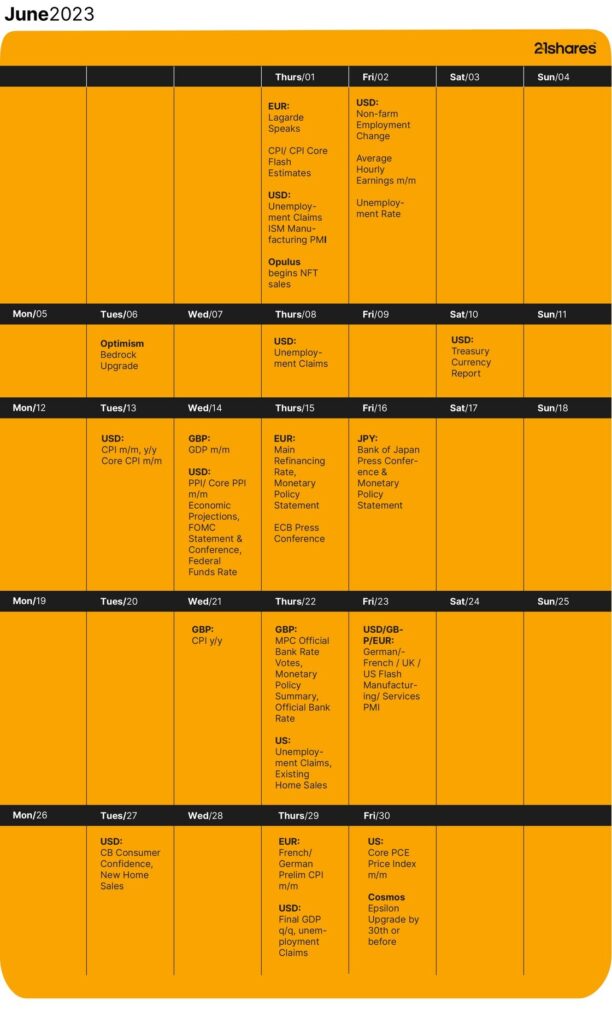 Source: 21shares, Forex Factory, CoinMarketCap
Research Newsletter
Each week the 21Shares Research team will publish our data-driven insights into the crypto asset world through this newsletter. Please direct any comments, questions, and words of feedback to research@21shares.com
Disclaimer
The information provided does not constitute a prospectus or other offering material and does not contain or constitute an offer to sell or a solicitation of any offer to buy securities in any jurisdiction. Some of the information published herein may contain forward-looking statements. Readers are cautioned that any such forward-looking statements are not guarantees of future performance and involve risks and uncertainties and that actual results may differ materially from those in the forward-looking statements as a result of various factors. The information contained herein may not be considered as economic, legal, tax or other advice and users are cautioned to base investment decisions or other decisions solely on the content hereof.
21.co utser Senior ETF Leader till chef för finansiell produktutveckling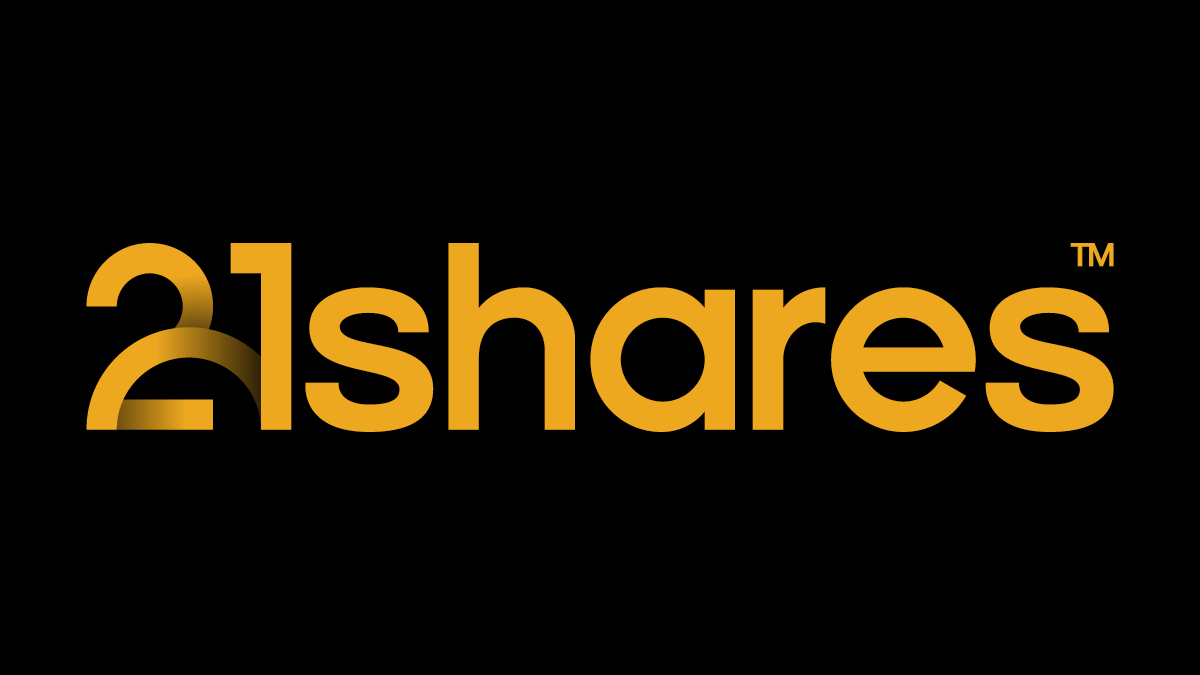 21.co, världens största emittent av krypto-ETP, tillkännagav idag utnämningen av Mandy Chiu, CFA, företagets chef för finansiell produktutveckling. När intresset ökar för investeringsutrymmet för digitala tillgångar kommer Chius tillägg till 21.co vid en tidpunkt av betydande tillväxt och nyckeltalangförvärv för företaget.
I denna roll kommer Chiu att övervaka företagets globala produktexpansion av 21Shares. I nära samarbete med branschpartners kommer hon att försöka överbrygga klyftan mellan TradFi och DeFi – ett nyckelinitiativ för att stödja företagets uppdrag och tillväxt. Som ämnesexpert kommer Chiu att leda nya möjligheter med anmärkningsvärda partners, som ARK Invest och andra, som utvecklar skräddarsydda, innovativa produkter som möter investerarnas krav och utökar 21.cos uppdrag att ge säkrare, pålitlig tillgång till kryptobaserade tillgångar.
"Vi är glada över att välkomna Mandy Chiu till 21.co. Hennes omfattande erfarenhet inom ETF-området är ett bevis på hennes djupa branschkunskap och engagemang", säger Ophelia Snyder, VD och medgrundare på 21.co. "Hennes enastående expertis kommer inte bara att lyfta vår verksamhet utan också bidra till att forma hela ETF-landskapet och vi ser fram emot de innovativa idéer och insikter hon kommer att tillföra vår organisation."
Chiu tar över två decennier av traditionell finanserfarenhet till 21.co, som tidigare tjänstgjorde som Tabula Investment Managements produktchef. Innan Tabula var Chiu verkställande direktör och chef för EMEA och APAC ETF-produkter på State Street Global Advisors (SSGA). Hon har också haft olika roller på HSBC Banking & Global Markets, ETF Securities och Yuanta Securities (Taiwan). Chiu kommer att fortsätta att vara baserad i London, Storbritannien.
"Jag är stolt över att inleda detta spännande nya kapitel när jag går med i 21.co i den dynamiska världen av krypto-ETP, efter att ha sett branschens utveckling", säger Mandy Chiu, chef för finansiell produktutveckling på 21.co. "På 21.co ser jag en enastående möjlighet att fortsätta resan mot innovation, utnyttja min erfarenhet för att driva innovation, utöka produktutbudet och leverera exceptionellt värde till våra kunder. Jag är glad över att samarbeta tillsammans med det begåvade teamet här och utveckla banbrytande lösningar som kommer att fortsätta att forma framtiden för landskapet."
Techfond om fem år av framgång och framtidsprognoser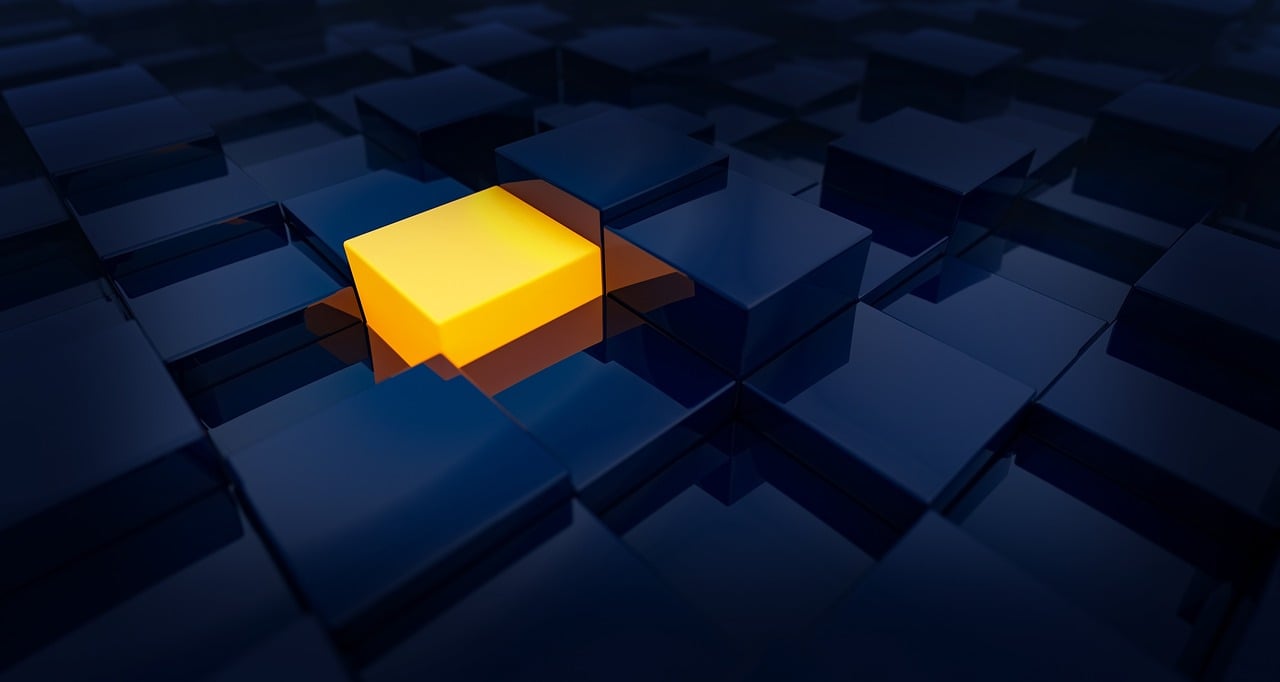 Anthony Ginsberg, VD för GINSGLOBAL Index Fund träffar Steve Darling från Proactive för att dela nyheter om fem år av framgång för sin Tech Megatrend Fund. Fonden, som lanserades 2018, har utvecklats avsevärt och omfattar ett brett utbud av teknikrelaterade underteman bortom traditionell teknik, inklusive elfordon, molnberäkning, onlinespel, streaming och cybersäkerhet.
Ginsberg lyfte fram de imponerande användningsfrekvenserna för dessa underteman, med hänvisning till tillväxten av elfordon, datormoln och cybersäkerhet. Han betonade konvergensen av dessa teknologier, vilket skapar nya möjligheter och marknadsdynamik. Ginsberg diskuterade också effekterna av pandemin, som accelererade trender som distansarbete, molnberäkning och cybersäkerhet.
När det gäller resultat har Tech Megatrend Fund uppnått en avkastning på 45 % sedan starten, med anmärkningsvärda uppgångar de senaste åren trots vissa inflationsrelaterade utmaningar. Ginsberg uttryckte optimism för framtiden, med hänvisning till pågående framsteg inom AI och robotik, särskilt i Asien. När det gäller fusioner och förvärv förutsåg Ginsberg en ökning av teknikrelaterade megaaffärer, särskilt inom molnberäkning, cybersäkerhet och AI. Han betonade att dessa affärer nu är globala i omfattning, med företag som söker möjligheter över hela världen.
Tech Megatrend Fund har upplevt stark tillväxt under sin femåriga resa, driven av olika tekniska underteman och globala trender. Anthony Ginsberg är fortfarande optimistisk om fondens framtidsutsikter och lyfter fram den transformativa potentialen hos framväxande teknologier.
Handla T3KE ETF
HANetf HAN-GINS Tech Megatrend Equal Weight UCITS ETF (T3KE ETF) är en europeisk börshandlad fond som handlas på bland annat London Stock Exchange och tyska Xetra.
Det betyder att det går att handla andelar i denna ETF genom de flesta svenska banker och Internetmäklare, till exempel DEGIRO, Nordnet, Aktieinvest och Avanza.
Kryptomingel hos Virtune på Kungsgatan 26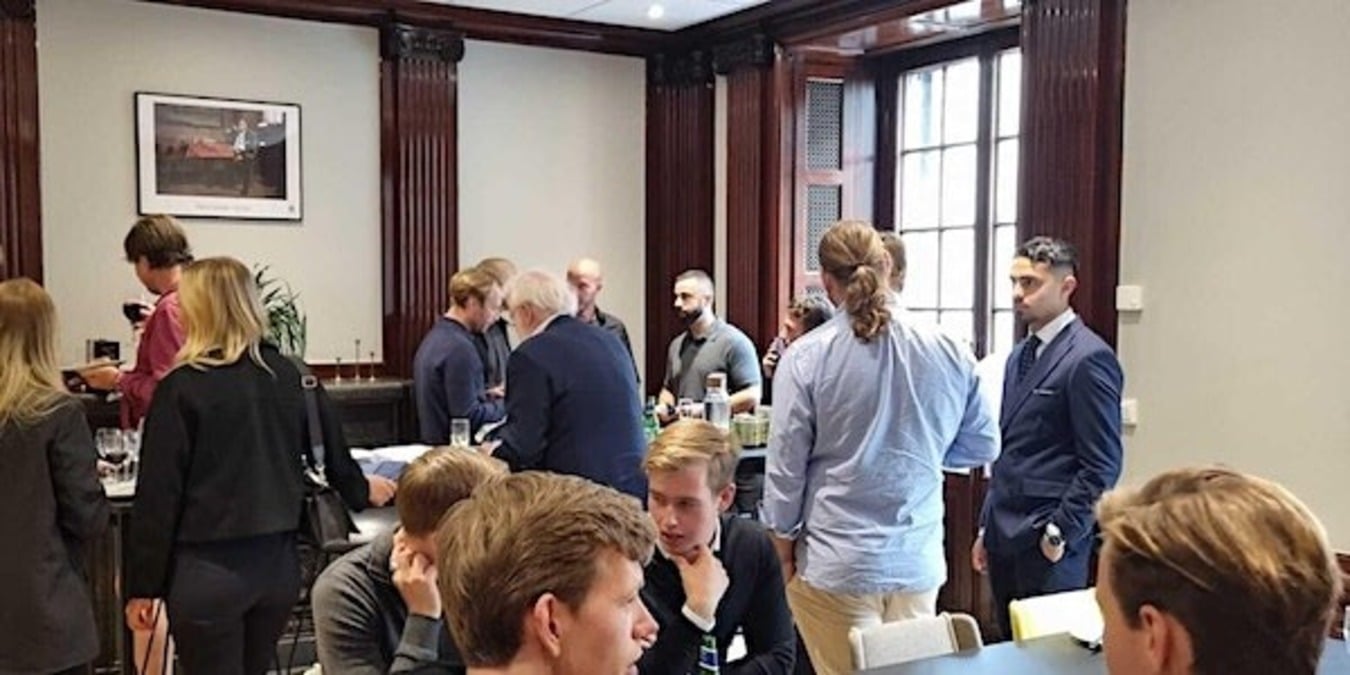 Oavsett om du är en erfaren investerare eller bara nyfiken på krypto som tillgångsslag så är detta kryptomingel en givande och informativ upplevelse. Träffa branschexperter, utbyt idéer och utvidga ditt nätverk.
Virtune bjuder in till en kryptomingelkväll på vårt kontor på Kungsgatan 26! Kvällen är den perfekta möjligheten att nätverka med likasinnade entusiaster, diskutera de senaste trenderna, utforska den spännande kryptomarknaden samt att få höra mer om Virtune och företagets produkter.
Denna kvällar är avsedd för den som vill lära sig mer om kryptoregleringar, blockkedjeteknik, decentraliserad finans och mycket mer.
Hoppas vi ses där!
Vänliga hälsningar,
Virtune-teamet
Tid: Torsdagen den 10 oktober, klockan 18,00 till 22,00
Plats: Kungsgatan 26, 2 trappor, 111 35 Stockholm