Ethereum's $2K Surge & ETF Plans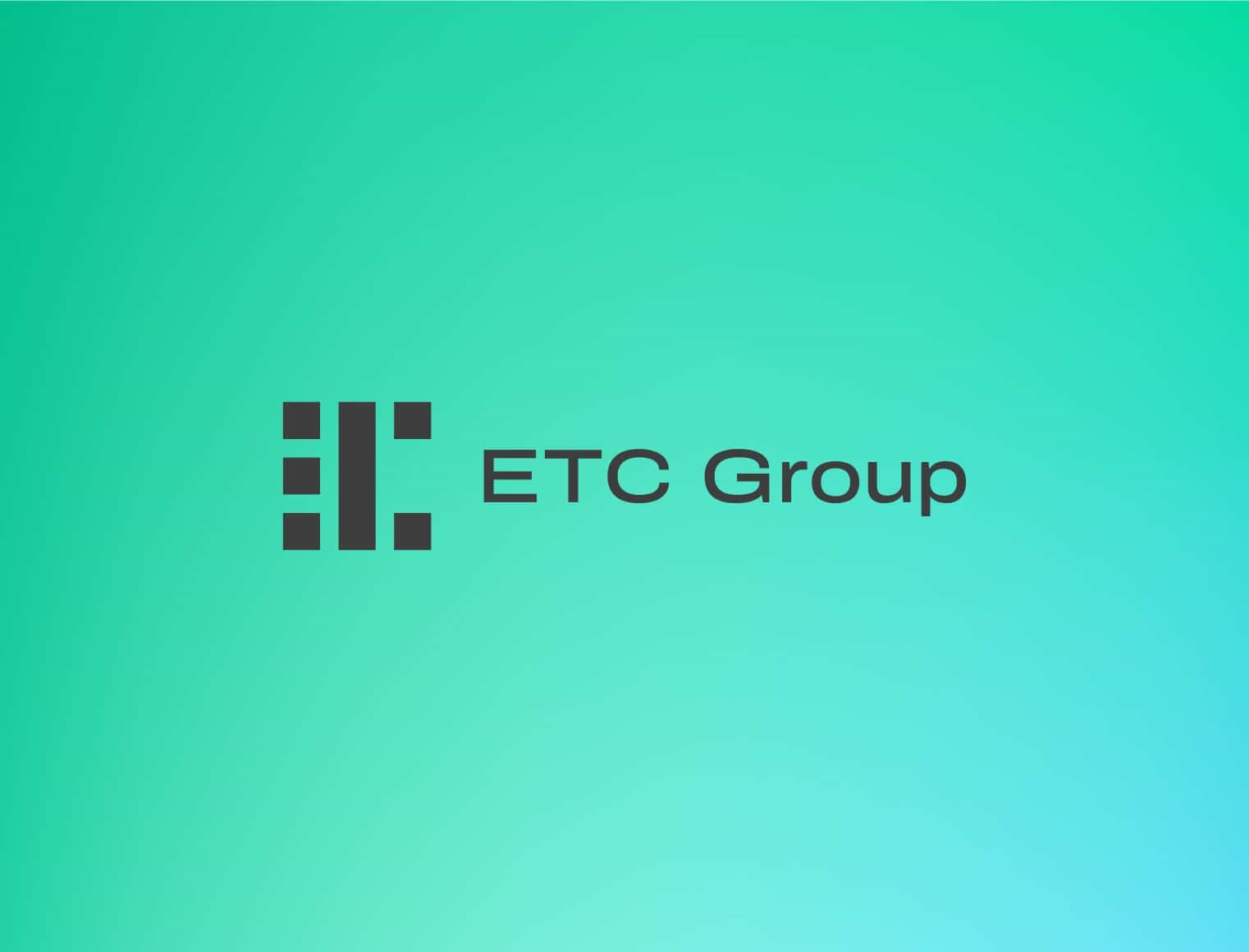 Insights with ETC's Bradley Duke | Crypto Adventure Ep. 6. Welcome to the Latest Episode of Crypto Adventure Podcast where Bradley Duke talks about his ETF Plans! 🚀
In this exciting episode of the Crypto Adventure Podcast, host Natalie Stoberman and journalist Billy Farrington delve into the dynamic world of cryptocurrency, focusing on Ethereum's remarkable surge and the broader implications for the crypto market.
The discussion is enhanced by insights from Bradley Duke, co-CEO of ETC Group, offering a unique perspective on the evolving landscape of cryptocurrency ETFs.
🔍 Main Highlights:
1️⃣ Ethereum's Price Surge: Ethereum takes center stage in the crypto world, hitting new 18-month highs and surpassing $2,000. This surge comes after a relatively quiet period post-merge and sharding, surprising many who expected a more immediate impact.
2️⃣ BlackRock's Ethereum ETF Move: BlackRock, the world's largest asset manager, is making headlines with plans to file for an Ethereum-based ETF. This follows their efforts towards a Bitcoin ETF, marking a significant step for Ethereum in the investment space.
3️⃣ Regulatory Hurdles: The podcast discusses the challenges of gaining SEC approval, particularly for Ethereum, which faces more skepticism compared to Bitcoin. They explore the contrasting regulatory landscapes in the US and Europe, with Europe leading in Bitcoin spot ETFs.
4️⃣ Interview with Bradley Duke (ETC Group): Duke offers valuable insights into the hype around spot Bitcoin ETFs and the differences between the European and American markets. He discusses the likelihood and potential timing of SEC approvals for these new products.
Bitcoin's Market Movements: The episode also touches on Bitcoin's recent price actions, including its approach to the $38,000 resistance line and subsequent downturn.
5️⃣ Allegations Against Ethereum Co-Founders: They discuss recent allegations of fraudulent activities against Vitalik Buterin and Joseph Lubin, highlighting the impact of such news on the crypto market.
6️⃣ The return of FTX?! Following comments by Gary Gensler of the FTC about a possible revival of FTX. The revival poses questions about market demand and regulatory compliance.
This episode offers a comprehensive look at the current state of cryptocurrency, particularly Ethereum and Bitcoin, and the evolving investment landscape shaped by regulatory decisions and market dynamics. It's a must-watch for anyone keen to stay updated on the latest trends and developments in the crypto world.
Guld-ETF-utflöden i november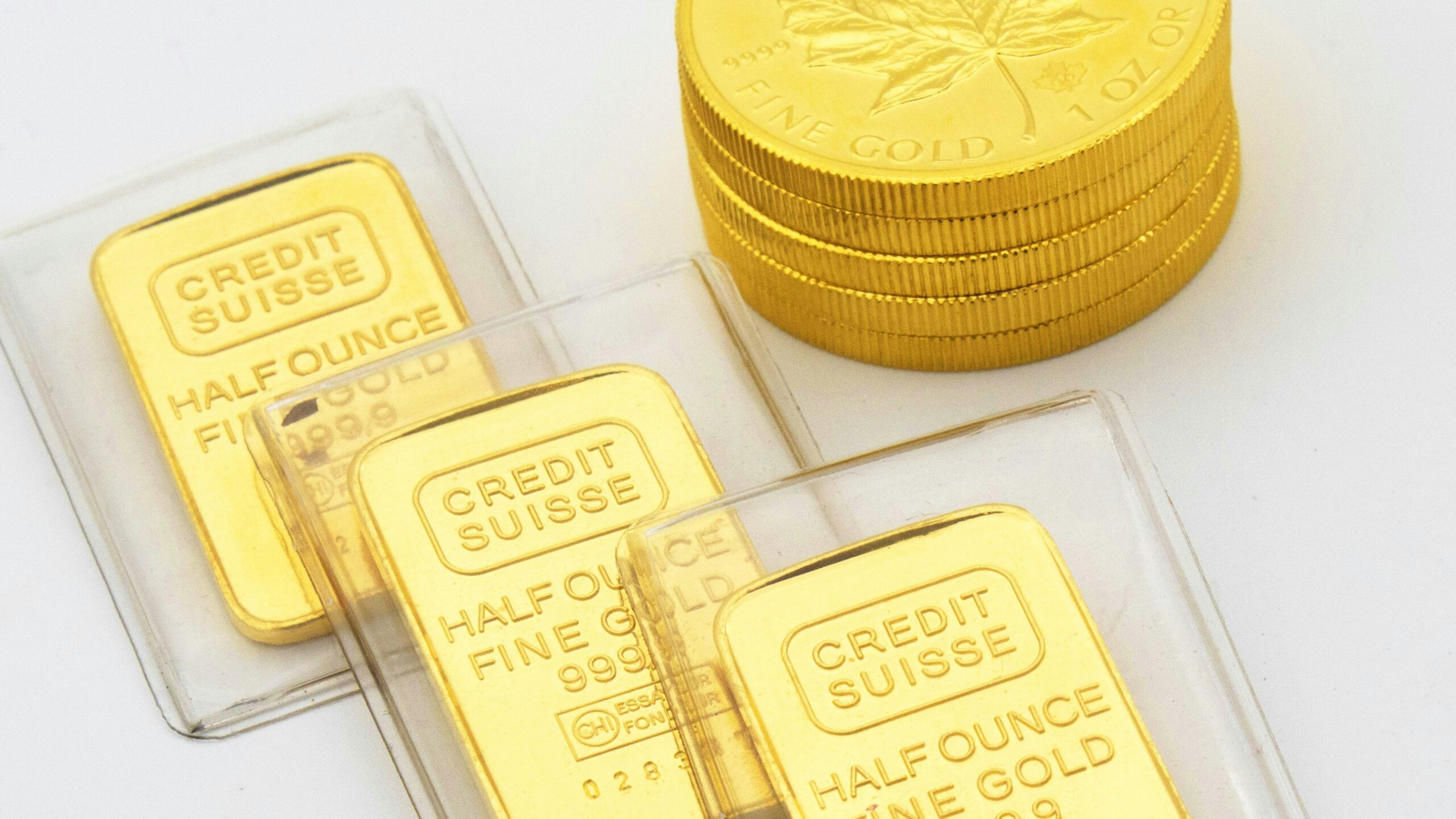 Globala guld-ETF-utflöden krympte avsevärt i november. Medan europeiska fonder fortfarande såg nettoavyttringar, lockade nordamerikanska fonder nettoinflöden och avslutade sin 5-månaders utflödesserie.
Geopolitik, investerarpositionering och lägre kurser bidrog till att pressa guldpriset högre förra månaden, vilket i sin tur stödde ETF-efterfrågan i regionen.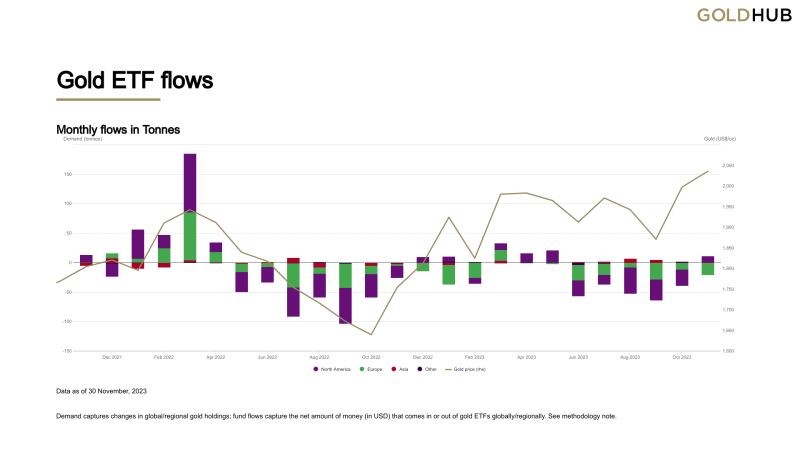 Källa: World Gold Council
Den nordiska ETF-marknaden november 2023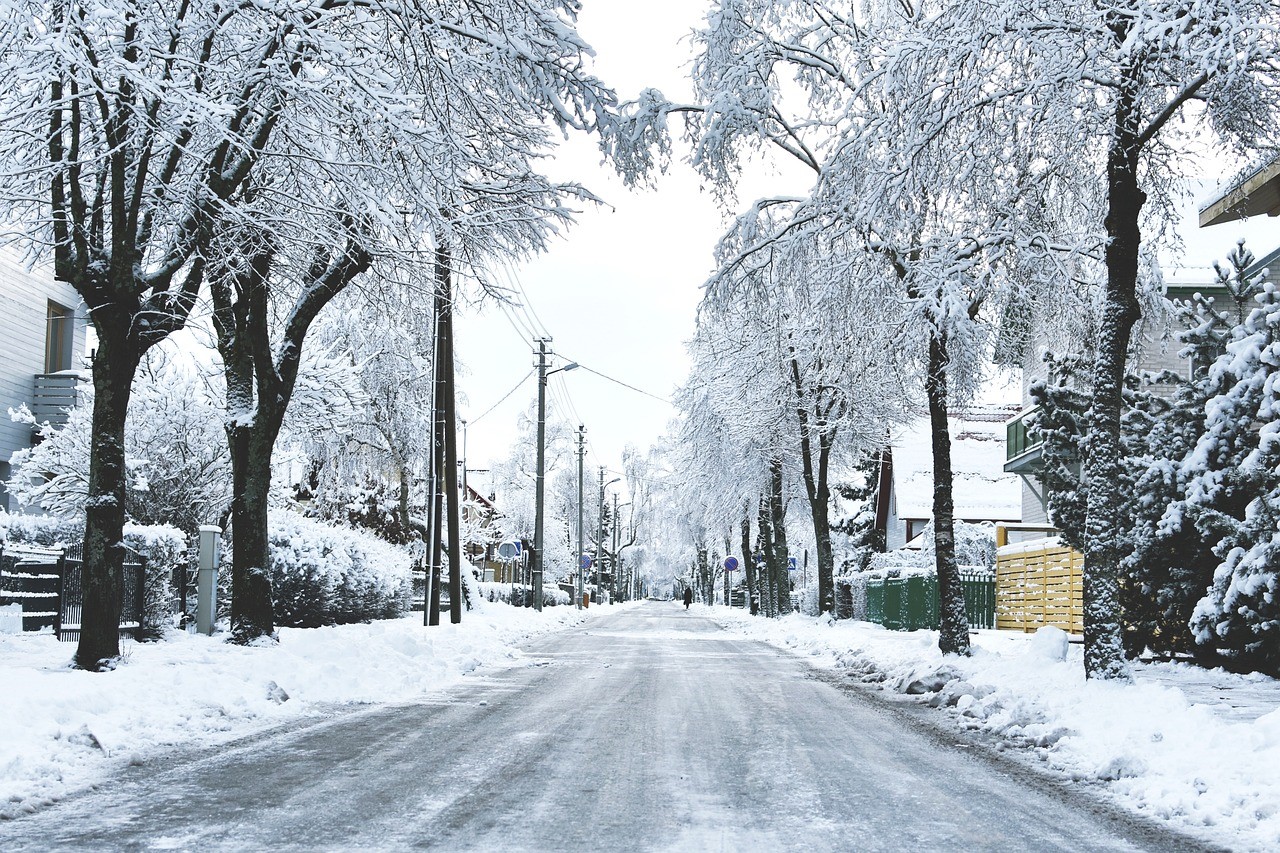 Handeln på den nordiska ETF-marknaden november 2023 uppgick till cirka 9,1 mdkr (11,8 mdkr i oktober) varav cirka 8,6 mdkr omsattes i den svenska marknaden. Av den totala nordiska ETF-omsättningen var XACTs marknadsandel cirka 97%.
Av den totala börsomsättningen i Sverige i november svarade ETF-handeln för cirka 2,2.%.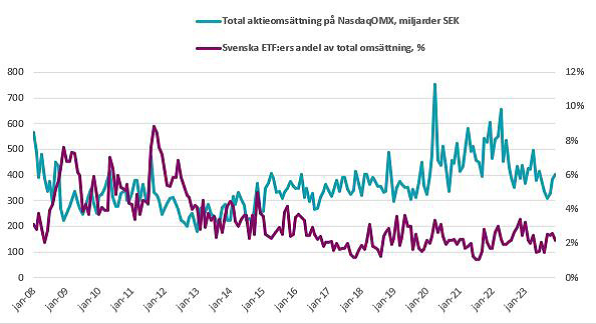 Den nordiska ETF-marknaden november 2023
Som vanligt var det XACT som hade störst marknadsandel på den nordiska ETF-marknaden i november 2023, med en marknadsdel på 96,78 procent. Finska Seligson & Co hade en marknadsandel om drygt 2,6 procent, vilket faktiskt gör att detta företag hade 100 procent av den finska ETF-marknaden. Resterande andel, 0,57 procent, svarade norska DNB OBX för. DNB är, sedan XACT lagt ned sina norska ETFer, den enda aktören som är verksam i Norge.
Statistik för den nordiska ETF-marknaden för perioden: 2023-11-01 – 2023-11-30
Antal handelsdagar: 22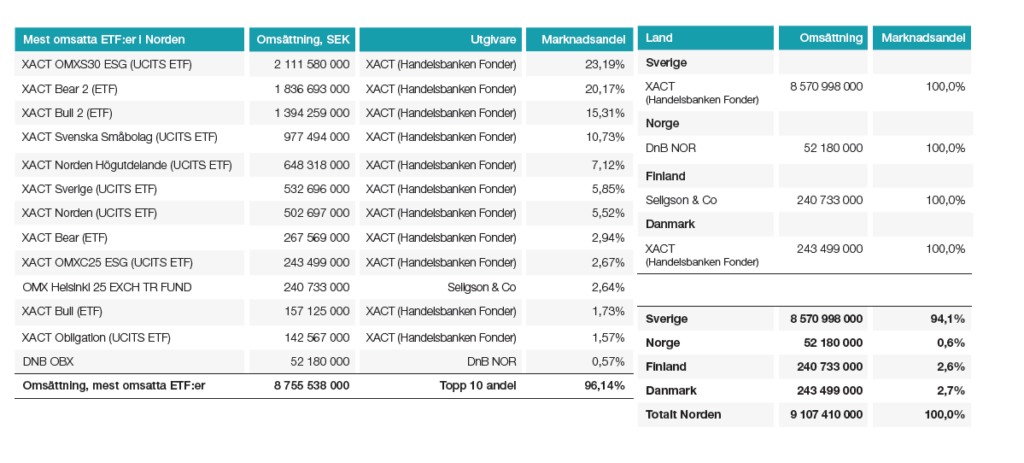 Under november 2023 var den mest omsatta börshandlade fonden den traditionella XACT OMXS30 ESG (UCITS ETF).
Den näst mest omsatta börshandlade fonden hävstångsfonden Xact Bear x 2. Xact Bear x 2 tillsammans med Xact Bull x 2 handlas frekvent, och på kort sikt, vanligt förekommande i till exempel daytrading.
På fjärde plats hittar vi XACT Svenska Småbolag, en fond som sällan hamnar så pass högt på denna lista,
På femte plats finns Xact Norden Högutdelande, en ETF som oftast ingår i varenda utdelningsjägares portfölj, just för att denna börshandlade fond delar ut varje kvartal. Denna ETF lämnade årets fjärde utdelning under november vilket kan ha bidragit till det stora intresset.
Av de mest omsatta ETFerna på den nordiska ETF-marknaden oktober 2023 var elva av de tretton mest handlade börshandlade fonder emitterade av XACT. Utöver ovanstående ETFer finns även två börshandlade fonder från Lyxor, numera Amundi samt en från isländska Landsbréf, som handlas på den nordiska marknaden.
WDGE ETF investerar i amerikanska utdelningsaktier och valutasäkras i euro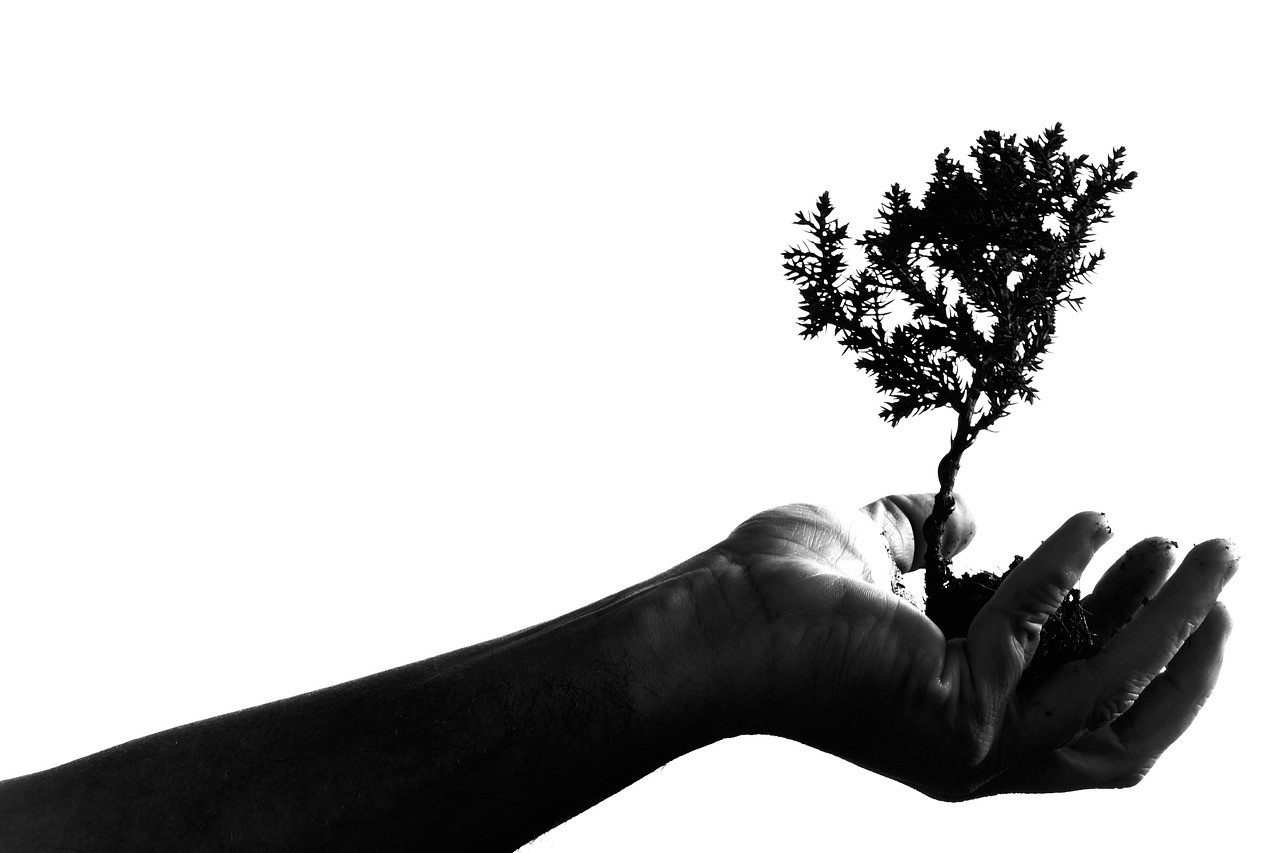 WisdomTree US Quality Dividend Growth UCITS ETF – EUR Hedged Acc (WDGE ETF) försöker spåra WisdomTree US Quality Dividend Growth (EUR Hedged)-index. WisdomTree US Quality Dividend Growth (EUR Hedged)-index spårar utdelningsbetalande amerikanska aktier med tillväxtegenskaper. Aktierna som ingår filtreras enligt ESG-kriterier (miljö, social och bolagsstyrning). Indexet är ett fundamentalt viktat index. Valutasäkrad till euro (EUR).
Denna börshandlade fond har en TER (total cost ratio) som uppgår till 0,35 % p.a. WisdomTree US Quality Dividend Growth UCITS ETF – EUR Hedged Acc är den enda ETF som följer WisdomTree US Quality Dividend Growth (EUR Hedged) index. ETFen replikerar det underliggande indexets prestanda genom samplingsteknik (köper ett urval av de mest relevanta indexbeståndsdelarna). Utdelningarna i ETFen ackumuleras och återinvesteras i den börshandlade fonden.
WisdomTree US Quality Dividend Growth UCITS ETF – EUR Hedged Acc är en mycket liten ETF med tillgångar på 0 miljoner GBP under förvaltning. ETF lanserades den 31 juli 2023 och har sin hemvist i Irland.
WisdomTree US Quality Dividend Growth UCITS ETF – EUR Hedged Acc
Fonden strävar efter att spåra pris- och avkastningsutvecklingen, före avgifter och utgifter, för WisdomTree U.S. Quality Dividend Growth UCITS Index. Andelsklassen strävar efter att leverera exponering mot indexet samtidigt som den neutraliserar exponeringen mot fluktuationer i euron genom att implementera en valutasäkringsmetod.
Varför investera?
• Få tillgång till högkvalitativa, utdelningsväxande företag från globala utvecklade marknader som uppfyller WisdomTrees ESG-kriterier (miljö, social och styrning)
• Dra nytta av riskscreening för att utesluta företag baserat på egenutvecklade kvalitet och momentum
• Direktavkastning och inkomstpotential kan vara högre än ett börsvärdesindex
• Används som ett komplement till globala högavkastande utdelningsstrategier eller som en ersättning för aktiva tillväxt- eller kvalitetsstrategier med stora bolag
• Valutavolatiliteten minimeras genom användning av valutaterminskontrakt
• ETFen är fysiskt uppbackad och UCITS-kompatibel
Potentiella risker?
• Utdelningsviktade index kan prestera annorlunda än ett börsvärdevägt index
• En investering i aktier kan uppleva hög volatilitet och bör betraktas som en långsiktig investering
• Direktavkastning och inkomstpotential kan vara högre än ett börsvärdesindex
• Investeringsrisken kan vara koncentrerad till specifika sektorer, länder, företag eller valutor
• Avkastningen av valutaterminskontrakten, som rullas på månadsbasis, är utformade för att minimera valutafluktuationer men kanske inte perfekt kompenserar de faktiska fluktuationerna.
Denna lista täcker inte alla risker – ytterligare risker beskrivs i KIID och prospekt
Handla WDGE ETF
WisdomTree US Quality Dividend Growth UCITS ETF – EUR Hedged Acc (WDGE ETF) är en europeisk börshandlad fond. Denna fond handlas på flera olika börser, till exempel Deutsche Boerse Xetra och Borsa Italiana. Av den anledningen förekommer olika kortnamn på samma börshandlade fond.
Det betyder att det går att handla andelar i denna ETF genom de flesta svenska banker och Internetmäklare, till exempel DEGIRO, Nordnet, Aktieinvest och Avanza.
Börsnoteringar
Största innehav
| | | | |
| --- | --- | --- | --- |
| Namn | Kortnamn | Land | Vikt % |
| 1. Microsoft Corp | MSFT US | US | 8.49% |
| 2. Apple Inc | AAPL UQ | US | 6.12% |
| 3. Johnson & Johnson | JNJ UN | US | 3.98% |
| 4. Broadcom Inc | AVGO US | US | 3.57% |
| 5. Procter & Gamble Co/The | PG US | US | 3.16% |
| 6. Home Depot Inc | HD UN | US | 2.78% |
| 7. Coca-Cola Co/The | KO UN | US | 2.54% |
| 8. Merck & Co Inc/NJ | MRK UN | US | 2.50% |
| 9. Cisco Systems Inc | CSCO UQ | US | 2.34% |
| 10. Walmart Inc | WMT US | US | 2.24% |
Innehav kan komma att förändras