Crypto Markets Persevere, Investor Appetite for Web 3 Grows, and More!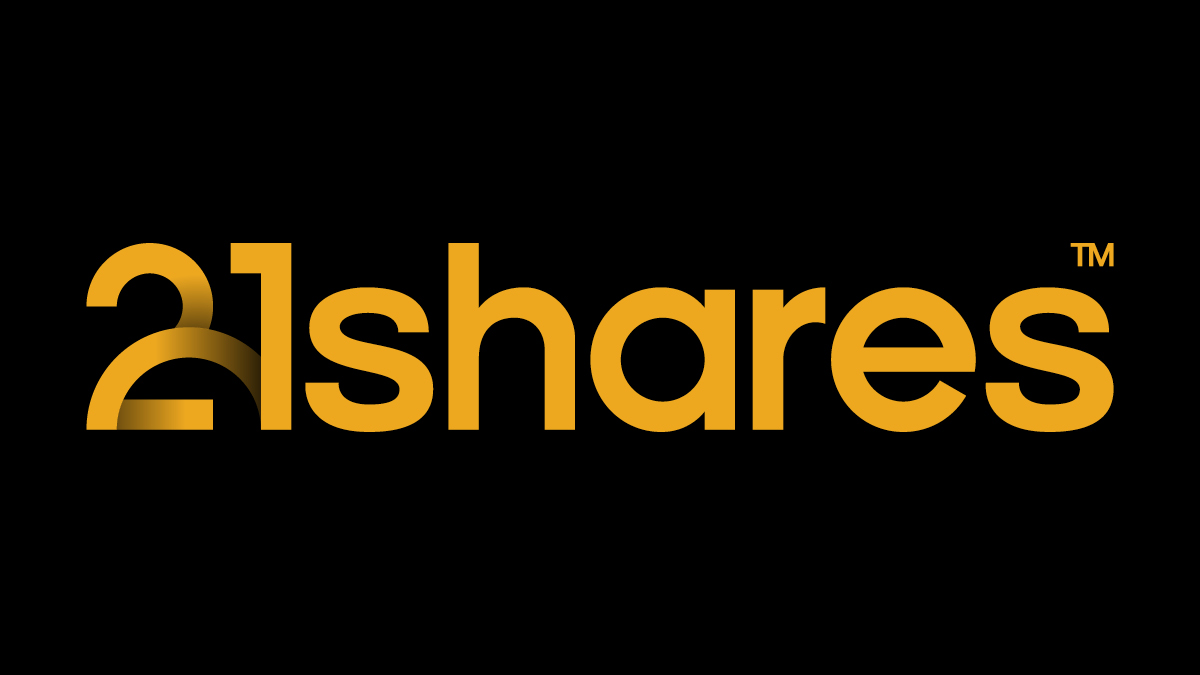 The banking default risk in the United States started spreading to European banks, taking down Credit Suisse with a takeover by UBS. However, for the second consecutive week, the crypto markets performed in the opposite direction of the macro headwinds. Bitcoin was the biggest winner of last week's rally, increasing by 15.5%, while Ethereum increased by 3.9%. The biggest losers were Polygon (-6.72%), Maker (-26%), and Lido (-13.86%), which announced it would launch withdrawals of staked ETH by mid-May, two weeks after Ethereum's Shanghai upgrade.
Figure 1: Weekly TVL and Price Performance of Major Crypto Categories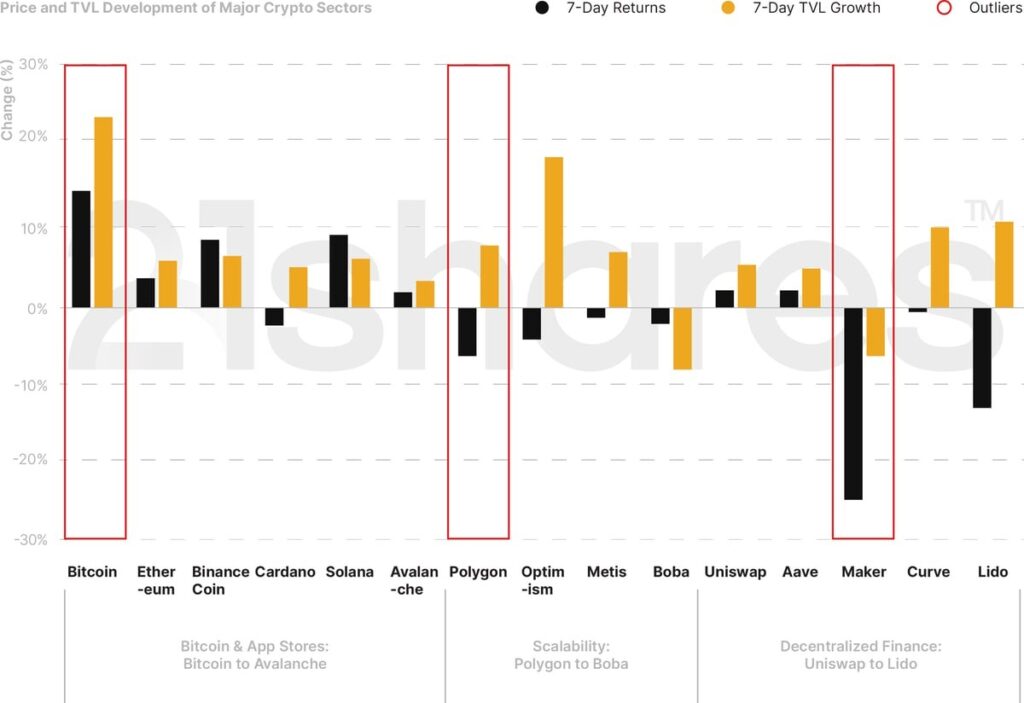 Source: 21Shares, CoinGecko, DeFi Llama. Close data as of March 20.
Key takeaways
• Crypto's market cap increases by 8.5%, despite the looming default crisis in traditional finance.
• Arbitrum unveils token, Cosmos launches Replicated Security
• Lido Finance anticipates mainnet withdrawals by mid-May; National Australian Bank conducts its first Cross Border transaction using its own stablecoin on Ethereum
• Saudi Arabian NFT marketplace "Nuqtah" raises seed funding from Animoca Brands and Polygon.
Figure 2: Bitcoin Options Open Interest By Expiry

Source: Coinglass.com
Spot and Derivatives Markets
Demand for Bitcoin options contracts has increased to levels we haven't seen since 2021, inching close to $12B on March 19 alone, with Deribit enjoying the lion's share of ~$10B. This could mean a trend of allocating investments in cryptoassets as a hedge against inflation and the default contagion risk going around in the banking sector.
On-chain Indicators
Figure 3: Ethereum's Network Value to Transactions Ratio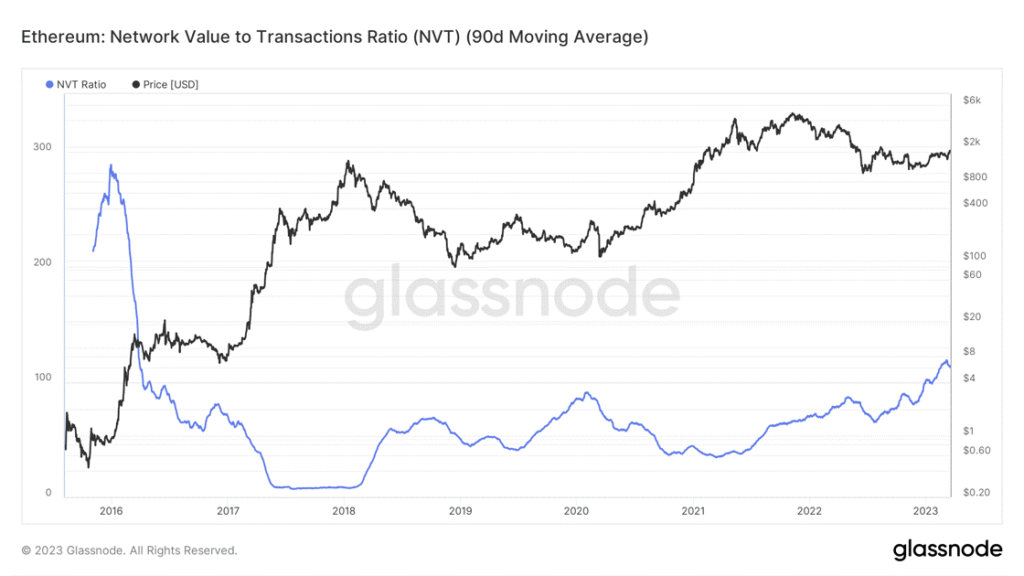 Source: Glassnode
Analogous to the price to earnings for stocks, the Network Value to Transactions (NVT) Ratio can help track the realized valuation levels of an asset. As shown in Figure 3, an NVT ratio as high as 300 indicates that Ethereum may be overvalued since the network value, or market cap, is higher than the transaction volume. Whereas downtrends like the one seen in 2017 indicate that transactions are outgrowing the network value and investors may be buying Ethereum at a discount. Although the chart above indicates that the market cap outweighs the volume of transactions on the network, historically speaking the second-largest cryptoasset by market cap is still in a healthy valuation range.
Next Week's Calendar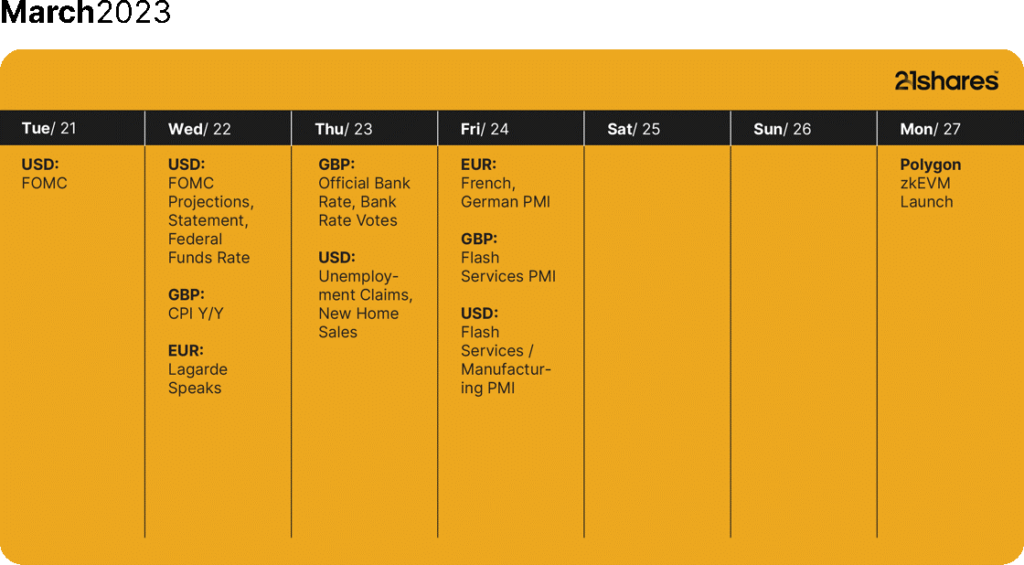 Source: Forex Factory, CoinMarketCal
Research Newsletter
Each week the 21Shares Research team will publish our data-driven insights into the crypto asset world through this newsletter. Please direct any comments, questions, and words of feedback to research@21shares.com
Disclaimer
The information provided does not constitute a prospectus or other offering material and does not contain or constitute an offer to sell or a solicitation of any offer to buy securities in any jurisdiction. Some of the information published herein may contain forward-looking statements. Readers are cautioned that any such forward-looking statements are not guarantees of future performance and involve risks and uncertainties and that actual results may differ materially from those in the forward-looking statements as a result of various factors. The information contained herein may not be considered as economic, legal, tax or other advice and users are cautioned to base investment decisions or other decisions solely on the content hereof.
97 % av alla Bitcoin kommer att utvinnas i april 2024 för den fjärde halveringen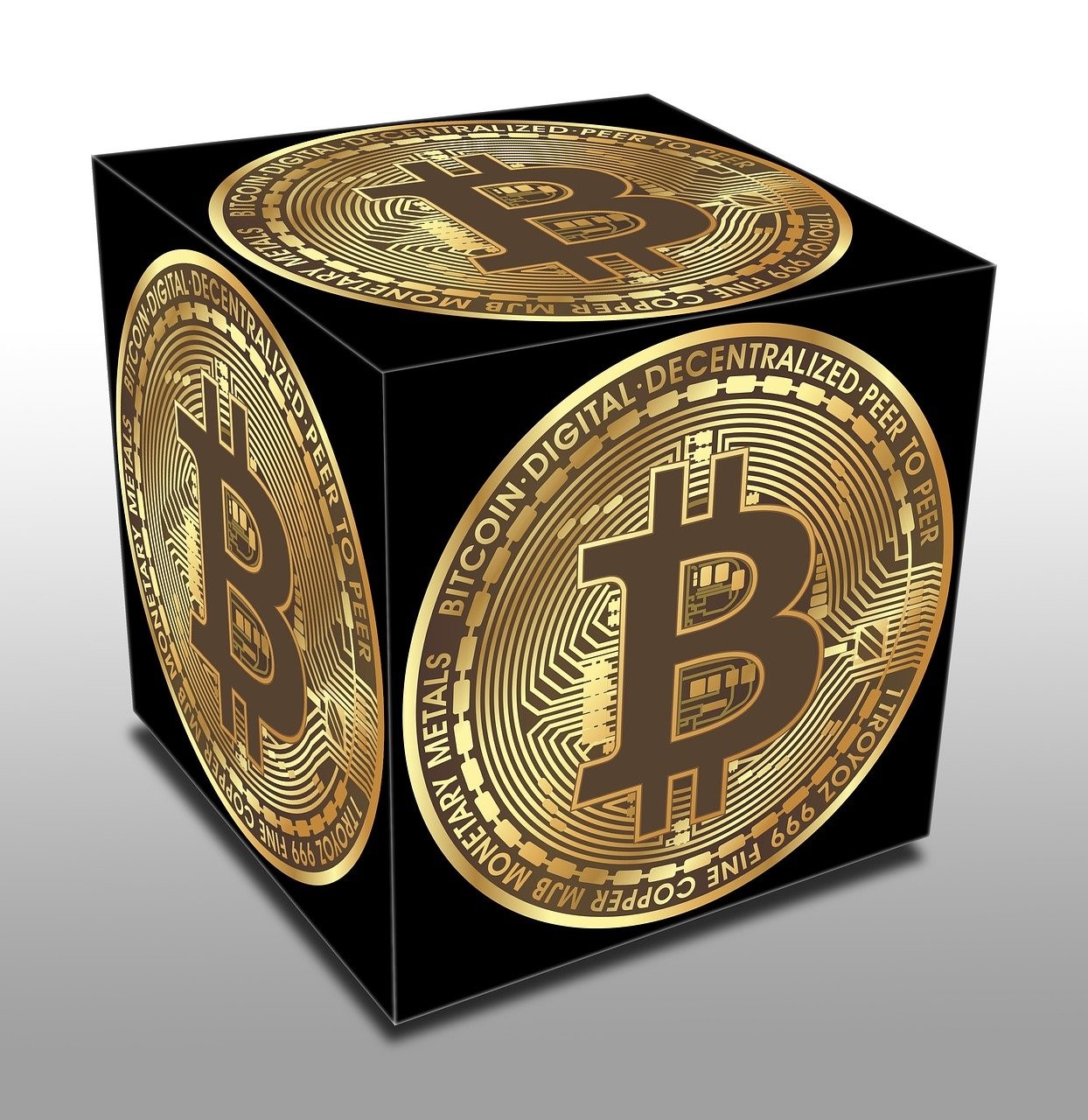 Som en återstod: Den enskilt viktigaste händelsen för Bitcoin är halveringen. Satoshi Nakamoto kodade Bitcoin till hälften av belöningsutbetalningarna till gruvarbetarna var 210 000:e block.
Denna händelse inträffar ungefär vart fjärde år och är en form av konstgjord inflationskontroll, liknande en centralbank som trycker mindre pengar.
Halveringen säkerställer att det totala utbudet av Bitcoin-tak på 21 miljoner, vilket gör det till en deflationär tillgång.
I enklare termer, ju längre tiden går, skapas allt mindre Bitcoin. Alla andra fiatvalutor som finns är inflationsdrivande till sin natur. Allt eftersom mer tid går skapas fler, vilket gör den valuta du har mindre värd.
Det är detta som skiljer Bitcoin från allt annat och varför många tror att det är en digital värdebevarare.
Som en funktion av ekonomin och när Bitcoins adoptionshastighet växer, betyder detta att efterfrågan med stor sannolikhet kommer att överträffa utbudet med stor marginal.
Diagrammet nedan visar tidigare halveringshändelser och deras marknadseffekt.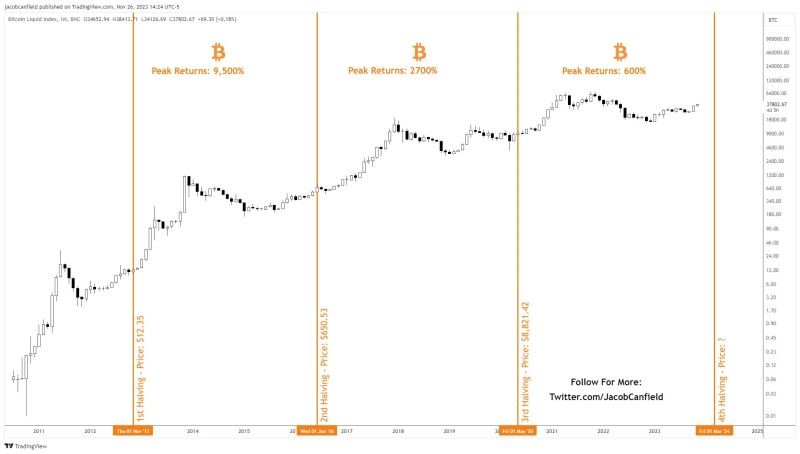 Källa: Jacob Canfield
EPAD ETF investerar i europeiska klimatförändrare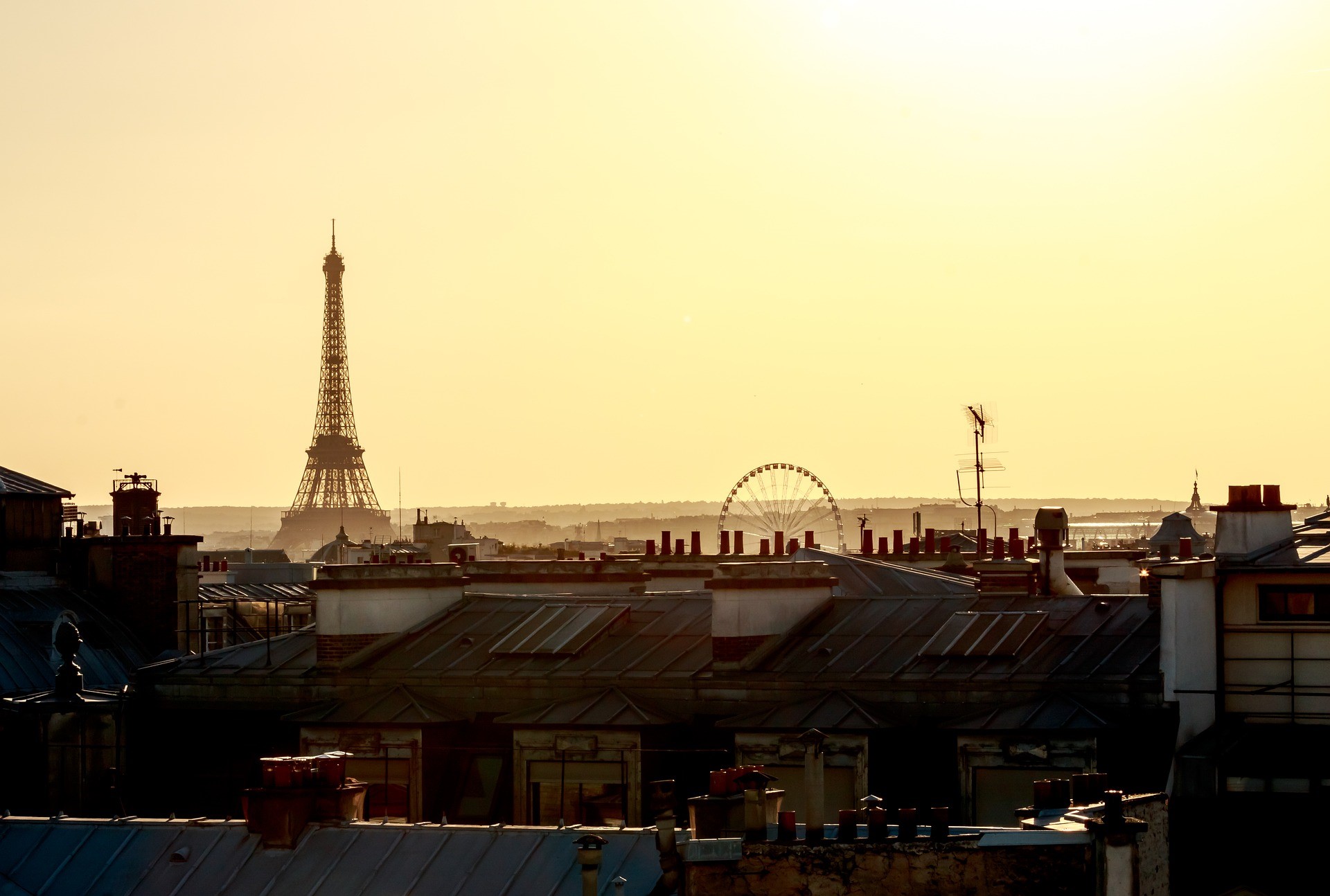 iShares MSCI Europe Paris-Aligned Climate UCITS ETF EUR (Dist) (EPAD ETF) investerar i aktier med fokus på Climate Change, Social/Environmental, Europa. Utdelningarna i fonden delas ut till investerarna (halvårsvis). MSCI Europe Climate Paris Aligned Benchmark Select tillåter en bred investering med låga avgifter på ca. 286 aktier.
Den totala kostnadskvoten uppgår till 0,15 % p.a. Fonden replikerar resultatet för det underliggande indexet genom att köpa alla indexbeståndsdelar (full replikering). iShares MSCI Europe Paris-Aligned Climate UCITS ETF EUR (Dist) är en mycket liten ETF med tillgångar på 5 miljoner GBP under förvaltning. ETF:en är yngre än 1 år och har sin hemvist i Irland.
Varför EPAD?
Exponering för ett brett spektrum av företag baserade i utvecklade länder i Europa som försöker minska sina koldioxidutsläpp i linje med Parisavtalet.
Sålar bort företag baserat på deras engagemang i specifika affärsaktiviteter och engagemang i relevanta ESG- och miljökontroverser.
Designad för investerare som vill minska exponeringen för klimatrisker.
Investeringsmål
Fonden strävar efter att ge investerare en avkastning, genom en kombination av kapitaltillväxt och inkomst, som återspeglar avkastningen från MSCI Europe Climate Paris Aligned Benchmark Select Index.
Investeringsstrategi
MSCI Europe Climate Paris Aligned Benchmark Select-index spårar aktier från Europa. Indexet syftar till att ge större vikt till företag som gynnas av omställningen till en ekonomi med lägre koldioxidutsläpp. Dessutom beaktas EU:s direktiv om klimatskydd. Moderindex är MSCI Europe.
Handla EPAD ETF
iShares MSCI Europe Paris-Aligned Climate UCITS ETF EUR (Dist) (EPAD ETF) är en börshandlad fond (ETF) som handlas på Euronext Amsterdam.
Euronext Amsterdam är en marknad som få svenska banker och nätmäklare erbjuder access till, men DEGIRO gör det.
Börsnoteringar
| | | |
| --- | --- | --- |
| Börs | Valuta | Kortnamn |
| Euronext Amsterdam | EUR | EPAD |
Största innehav
| | | | | | |
| --- | --- | --- | --- | --- | --- |
| Kortnamn | Namn | Sektor | Vikt (%) | ISIN | Valuta |
| NESN | NESTLE SA | Consumer Staples | 3.71 | CH0038863350 | CHF |
| ROG | ROCHE HOLDING PAR AG | Health Care | 2.91 | CH0012032048 | CHF |
| NOVO B | NOVO NORDISK CLASS B | Health Care | 2.48 | DK0060534915 | DKK |
| AZN | ASTRAZENECA PLC | Health Care | 2.43 | GB0009895292 | GBP |
| ASML | ASML HOLDING NV | Information Technology | 2.27 | NL0010273215 | EUR |
| NOVN | NOVARTIS AG | Health Care | 2.12 | CH0012005267 | CHF |
| SU | SCHNEIDER ELECTRIC | Industrials | 2.09 | FR0000121972 | EUR |
| MC | LVMH | Consumer Discretionary | 2.06 | FR0000121014 | EUR |
| ABBN | ABB LTD | Industrials | 1.68 | CH0012221716 | CHF |
| GSK | GSK | Health Care | 1.49 | GB0009252882 | GBP |
Innehav kan komma att förändras
Nu erbjuder FreeTrade finska aktier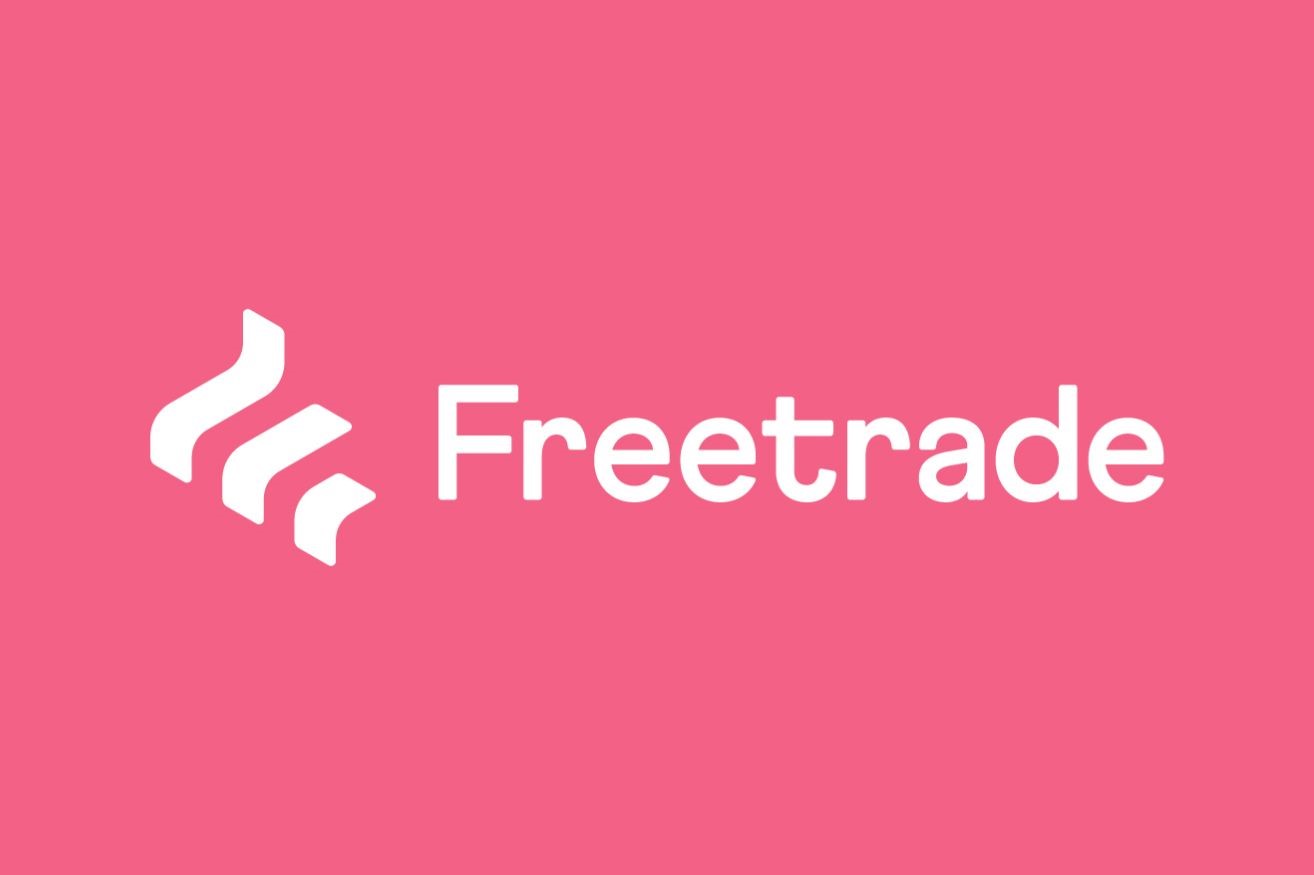 Den första omgången av europeiska aktier finns nu hos FreeTrade. Denna brittiska mäklare har anslutit till de europeiska marknaderna och adderar den första omgången europeiska aktier till din app idag. Nu erbjuder FreeTrade finska aktier.
För att kicka igång kan du hitta en speciell kollektion av finska aktier som en tidigt julklapp. Under de närmaste månaderna kommer aktier som handlas på andra stora europeiska börser också att vara tillgängliga på din Freetrade-app.
FreeTrade har gått direkt till paneuropeiska börserna för att erbjuda dig den bästa möjliga upplevelsen. Detta gör Freetrade till ett av få mäklarhus i Storbritannien som erbjuder direktåtkomst för privata investerare till europeiska marknader.
Det som skiljer den här nya funktionen åt är inarbetat i Freetrades DNA: att investera tid, energi och pengar i att utveckla rätt teknik för att bygga en hållbar verksamhet och stödja våra kunder under hela deras liv.
Kort sagt, detta är det mest komplexa ingenjörs- och driftarbetet sedan FreeTrade byggde sin Invest-plattformen 2019/20.
Visste du detta om finska aktier?
Helsingforsbörsen öppnade 1912. Liksom de flesta börser började den som ett kooperativ som ägdes av sina medlemmar och lokala banker.
Under åren har börsen utvecklats genom en rad fusioner för att bli en del av den globala börsgruppen Nasdaq.
Industrin utgör cirka en fjärdedel av den finska marknaden, med en stark närvaro från tillverknings- och finansiella tjänsteföretag.
Du kan nu hitta 38 finska aktier från Nasdaq Helsinki i din app, inklusive:
• Hisstillverkaren Kone
• Flygbolagsjätten Finnair
• Angry Birds-tillverkaren Rovio
Är dessa aktier tillgängliga för alla användare?
FreeTrade kommer att följa samma principer för europeiska aktier som FreeTrade har för aktier i Storbritannien och USA. För Finland innebär detta att alla användare kommer att kunna få tillgång till aktier på börsens huvudindex, Helsinki 25.
Resten av aktier utanför huvudindexet kommer endast att vara för Plus-medlemmar.
Håll ögonen öppna under de kommande veckorna och månaderna när FreeTrade lanserar ytterligare europeiska länder.
Detta bör inte läsas som personlig investeringsrådgivning och enskilda investerare bör fatta sina egna beslut eller söka oberoende råd. Den här artikeln har inte utarbetats i enlighet med lagkrav som är utformade för att främja investeringsanalysens oberoende och anses vara en marknadskommunikation.
När du investerar är ditt kapital i fara. Värdet på din portfölj kan gå ner såväl som upp och du kan få tillbaka mindre än du investerar. Tidigare resultat är inte en tillförlitlig indikator på framtida resultat.
Freetrade är ett handelsnamn för Freetrade Limited, som är ett medlemsföretag på London Stock Exchange och är auktoriserat och reglerat av Financial Conduct Authority. Registrerad i England och Wales (nr 09797821).