Crypto Markets Persevere, Investor Appetite for Web 3 Grows, and More!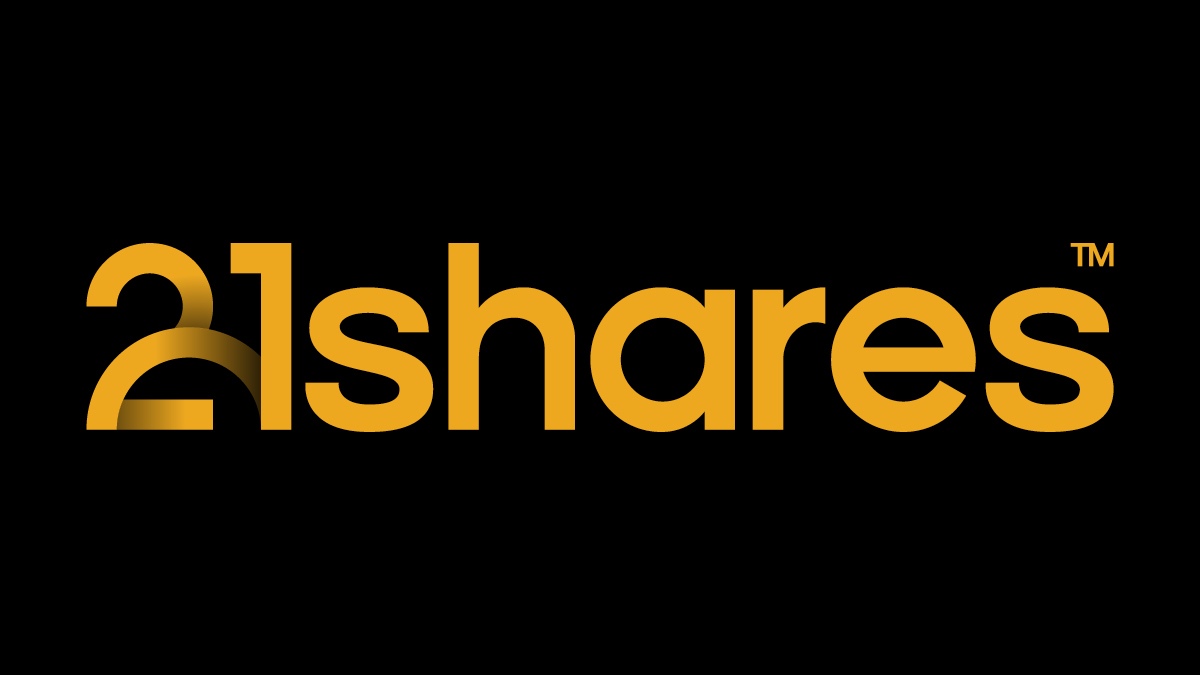 Markets continued to tumble on the back of regulatory headwinds in the US and speculation around the soaring transaction fees on the Bitcoin network, signaling unprecedented congestion. Bitcoin and Ethereum fell by 5% and 1% over the past week following the continued banking crisis. One of the biggest winners of last week's rally was Stacks, which saw an 8.6% increase in returns and an 8% jump in total value locked (TVL) as its use case echoed louder on the back of Bitcoin's rising transaction fees. In the application layer, Lido accrued the most TVL of 1.4% on the back of ETH inflows in anticipation of its staked ETH withdrawals expected to happen this month.
Figure 1: 7-Day Price and TVL Developments of Cryptoassets in Major Sectors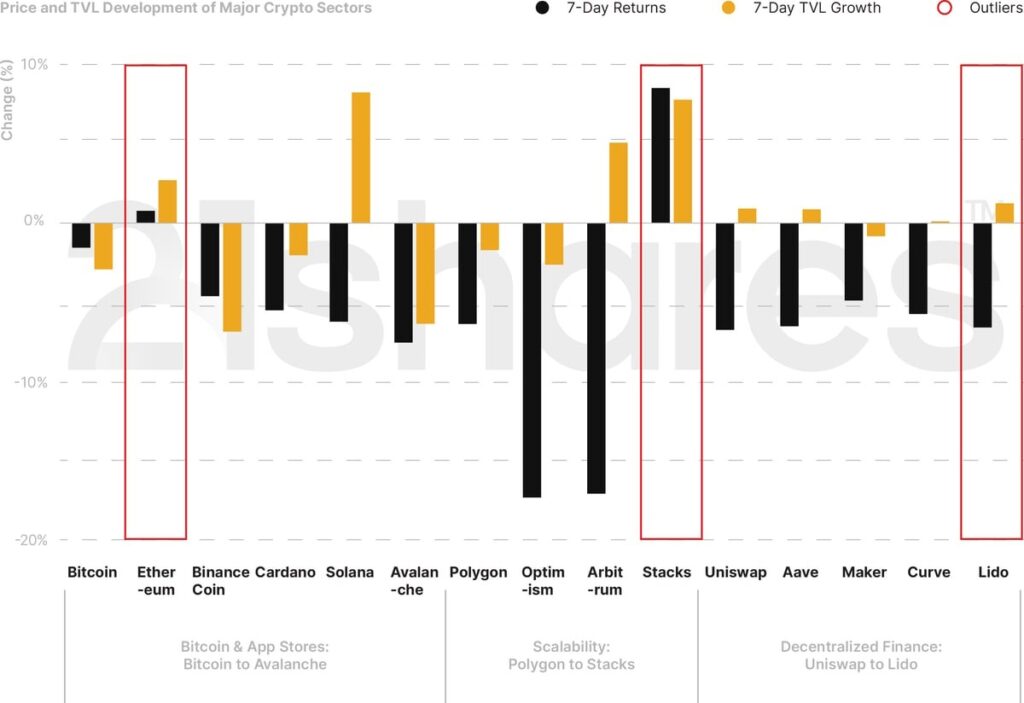 Source: 21Shares, CoinGecko, DeFi Llama. Close data as of May 8, 2023.
Key takeaways
• The surge in Ordinals inscriptions contributes to Bitcoin network congestion with rising transaction fees.
• Speculation drives BTC outflows from centralized exchanges like Binance, which briefly paused BTC withdrawals.
• Bitcoin continues to grow beyond the store-of-value use case and enters the realm of Decentralized Finance with a new-yet-basic token standard, BRC-20.
• Bitcoin is experiencing its CryptoKitties moment with BRC-20 tokens as Ethereum did during the ICO craze of 2017-2018; this congestion crisis laid the foundation for decentralized applications and scaling solutions.
What happened?
• March 2023: An anonymous on-chain analyst named Domo created BRC-20, a token standard for minting tokens or "inscriptions" that carry text strings on Bitcoin.
• Domo minted $ORDI, which stands as the largest BRC-20 of $73M in market capitalization.
• NFT inscriptions surged on Ordinals, 4.5M at the time of writing
Figure 2: Number of Ordinal Inscriptions'
Source: 21shares on Dune Analytics
• Total transaction fees soared and temporarily exceeded the block subsidy reward of 6.25 BTC for the second time in history.
Figure 3: The Percentage of Fees Accrued from Bitcoin Ordinals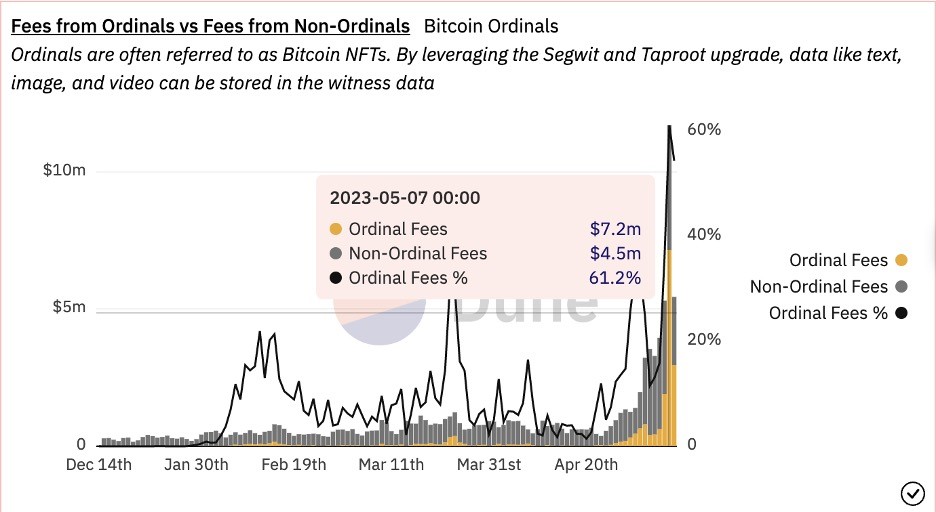 Source: 21shares on Dune Analytics
May 7:
• Speculation spread on Twitter around the reason behind soaring transaction fees; some concluded that the network was under a "Denial of Service attack."
• Others have immediately rebuffed that conclusion, arguing that the rise in transaction fees is due to the increased demand for the Bitcoin network. However, selling pressure on BTC still increased by 3% overnight.
• Binance paused BTC withdrawals twice on Sunday, for two hours each, due to record-high pending transactions.
May 8:
• Binance resumed withdrawals and announced transaction fees adjustment while exploring integrating the
Lightning Network.
What to expect?
Bitcoin's growth beyond a Store-of-Value (SoV)
With the recent advancements driven by Ordinals and BRC-20 tokens, Bitcoin is now becoming a platform capable of hosting various use cases beyond payments. The developments surrounding Ordinals will change the public perception of Bitcoin as a stagnant blockchain and introduce novel concepts to help drive talent and innovation to the largest crypto asset by market capitalization. Inscriptions could be the catalyst needed to help trigger the explosive growth of scalability solutions that enable the Bitcoin network to reach its full potential and start offering revenue streams for miners who can't rely solely on new Bitcoin emissions, as the last bear market has shown. We can argue that Bitcoin is experiencing its CryptoKitties moment with BRC-20 tokens like Ethereum did during the ICO craze of 2017-2018, which then laid the foundation for DeFi and scaling solutions.
Increased Appetite for BRC-20 Token Standard
Although most of the new tokens are meme-coins, to reflect the broader meme craze, it's only a matter of time until more fundamentally sound applications and use cases enter the market. For example, a forked version of Uniswap V2 on Bitcoin is already deployed, allowing anyone to trade seamlessly and 24/7 Bitcoin-based cryptoassets. We also predict blockchains designed as simple payment networks could introduce comparable standards to onboard more on-chain activity onto their platforms. Litecoin community has already taken the lead with its inauguration of LTC20, a fork of the BRC20 standard, to experiment with asset fungibility on top of its mainnet.
Further, we expect Tier-2 exchanges to list BRC-20 tokens to benefit from their early speculative adoption, although most lack utility so far, and investors should remain cautious. For instance, Gate.io and Crypto.com listed ORDI, the native token of the protocol used to create Bitcoin NFTs, to take advantage of the asset's surging traded volume, recording close to $100M. We may expect more innovation inspired by the Ethereum ecosystem. Interlay Labs, the company behind the BTC-based DeFi protocol, has already proposed BRC-21, a new token standard that allows for a more sophisticated implementation of tokens like minting and redeeming. An innovation that would introduce the concept of native tokenization on Bitcoin, like US dollar stablecoins.
Figure 4: Breakdown of Bitcoin Marketplaces and Wallets by Processed Volume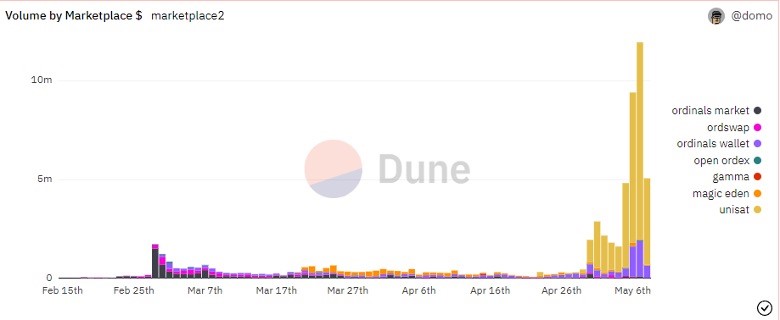 Source: Domo on Dune
Growing Attention Towards Scalability Solutions
Figure 5: BTC Average Fee Per Transaction in $
Source: Blockchain.com
We expect more development across the broader scaling infrastructure, such as Stacks, RSK, Liquid, and Rollkit. Scaling solutions are necessary to improve the user experience seamlessly without paying high transaction fees.
We could also expect renewed developer engagement and funding to solve Bitcon's most crucial problems. On the flip side, it's possible to expect a community divide where on the one hand, the most conservative participants may want Bitcoin to remain simple. In contrast, others would try to push the boundaries of innovation. The latter received some support already with Lightning's Taro protocol helping with general token issuance on Bitcoin instead of RGB, which is more relevant for supporting complex financial applications.
Miners' Revenue to Flourish with Rising Use Cases
Although the explosion of Ordinals has effectively crippled the network via its unusable elevated fees, the development has greatly benefited Bitcoin miners. Before 2023, transaction fees barely made up to 4% of miners' revenue due to the lackluster demand on the Bitcoin blockspace. However, if the recent speculative wave doesn't slow down in the near term, we could expect miners' profit margins to continue to grow incrementally. This should particularly help miners build a cash buffer to weather the uncertainty in the U.S., considering it is their largest stronghold after the miner departure from China in 2021.
For reference, transaction fees have surged by 1,500% from $1.2 to ~$15 in a week. As seen below, Bitcoin miners have generated close to $40M during just the first week of May from transaction fees, a level last seen in June 2021 amidst the last bull market. This is a remarkable milestone as it shows the potential of Bitcoin as a globally trusted settlement layer for a complex ecosystem of applications, combined with being a non-state monetary system.
Figure 6: Bitcoin Miner Revenue Breakdown (Issuance + Transaction Fees)
Source: 21shares on Dune
MEV is likely to manifest on Bitcoin
Figure 7: Bitcoin Transaction Value in $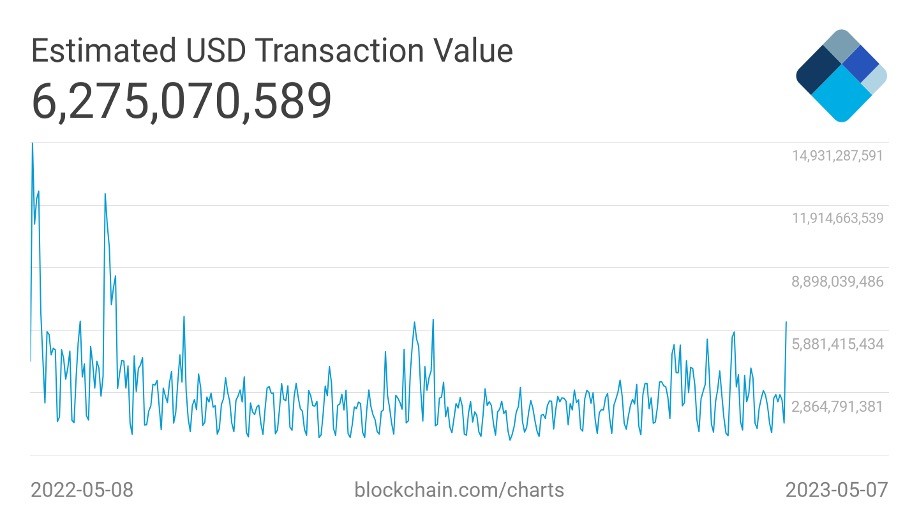 Source: blockchain.com
The practice of validators, including, excluding, or reordering transactions to extract the most value from fees, otherwise known as Maximum Extractable Value (MEV), could happen to Bitcoin if the network continues to process high-value transactions. There needed to be more incentive for validators to participate in this toxic economic behavior as the Bitcoin network was primarily limited to a simple payments network without any complex logic before 2023.
However, the innovations introduced by Ordinals and BRC20 indicate that more value will be transferred across the network as a function of the issued fungible assets market value. That means miners will be incentivized to reorder transactions from the highest fees to the lowest to profit off this activity. That said, we anticipate that MEV will take place on the Bitcoin network first since most scalability platforms haven't reached mass adoption.
Potential Resurgence of Increased Block Size Debate to Scale Bitcoin
Figure 8: Bitcoin Mempool Congestion
Source: mempool.space (as of 12 PM, May 9, 2023)
As the Bitcoin network processes five transactions per second on average, the vast influx of demand is crippling the network's ability to continue processing transactions promptly due to the staggering backlog of 410K pending transactions. The congestion driven by the BRC20 craze might drive some of the community to push once again the idea of increasing Bitcoin block size to accommodate for a higher number of transactions.
Figure 9: Bitcoin Block Size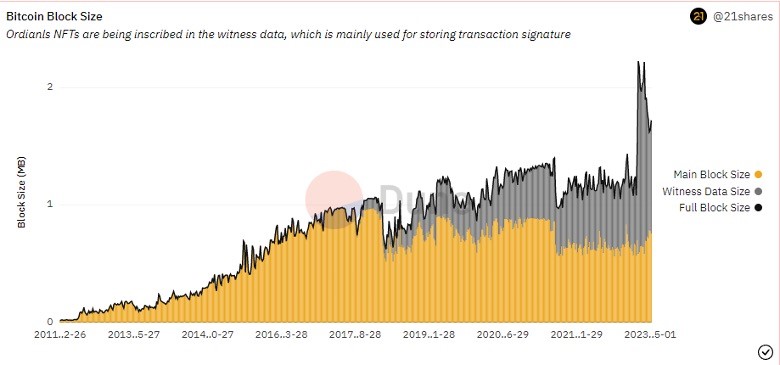 Source: 21shares on Dune
Block-size wars are a trend that took off in 2017 when the contentious debate brought forward multiple Bitcoin forks, with Bitcoin Cash being the most notable. That said, there's a strong case against adopting this approach as it reduces BTC's decentralization since it becomes costlier for nodes to store the entire blockchain history due to its rapidly growing network size. May that be, dissidents could still push the idea of forking BTC, analogous to how Ethereum was forked into multiple protocols following the merge last September, despite lacking any significant community support. However, we don't expect bifurcated networks to hold any value aking to ETH's recent forks post the Merge.
Next Week's Calendar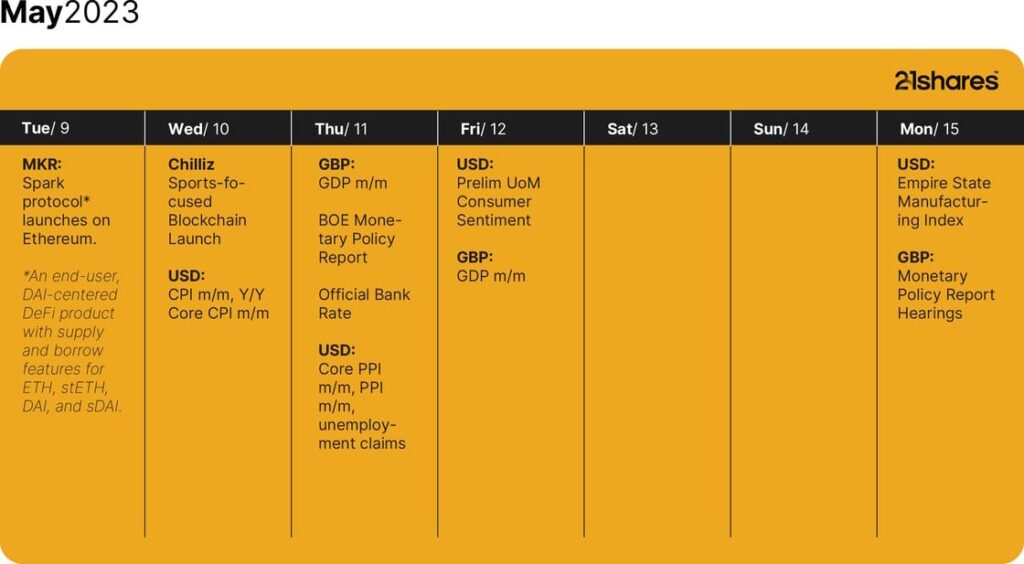 Source: Forex Factory, CoinMarketCal
Research Newsletter
Each week the 21Shares Research team will publish our data-driven insights into the crypto asset world through this newsletter. Please direct any comments, questions, and words of feedback to research@21shares.com
Disclaimer
The information provided does not constitute a prospectus or other offering material and does not contain or constitute an offer to sell or a solicitation of any offer to buy securities in any jurisdiction. Some of the information published herein may contain forward-looking statements. Readers are cautioned that any such forward-looking statements are not guarantees of future performance and involve risks and uncertainties and that actual results may differ materially from those in the forward-looking statements as a result of various factors. The information contained herein may not be considered as economic, legal, tax or other advice and users are cautioned to base investment decisions or other decisions solely on the content hereof.
QDVD ETF ger exponering mot amerikanska utdelningsaktier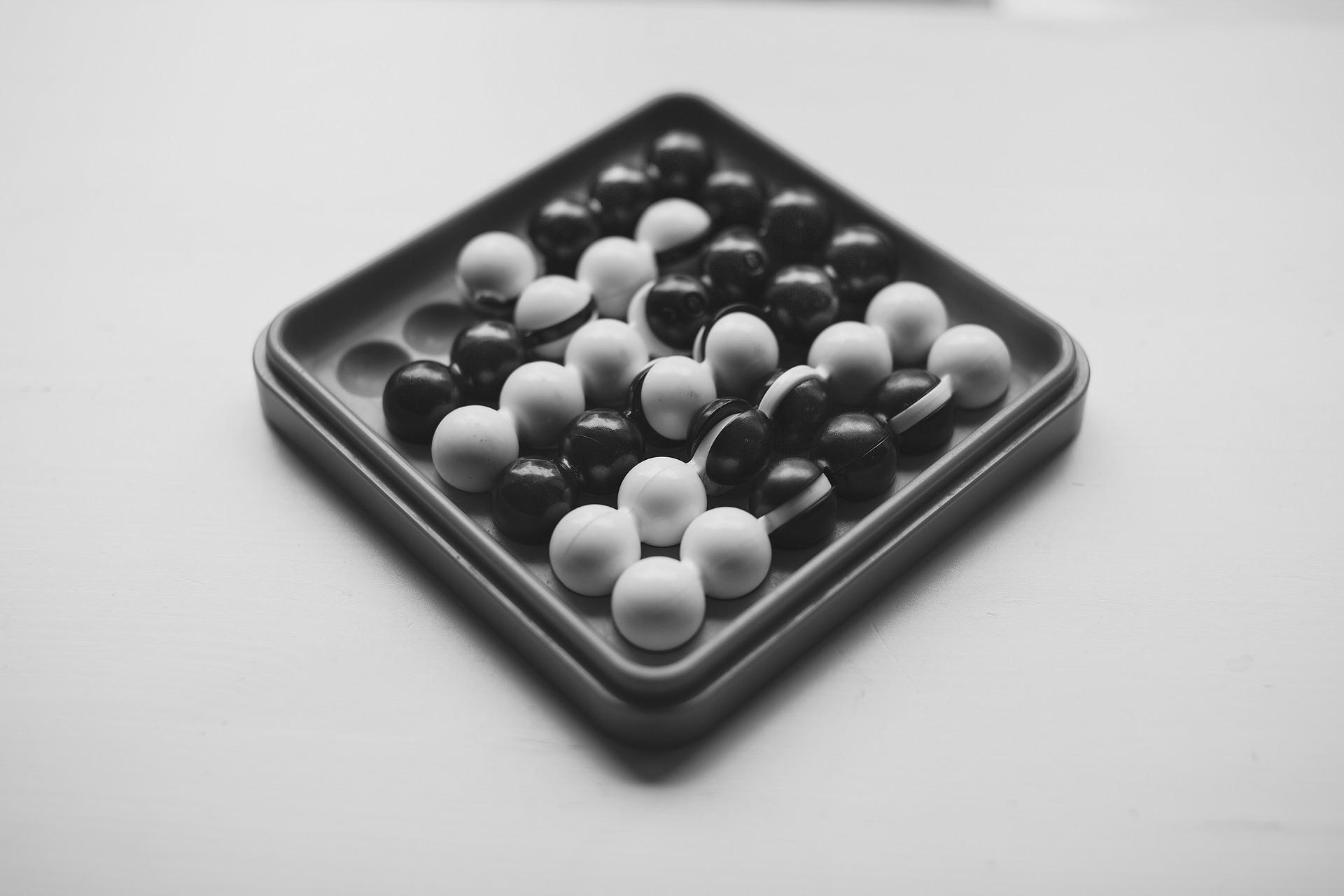 iShares MSCI USA Dividend IQ UCITS ETF (QDVD ETF) investerar i aktier med fokus på Dividend, USA. Utdelningarna i fonden delas ut till investerarna (halvårsvis).
Den totala kostnadskvoten uppgår till 0,35 % per år. Fonden replikerar resultatet för det underliggande indexet genom att köpa alla indexbeståndsdelar (full replikering). iShares MSCI USA Dividend IQ UCITS ETF har tillgångar på 387 miljoner GBP under förvaltning. ETF:en är äldre än 5 år och har sin hemvist i Irland.
Varför QDVD?
Exponering för företag med högre utdelnings- och kvalitetsegenskaper inom MSCI USA Index samtidigt som de försöker uppnå en koldioxidreduktion och förbättring av miljö-, social- och styrelseresultat (ESG)
Exkluderar uttryckligen emittenter som är inblandade i kontroversiella, konventionella och kärnvapen, civila skjutvapen, tobak, termiskt kol, oljesand och de som klassificeras som brott mot FN:s Global Compact-principer eller är involverade i mycket allvarliga ESG-kontroverser
Designad för investerare som letar efter ett hållbart tillvägagångssätt för högre utdelning och kvalitetsinvesteringar
Investeringsmål
Fonden strävar efter att uppnå avkastning på din investering, genom en kombination av kapitaltillväxt och inkomst, vilket återspeglar avkastningen från MSCI USA High Dividend Yield ESG Reduced Carbon Target Select Index.
Den 1 juni 2022 ändrades riktmärket från MSCI USA High Dividend Yield Index till MSCI USA High Dividend Yield ESG Reduced Carbon Target Select Index. Förändringen kommer att återspeglas i benchmarkdata.
Investeringsstrategi
MSCI USA High Dividend Yield-index spårar amerikanska aktier med hög utdelning.
Handla QDVD ETF
iShares MSCI USA Dividend IQ UCITS ETF (QDVD ETF)
Börsnoteringar
| | | |
| --- | --- | --- |
| Börs | Valuta | Kortnamn |
| London Stock Exchange | GBX | HDIQ |
| gettex | EUR | QDVD |
| Stuttgart Stock Exchange | EUR | QDVD |
| London Stock Exchange | USD | QDIV |
| SIX Swiss Exchange | USD | QDIV |
| XETRA | EUR | QDVD |
Största innehav
| | | | | | |
| --- | --- | --- | --- | --- | --- |
| Kortnamn | Namn | Sektor | Vikt (%) | ISIN | Valuta |
| MSFT | MICROSOFT CORP | Information Technology | 6.58 | US5949181045 | USD |
| AAPL | APPLE INC | Information Technology | 4.54 | US0378331005 | USD |
| JNJ | JOHNSON & JOHNSON | Health Care | 3.48 | US4781601046 | USD |
| HD | HOME DEPOT INC | Consumer Discretionary | 2.81 | US4370761029 | USD |
| VZ | VERIZON COMMUNICATIONS INC | Communication | 2.76 | US92343V1044 | USD |
| MRK | MERCK & CO INC | Health Care | 2.72 | US58933Y1055 | USD |
| UPS | UNITED PARCEL SERVICE INC CLASS B | Industrials | 2.64 | US9113121068 | USD |
| CSCO | CISCO SYSTEMS INC | Information Technology | 2.63 | US17275R1023 | USD |
| BMY | BRISTOL MYERS SQUIBB | Health Care | 2.58 | US1101221083 | USD |
| AMGN | AMGEN INC | Health Care | 2.45 | US0311621009 | USD |
Innehav kan komma att förändras
Påminnelse om utdelning i Xact Sverige i juni 2023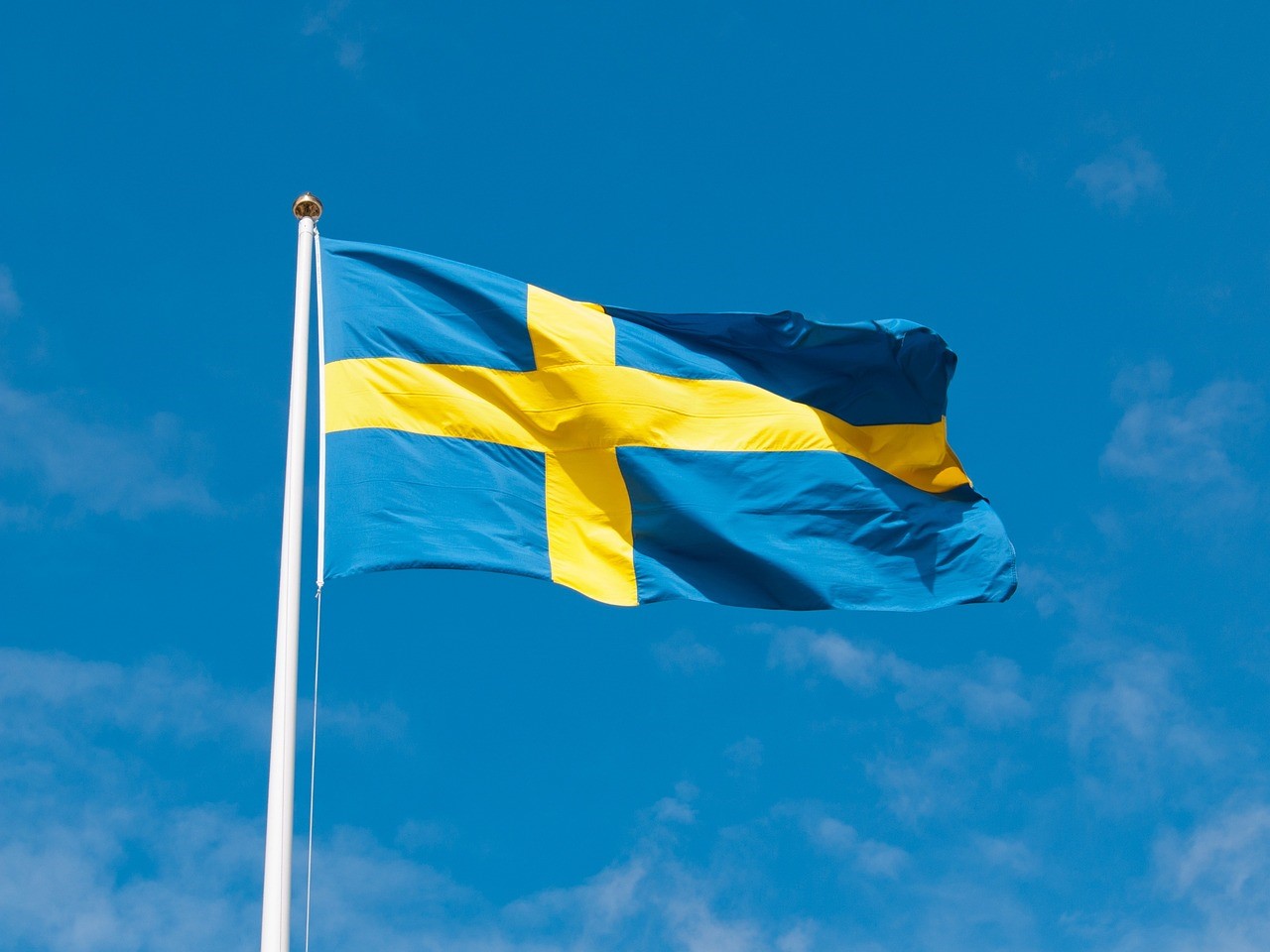 Utdelningsbeloppet i rubricerad börshandlad fond, legalt namn XACT Sverige (UCITS ETF), har fastställts till totalt SEK 20,54 per fondandel. Årets utdelning i Xact Sverige i juni 2023 gäller enligt nedan.
De som är registrerade fondandelsägare i fonden på avstämningsdagen erhåller utdelning.
Schema för utdelning i fonden är följande:
• 12 juni Sista dag att handla fondandelar inklusive rätt till utdelning
• 13 juni Ex-dag; fondandelarna handlas utan rätt till utdelning
• 14 juni Avstämningsdag
• 20 juni Utbetalningsdag
Positiva prisutsikter för uran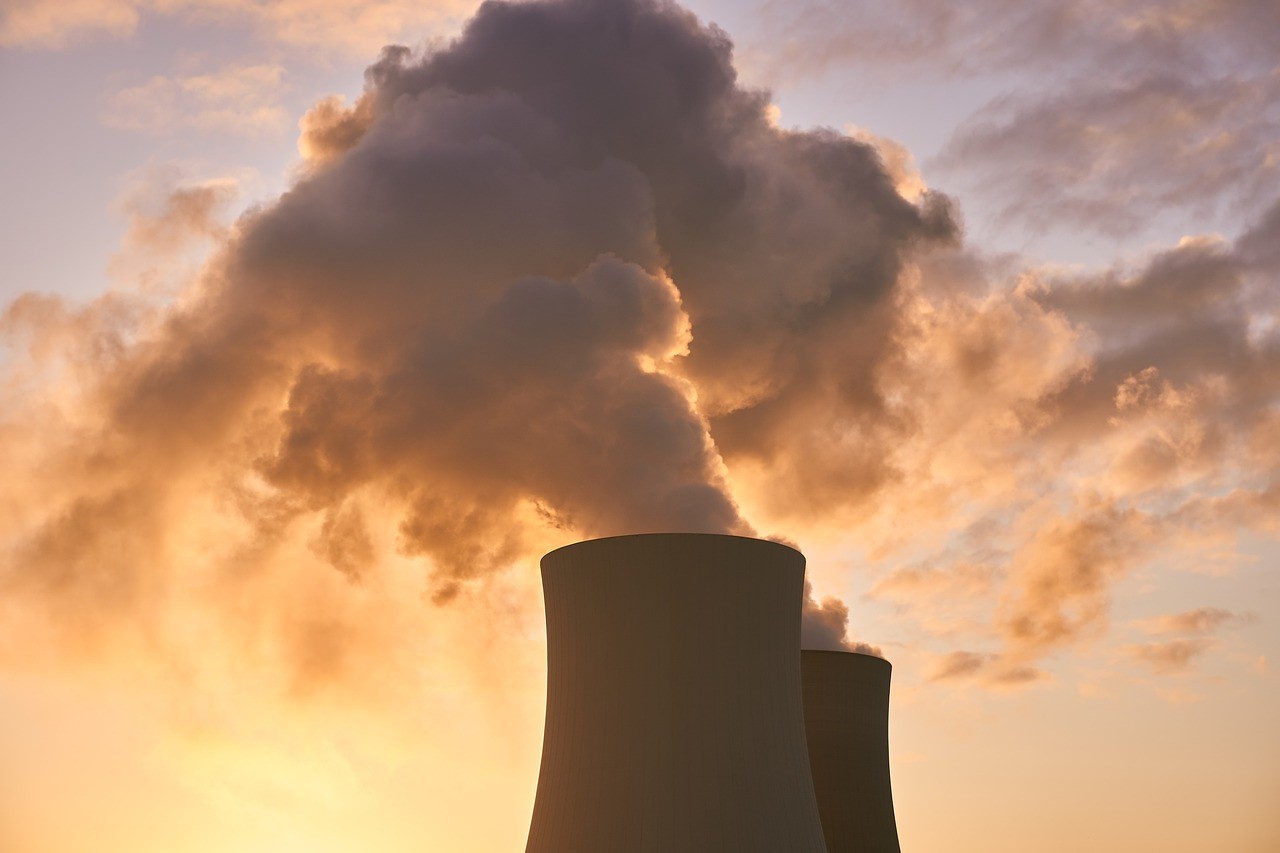 Klimatförändringar kan bara övervinnas med kärnkraft säger allt fler marknadsbedömare. Uranföretag bör vara bland vinnarna om detta stämmer och det bör leda till positiva prisutsikter för uran.
Koldioxidutsläppen har ännu inte förbättrats nämnvärt här i landet. 2022 minskade koldioxidutsläppen något, med 1,9 procent jämfört med föregående år. Den största CO2-utsläpparen är Kina, med cirka 30 procent av de globala utsläppen.
USA orsakar runt 13 procent och Tyskland runt knappt två procent. Tyskland ska bli CO2-neutralt 2045, ingen lätt bedrift. Men Kina gör också ansträngningar för att minska CO2-utsläppen under de kommande åren. De globala CO2-utsläppen ökar dock varje år. Tyvärr räcker det inte med sol- och vindenergi, särskilt i det här landet.
Ren energi måste köpas från Frankrike, som helt förlitar sig på kärnkraft. Priset på uran har stigit kraftigt. Idag kostar ett pound uran drygt 50 US-dollar. En av anledningarna till detta var den europeiska energikrisen, som har gjort kärnenergin mer attraktiv. Och det verkar som att de flesta experter inom uranindustrin förväntar sig att priset på uran fortsätter att stiga, till exempel till 70 dollar per pound uran 2024 (Bank of America).
Japan har precis antagit en lag som tillåter befintliga kärnreaktorer att fungera på obestämd tid, vilket eliminerar 60-årsgränsen. Återstarten av reaktorer och byggandet av nya anläggningar drivs på. Liksom Tyskland är Japan ett land som är fattigt på råvaror. Kina planerar de flesta nya kärnkraftverken, följt av Ryssland och Indien. Så för att övergången från fossila bränslen ska lyckas behövs uran.
Handla NUKL ETF
VanEck Uranium and Nuclear Technologies UCITS ETF A (NUKL ETF) är en europeisk börshandlad fond. Denna fond handlas på flera olika börser, till exempel Deutsche Boerse Xetra och London Stock Exchange. Av den anledningen förekommer olika kortnamn på samma börshandlade fond.
Det betyder att det går att handla andelar i denna ETF genom de flesta svenska banker och Internetmäklare, till exempel DEGIRO, Nordnet och Avanza.
Handla U3O8 ETF
HANetf Sprott Uranium Miners UCITS ETF Acc (U3O8 ETF) är en europeisk börshandlad fond. Denna fond handlas på flera olika börser, till exempel Borsa Italiana, Deutsche Boerse Xetra och London Stock Exchange. Av den anledningen förekommer olika kortnamn på samma börshandlade fond.
Det betyder att det går att handla andelar i denna ETF genom de flesta svenska banker och Internetmäklare, till exempel DEGIRO, Nordnet och Avanza.
Handla URNU ETF
Global X Uranium UCITS ETF USD Accumulating (URNU ETF) är en europeisk börshandlad fond. Denna fond handlas på flera olika börser, till exempel Borsa Italiana och Deutsche Boerse Xetra. Av den anledningen förekommer olika kortnamn på samma börshandlade fond.
Det betyder att det går att handla andelar i denna ETF genom de flesta svenska banker och Internetmäklare, till exempel DEGIRO, Nordnet och Avanza.