Commodity outflows surge as US dollar rebounds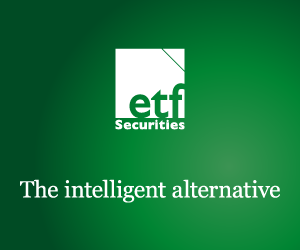 ETF Securities – Commodity outflows surge as US dollar rebounds
Highlights
Inflows into nickel ETPs rise for the 3rd consecutive week, attaining their highest level since inception.
Gold ETP outflows rise to their highest level since September 2017 on the back of a strong jobs report.
Outflows from diversified basket ETPs climb to their highest level in 16 weeks, reversing 5 weeks of inflows.
Commodity outflows surge as US dollar rebounds
Inflows into nickel ETPs rise for the 3rd consecutive week, surging to their highest level since inception, totalling US$71mn. The weaker US dollar coupled with a robust stainless steel market have helped drive nickel prices up 9% so far this year (as of 2 Feb 2018). Added to that, higher cobalt prices are triggering the substitution of cobalt with nickel in lithium-ion batteries, thereby raising expectations of future demand for nickel from battery led technology. The International Nickel Study Group (INSG) expects China to drive further demand growth in 2018. While Indonesian nickel ore production has driven global output to record levels, global inventories have been falling. Nevertheless, nickel's deficit is expected to be smaller in 2018 vs 2017 according to INSG.
Gold ETP outflows worth US$251mn rose to their highest level since September 2017. Despite the selloff in global equity markets last week, gold prices came under significant pressure after the US dollar rallied on the back of a strong US jobs report. US nonfarm payrolls jumped by 200,000 last month and average hourly wages climbed 2.9% year-on-year (the highest since May 2009). The acceleration in wage growth had long been awaited by market participants and drove speculation that the Federal Reserve would lift US interest rates more aggressively than previously expected. Gold, which offers no yield, remains vulnerable into a rising rate environment.
Crude oil ETPs experienced the 24th consecutive week of outflows, totalling US$22.3mn last week. US oil production is set to increase in the coming months partly owing to productivity gains and as drilling activity picks up. The Energy Information Administration (EIA) expects production in the US to rise by just shy of 1 million barrels per day this year, which should cover more than half of the increase in global oil demand estimated by the EIA. We expect to see crude oil prices correct owing to rising growth in US oil production and an increase in stocks in the first quarter.
Outflows from diversified basket ETPs amounting to US$21.6mn surged to their highest level in 6 weeks, reversing 5 weeks of inflows. The commodity complex, led by energy and precious metals, suffered widespread losses last week as the greenback reversed its downward trend.´
Important Information
General
This communication has been issued and approved for the purpose of section 21 of the Financial Services and Markets Act 2000 by ETF Securities (UK) Limited ("ETFS UK") which is authorised and regulated by the United Kingdom Financial Conduct Authority (the "FCA").
The information contained in this communication is for your general information only and is neither an offer for sale nor a solicitation of an offer to buy securities. This communication should not be used as the basis for any investment decision. Historical performance is not an indication of future performance and any investments may go down in value.
This document is not, and under no circumstances is to be construed as, an advertisement or any other step in furtherance of a public offering of shares or securities in the United States or any province or territory thereof. Neither this document nor any copy hereof should be taken, transmitted or distributed (directly or indirectly) into the United States.